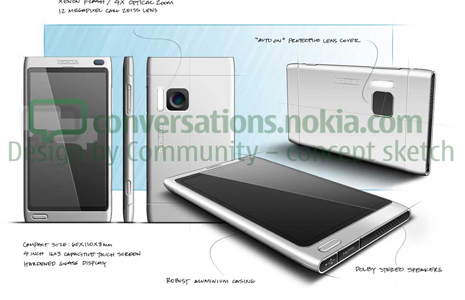 There has never been a time when products gets announced without leaking out in the open several months before launch. One can attribute that to every high profile product ever released, especially in Smartphones. Likewise, after just seeing the Lumia 928 in pictures, we have now gotten some information of the Nokia "Catwalk" which we think, according to the leak, is a global version of the Lumia 928, but made of aluminium and sans the Xenon flash. This information comes via @flavio, a person on Twitter who once leaked details of the Nokia EOS.
Here is the exact tweet that he posted with regards to the specs –
[Exclusive] Nokia Catwalk: S4 1.5GHz dual, 4.5″ octaOLED 1280×768, 1GB RAM 16GB ROM, 8.7Mpx f2.0 OIS, 2000mAh not remov, 129x71x8.4mm, 132g.

— Flavio (@flapic) April 5, 2013
And here is some additional information regarding the octaOLED panel that is supposedly planned for the "Catwalk" device.
@iamnii_teiko @sirajsoft OCTA is a development of Samsung Mobile Display. OCTA – On-Cell Touch Active-Matrix Light-Emitting Diode (AMOLED).

— Flavio (@flapic) April 5, 2013
So, it looks like the specs of the Lumia 920 are almost untouched in terms of internals, with Nokia now opting for the octaOLED display instead of the IPS LCD that is currently present on the 920. It is expected that the device will be made of aluminium in a unibody casing, a la the yesteryear camera powerhouse Nokia N8. Interesting to see that the thickness of the device will be just 8.4mm and weighing just 132g, a far cry from the 920's 10.7mm 185g "fat"ness.
The camera unit too, seems to be the same as the 920, but we are not sure if it's going to have Xenon flash like the 928. The display is going to look great though, that is sure. All these purported specs seem real to us, because it's very believable and probably the direction Nokia might take in its future devices.
Here's looking forward to the announcement, or rather more leaks with images, heh. Stay tuned.