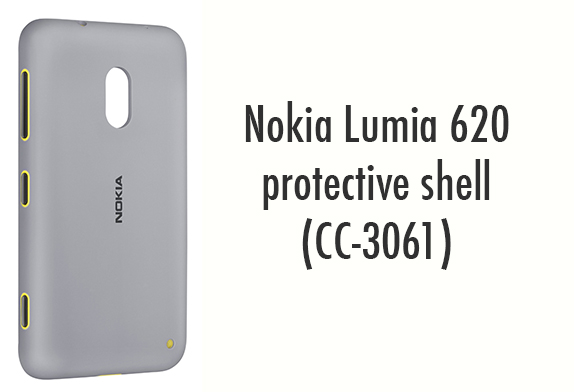 The Nokia Lumia 620 just launched in India, and for all you prospective buyers or owners, a good news is that Nokia just announced a rugged shell CC-3061 for the device with IP 54 dust and water protection. This shell is not a cover, not a pouch, but a replaceable shell that can just swap with your present one. The shell can withstand dust and splashes of water defined by the Ingress Protection rating of IP 54. It is slated to be available within a month.
As you can see from the image above, the shell is of the dual shot type just like the other Lumia 620 dual colour shells. The inner layer is made of PolyCarbonate, which shows up in the Yellow colour while the outer shell is made of TPSiV silicone material which is soft and rubbery. For water and dust protection, the casing has better sealing for the camera window and the shell as well as the display and the shell. Not only that, there is also a denser mesh for the speaker grille so as to avoid rapid water entry.
The silicone like outer material envelopes the display on the sides and slightly to the front enabling the Lumia 620 to handle the drops better. The small lining on the front and the sides will be taking impact force unlike the glass in the case of a normal shell. Explaining on the use case and the effectiveness of the shell –
"While the protective shell does not make your Lumia 620 indestructible or 100% waterproof, it's ideal for people who enjoy active lifestyle where working up a sweat, getting caught up in a rain or dropping the phone can be a regular occurrence. It's also suits people who want to use their smartphone at work, even if it's a dusty, damp environment."
To kinda elaborate on the Ingress Protection rating, the IP 54 means –
5 – "Ingress of dust is not entirely prevented, but it must not enter in sufficient quantity to interfere with the satisfactory operation of the equipment; complete protection against contact"
4 – "Water splashing against the enclosure from any direction shall have no harmful effect."
Just for the sake of comparison, the recently launched Sony Xperia Z, which claims to be water and dust proof has an ingress rating of IP 55. And just like the Lumia 820, the Lumia 620 too has the rugged shell now, but it is currently available only in the Grey-Yellow combination, which we really like, but we do hope there are other colour variations coming soon. It is priced at 25 EUR, we will let you know when the Indian pricing and availability details are shared.
Source Nokia Conversations
Update: We check out the IP45 shell at the IFA 2013. Check out the hands on video below
httpv://www.youtube.com/watch?v=Fv5ZUbT-Urk