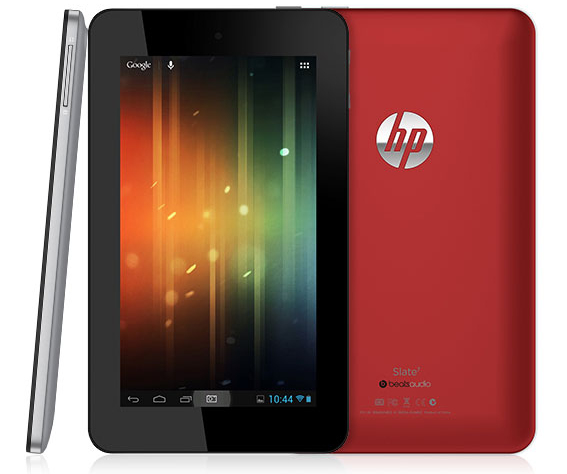 HP has announced the Slate 7 Tablet at the Mobile World Congress 2013. It comes with a 7-inch ( 1024 x 600 pixels) capacitive touch screen display with High-aperture-ratio Field Fringe Switching (HFFS) panel with wide viewing angles and runs on Android 4.1 (Jelly Bean). It is powered by a 1.6 GHz Dual Core Cortex-A9 processor and comes with built-in Beats Audio support.  It has a stainless-steel frame and comes in soft black paint back in gray or red colors.
It has a 3 MP camera on the back and a VGA front-facing camera. It has HP ePrint application that lets you print on the go directly from most applications. It has a micro USB port, WiFi connectivity and comes with a micro SD card slot that would let you expand the memory up to 32GB. It is 10.7 mm thick and weighs about 368 grams.
The HP Slate 7 would be available in the U.S Starting at $169 from May 2013.