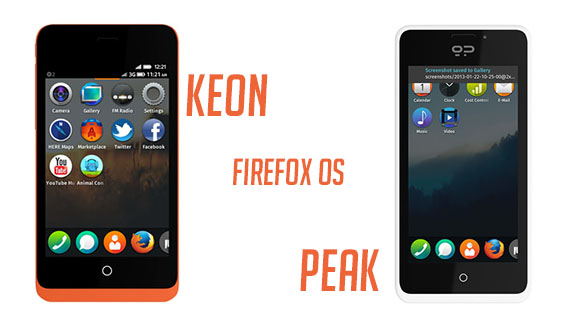 Mozilla just unveiled the first Firefox OS developer preview devices, Keon and Peak, that were developed in partnership with Geeksphone. The Firefox OS has been around for a while in beta form since its announcement way back in 2011. The Firefox OS is a HTML5 based mobile operating system which is entirely open source and accomplishes complete hardware control for HTML5 apps on phone. The UI was revealed last year and it received a lukewarm response. Adding to the growing list of open source operating systems on phones, Firefox has now taken the next step by launching developer preview devices which will mean that they are serious about the most important aspect of a smartphone, apps.
There are two devices that are launched with the Firefox OS in developer preview form, namely the Keon and Peak, developed by Geeksphone in partnership with Telefonica and of course mozilla. The Keon seems to be quite a low end device, here are the specs –
CPU Qualcomm Snapdragon S1 1Ghz
UMTS 2100/1900/900 (3G HSPA)
GSM 850/900/1800/1900 (2G EDGE)
Screen 3.5″ HVGA Multitouch
3 MP Camera
4GB ROM, 512 MB RAM
MicroSD, Wifi N, Light and proxmity Sensor, G-Sensor, GPS, MicroUSB
1580 mAh battery
Over the air updates
Unlocked, add your own SIM card
As you can see above, the specs are pretty basic and seems to be a pretty low end device, but it has been known for a while that Firefox OS is actually aimed at the low end market with prices ranging from 100$ – 115$. With this developer phone, Mozilla wants you to develop apps for the Firefox OS, which is built on web standards. The other phone Peak has some better specifications including a qHD 4.3 inch screen, but other details are still scarce.
We will keep you posted when we get more details. Till then, check out the source links below for further information on developing for the Firefox OS.
Source Mozilla/Geeksphone