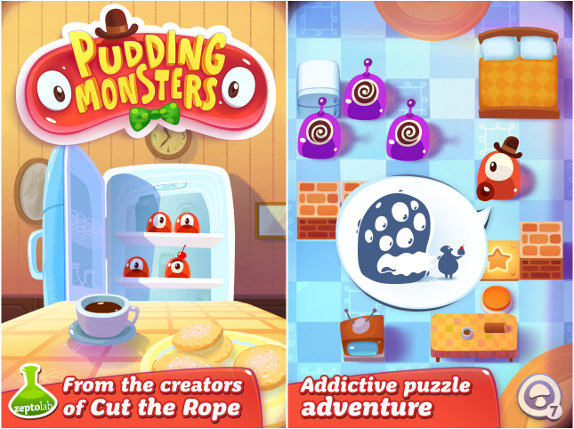 ZeptoLab, the creators of popular game Cut the Rope has announced that they would launch Pudding Monsters, a new game for Android, iPhone and iPad on December 20th. In this puzzle adventure game, players will take the Pudding Monsters on an adventure into the city, swiping to stick the Monsters together as they become the Ultimate Mega Monster to save their friend from being kidnapped by the cold-hearted fridge owner.
In this game, different Monster species have different powers (like Slime Monster, who leaves a trail of green goo), creating unique twists and turns in game-play as the adventure unfolds. It has unique stick em-together game-play and unique monster shapes and personalities.
ZeptoLab launched Cut the Rope for Android first on GetJar in June 2011 and for the Windows Phone devices last month. The Cut the Rope Experiments launched on August 2011. No details about the pricing for the game yet.