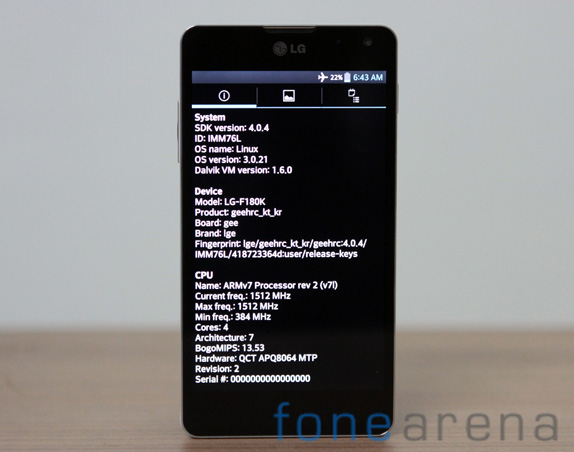 LG announced the Optimus G in August, which went on sale in Korea in September. We managed to get hold of the device to run some benchmarks.The LG Optimus G was in a close competition with the Samsung Galaxy Note II in most of the benchmarks but it was a clear winner when compared to the other quad-core devices including Samsung Galaxy S3, HTC One X and the LG Optimus 4X HD.
We got a early hands-on with the Snapdragon S4 Pro (APQ 8064) mobile processor in San Francisco back in July, and we were impressed  with the results. Most of the results were almost similar in the end product, the Optimus G. These benchmarks test the performance of the 1.5GHz quad-core processor Qualcomm APQ 8064 processor and the Adreno 320 GPU.
Quadrant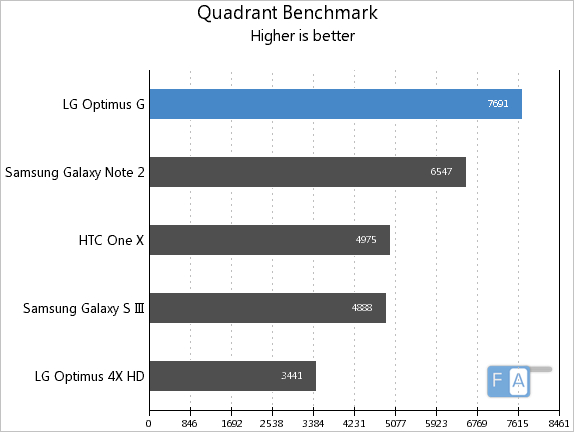 The Optimus G tops the Quadrant Benchmark.
AnTuTu Benchmark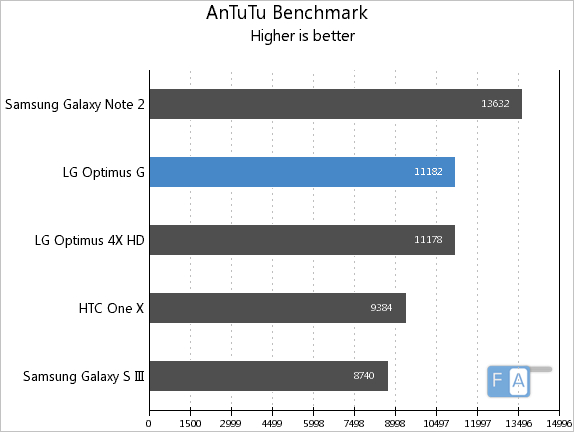 The Optimus G holds the same spot even in the AnTuTu Benchmark, while the Optimus 4X HD with the quad-core Tegra 3 processor tailing behind it.
SunSpider Javascript Benchmark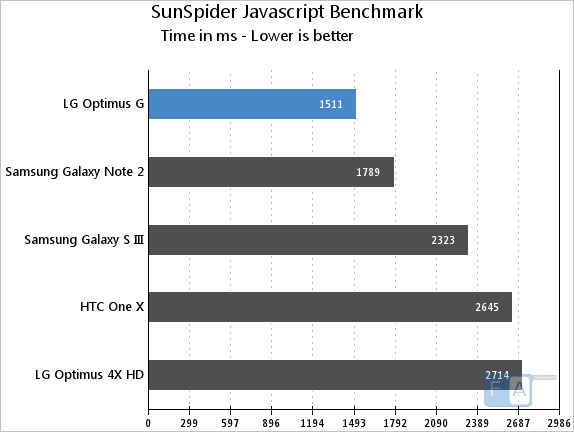 The Optimus G easily beats the Note 2 in the the SunSpider Javascript benchmark.
Browsermark
Even though the Note 2 is way ahead in the Browsermark, the Optimus G beats the other quad-core devices to get to the second spot.
Smartbench 2012 – Productivity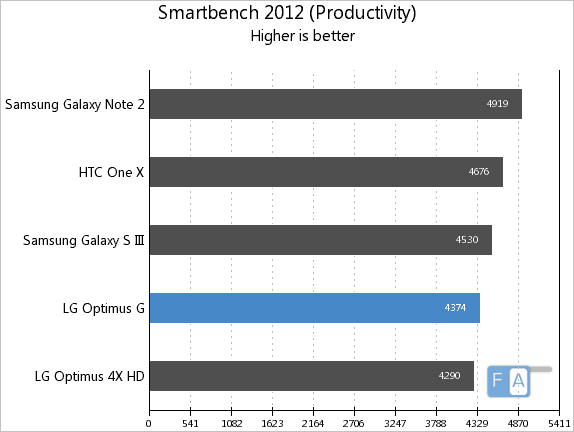 The phone is behind most of the other quad-core phones in the Smartbench Productivity Benchmark.
Smartbench 2012 – Gaming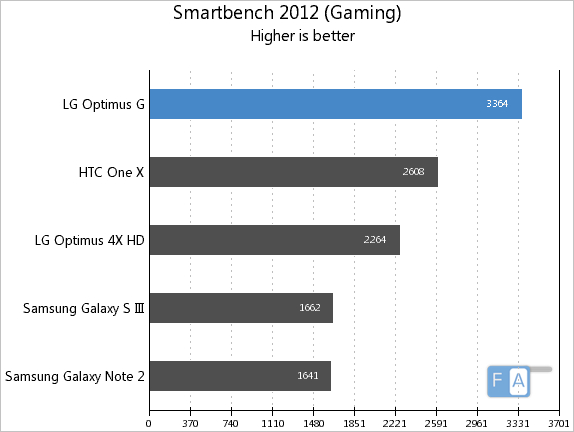 The Adreno 320 GPU tops the Smartbench Gaming Benchmark with a score of 3364.
Linpack Single Thread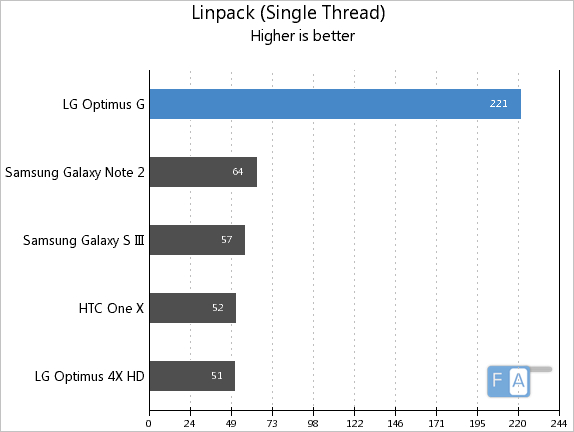 Linpack Multi-Thread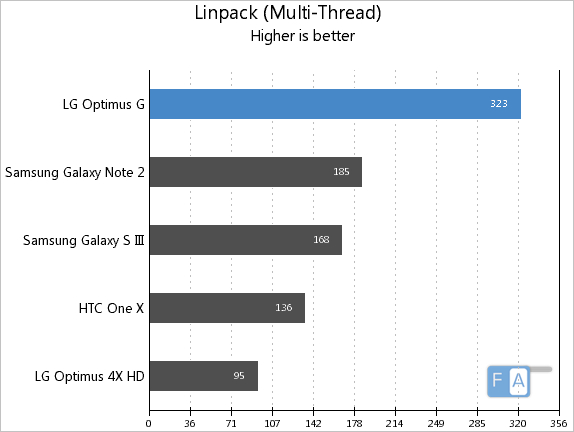 The Optimus G is way ahead of the other smartphones in the Linpack CPU benchmarks
NenaMark 2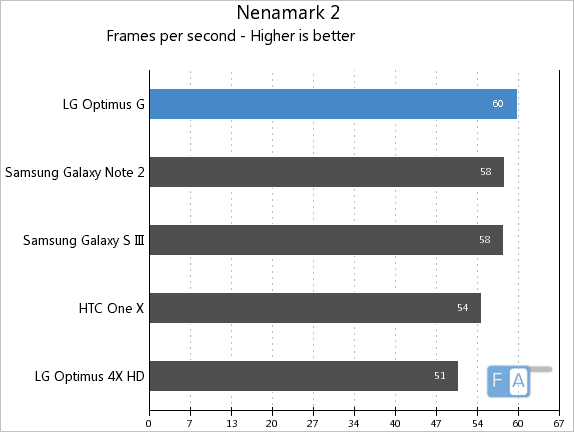 The Optimus G overtakes the Note 2 and the Galaxy S3 in the NenaMark scores.
GLBenchmark 2.5 Egypt HD (1080p) (Offscreen)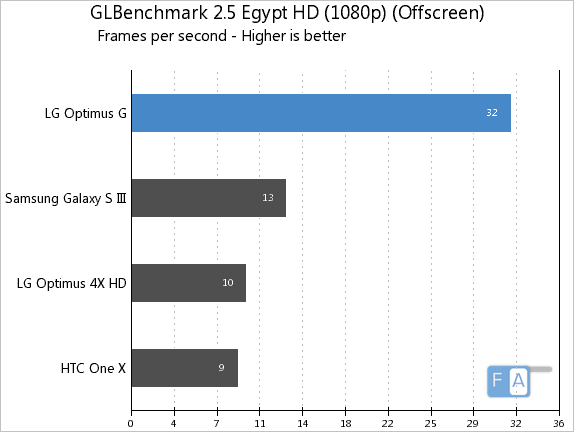 The Optimus G is a clear winner even in the GLBench 2.5 Egypt that tests the graphics performance.