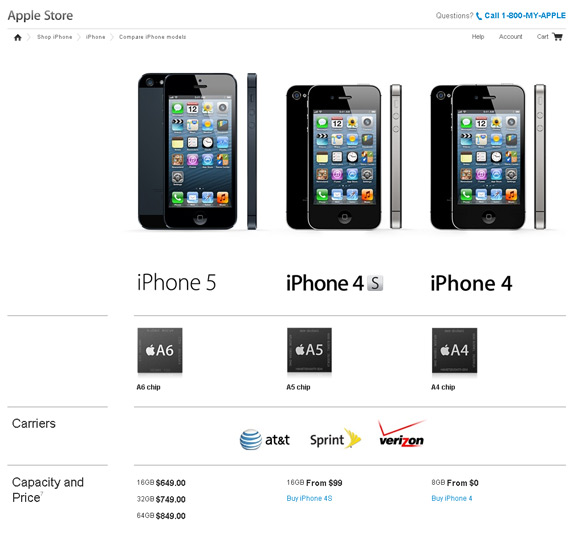 When Apple launched the iPhone 5 yesterday , only contract pricing for the device was revealed for the US market, starting from $199 for the 16GB version ,  $299 for the 32GB version and $399 for the 64GB version. We did tell you about the Unlocked iPhone 5 prices for UK and Singapore . But now the Apple US site is displaying some prices for the iPhone which seems like the prices for the unlocked versions. It might also be a typo as these were the prices at which the iPhone 4S was available previously.
This price does not include taxes and hence you can expect it cost an additional 7-10% depending on where your shipping address is. We got in touch with Apple Care and they would not confirm if the iPhone 5 would be available unlocked at launch and said that the device will be only available on AT&T , Sprint and Verizon with a 2 year contract.
One tricky thing about the iPhone 5 is that it uses a new smaller nanoSIM card which is smaller than the microSIM card used in the previous iPhone. Unless you can grab a nanoSIM card , the iPhone 5 might work like a glorified iPod Touch.
A little warning that iPhone warranty is applicable in only the country of purchase unlike iPads and Macs which have global warranty.
[Via TechCrunch | Apple Store ]