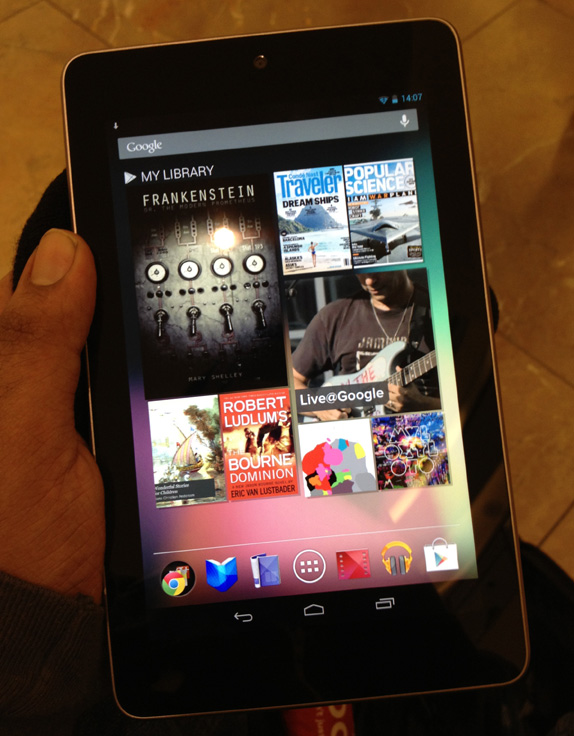 Google's $200 Android tablet, the Nexus 7, is a sweet little device that's attracted a ton of press because of everything it can do for half the price of the iPad 2. Most folks get the $250 model with 16 GB of internal memory, but still, the $200 8 GB model can handle most people's needs just fine. There's a slight problem though. The Nexus 7 isn't very useful if you try to use it outside your home since it can only connect to WiFi networks. If you live in a part of the world where you can connect to an open WiFi hotspot with little to no effort, then congratulations. Not everyone is so lucky. According to Paul O'Brien from MoDaCo, he says that Google will start selling a 3G enabled Nexus 7 in roughly six weeks. To put it another way, mid October, which coincidentally is when we're expecting Apple to announce a smaller iPad.
How much will a Nexus 7 with a cellular modem inside cost? We don't know, but we can't imagine it being more than $100 over the base model. That puts it at $299 for the 8 GB model. Assuming Apple announces an iPad mini during the same month, we're extremely curious to see how much will their equivalent model will cost. Right now you buy a 16 GB iPad 2 with a cellular modem for $530. If Apple can make a 3G iPad mini for $299 then will people even care about the Nexus 7?
Again, it's difficult to have a conversation about two products that don't exist, so we'll have to come back to this topic in a few weeks. If you're thinking about buying a tablet, then maybe you should wait a bit.
[Via: The Verge]