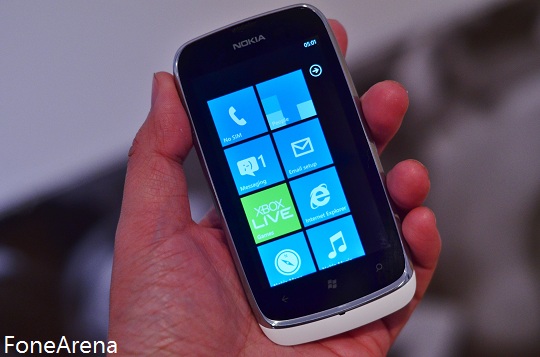 When Nokia announced their partnership with Microsoft last year, there were concerns that the adoption of Windows Phone as their primary smartphone platform would mean the death of cheap smartphones. After all, Nokia's then bread and butter were cheap Symbian smartphones. Fast forward 15 months later and here is Nokia's answer to getting prices of Windows Phone devices down – the Lumia 610. Read on for our first impression on the full retail version of the Lumia 610.
On the surface, the Lumia 610 is yet another Windows Phone device. It retains the basic design of almost all Windows Phone – a touchscreen slate design, three soft keys, a dedicated two-stop camera button and 5MP camera. The glossy plastic body with tacky chrome band doesn't scream premium, but you wouldn't expect that in a device at this price range anyway. While the design is as generic as it gets, at least it is an improvement over the Lumia 710, which takes the award for ugliest Windows Phone. Still, despite being a cheap device, the Lumia 610 is solidly built. It will be available in four separate colours – cyan, magenta, white and black.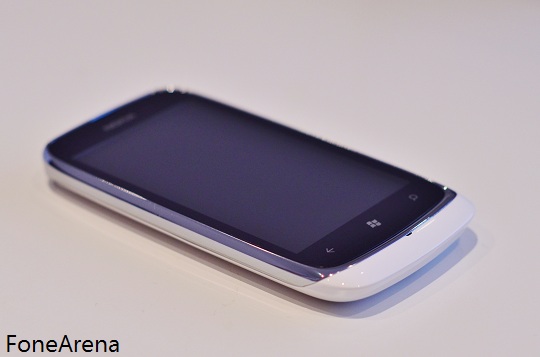 The 3.7″ 480×800 display is the same size as found on its more expensive Lumia siblings, the 710 and 800. With a pixel density of 252 ppi, it is one of the sharpest screen I have seen on an entry level smartphone. But in order to get the price down, Nokia had to cut out the much regarded Clear Black Display filter. The lack of CBD layer resulted in a display that is highly reflective. In fact you could almost replace a mirror with this.
The biggest difference between the Lumia 610 and 710 are the inclusion of a much slower clocked speed processor and less RAM. The single core 800MHz Qualcomm processor and 256MB RAM might sound like a huge compromise to performance, but it isn't. The Lumia 610 feels snappy at all times, thanks to the hardware accelerated UI. After all, Windows Phone was already optimised to run well on the Adreno 200 GPU found inside the Lumia 610 – it is the same GPU used on all first generation Windows Phone devices. Compared to the HTC Wildfire S, which struggles to runs on the same SoC, the Lumia 610 would fly. Not bad for an entry level smartphone with a 480×800 display to power.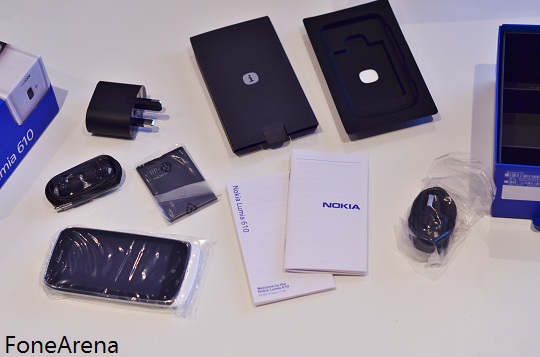 Sadly the move towards 256MB RAM does mean that there are some trade offs. The Lumia 610 is a Tango device, meaning that some apps just won't run on it. Microsoft has started contacting developers to encourage them to update their apps for Tango. Still the effects are real. Just a couple of days ago the Skype app was pulled from the Marketplace because of poor performance. Some background tasks will also be disabled, and there is not fast app switching. In a way, with such limitations in place, the Lumia 610 feels and operate much like a first generation pre-Mango Windows Phone. On the other hand you will be happy to read that the Lumia 610 does come with WiFi tethering/hotspot built-in.
The retail box is similar in design to all the previous Lumia boxes. Inside the drawer you will find a the device itself, some documentations, an in-ear Monster headphone, micro USB cable and USB wall charger. Unlike the Lumia 710, it does not come with additional battery covers. It is not known if Nokia would sell them as separate accessories, but it would be fair to say that they should. After all the Lumia 610 is targeted at a much younger audience.
Do keep an eye out for our full review soon.