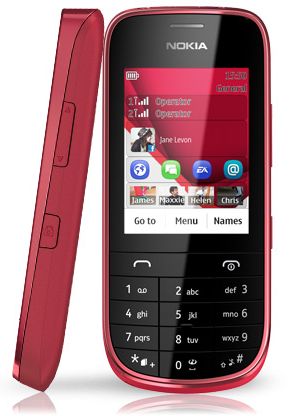 Nokia has launched the Asha 202, Dual SIM phone in India that was announced at MWC 2012. It comes with 100 MB free data plan per SIM card for 6 months from leading operators Aircel, Airtel, Reliance, Tata Docomo and Vodafone, 40 EA games-pack worth Rs 4000 and Nimbuzz app. It is the first Series 40 device to come with exclusive EA games in India. Some of the games include, Tetris, Need for Speed, The Run and Bejeweled that would be available for free as a 60-day promotion at Nokia Store.
It has 2.4-inch (240 x 320 pixels) resistive touch screen display and T9 keyboard. It has Dual SIM Easy Swap technology with dedicated SIM manager to personalize the phone and save up to five SIM cards with unique information.
It has 2MP camera, music player, 3.5mm AV connector, FM radio with FM Recording, Nokia Browser, and Bluetooth 2.1, and has expandable memory of up to 32GB. It comes with 1020mAh Li-Ion battery.
The Nokia Asha 202 comes in four exciting colors – Black and Bold, Silver White, Dark Grey and Dark Red and is priced at Rs. 4,149.