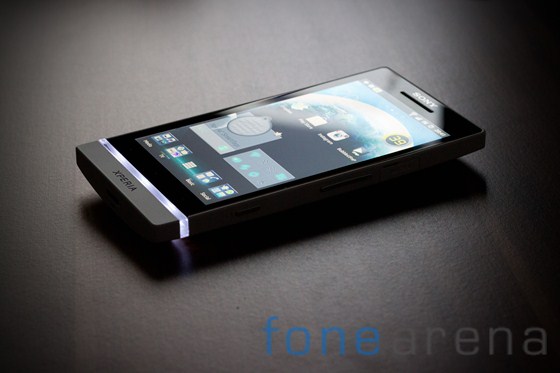 Sony Ericsson has always been a mixed bag of nuts for me. I appreciate the company's tries to bring in different new features, and extend the capabilities of Android. However, at the end of the day, I was always left with the feeling that they didn't give their best, and didn't quite think it through. From the terribly slow X10 (at least at the time I have had it), to the Xperia Arc, which was one of the most horribly built devices I have ever tried. Anyways, Ericsson is gone now, and Sony is ready to start into a new future, with the Xperia S the first incarnation of the company's rebrand.
I have been trying the Sony Xperia S for a good 2 weeks now, trying to see if Sony can impress me. The spec sheet reads very nice: 4,3″ 720p HD display, a Qualcomm MSM8260 Snapdragon dual core processor with 1,5 GHz and Adreno 220 GPU, 1GB RAM, 32GB memory, a 12 Megapixel camera with  Exmor R sensor and 1080p video at 30fps, all wrapped in a plastic body with a special Nano coating. So, the specs are there, so let's see if it's any good.
Hardware:
For starters, I think the Sony Xperia S looks absolutely georgeous. No, I wouldn't prefer it to a polycarbonate Nokia Lumia 800 or HTC One X, but the combination of black front and white sides/back looks attractive. Which brings me to the biggest highlight of the Xperia S: the display. and boy, what a display it is. We're talking about a 4,3″ LCD display, with a 720 x 1280 pixels resolution, resulting in a whopping 342 ppi pixel density. Although I prefer the more colorful AMOLED screens, the display on the S is simply stunning, if not one of the best LCD screens I have ever seen. It's super sharp, provides good color reproduction and viewing angles, as well as very good outdoor readability. I'm seriously amazed here. Located underneath is already one of the signs, that for every upside comes a downside straight after: Underneath the display sits a translucent, illuminated bar with symbols for Home, Back and Menu – a design stunt that gave Sony quite some attention. But assuming it has the icons, this bar would be the spot you press, right? A-HA, not with the Xperia S though. While the upcoming Xperia P and U will do just that, the translucent bar will not react, instead the actual capacitive buttons sit about 0,5cm above the bar, only marked as three tiny dots. Those buttons are not illuminated, nor will the translucent bar light up at every touch of the display, it will only light up if you hit one of the capacitive buttons. Which means as a newcomer to this device, wrong button presses in the dark are the daily order. To whoever hit the big GO-button within Sony Mobile for that misleading idea, you sir, can't tell me you EVER tried the Xperia S longer than a minute in your life, shame on you! Furthermore, you would think the translucent bar will at least chance color, to notify you about missed events? Nope, nothing like that either. You do get notified about said events though, with a little multi-color LED in the left corner at the screen – a little something Sony has done for a long time, and something every brand should put in their devices. All this translucent bar/capacitive buttons above nonsense makes the Xperia S longer than it needs to be, 128 x 64 x 10.6 mm in total size. The 10.6mm thickness I thought were great to handle, giving a much better feel in hand than the ultra-thin devices from Samsung etc. Above the display sits a front facing camera with 1,3 Megapixels and 720p video capabilities for decent video call quality.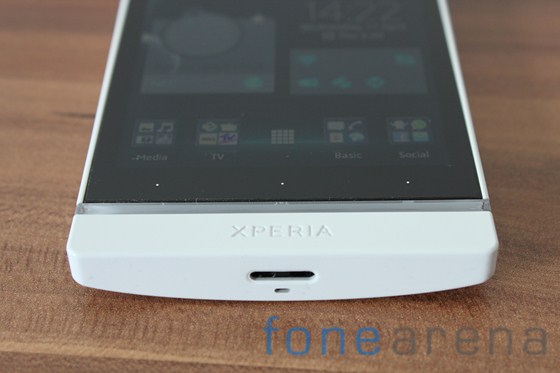 Continuing the device tour on the sides, we have a Micro-USB connector for charging and PC connectivity, covered with a fiddly plastic cover. The right side contains a dedicated camera key (yay!) and the volume rockers, as well as a HDMI port. The standby/power-button on top of the Xperia S, as well as the other keys around the device are all made from aluminium, giving it a premium feel in general. Oh, of course there is a 3,5mm headphone jack as well!
The back of the Xperia S is all white and made of plastic, with some rather strange decisions. First of all, the back cover is removable. So you'd think the battery is removable as well, right? Not in this case. Instead of giving the Xperia S a unibody design, the back cover is removable, but ONLY to remove the micro SIM card, while the battery is built in. Yes, you read that right. The whole back cover is only held in place by 4 little plastic pieces, which is not exactly giving a good feel about it, plus this solution is just inviting the dust to come in! Why the micro SIM slot isn't on the side/top like on all the other unibody devices is just beyond me. Speaking of the battery, underneath the whole plastic hides a rather underwhelming 1.750 mAh battery, which barely manages to bring me through a day.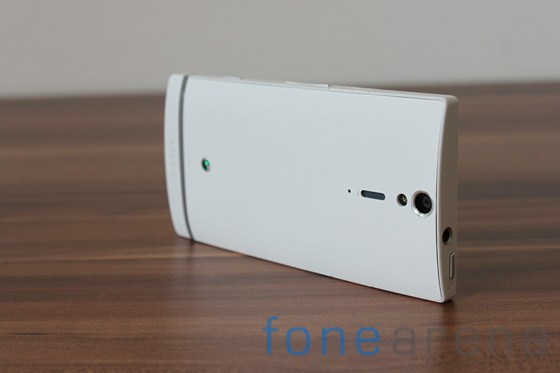 Also on the backside of the device, we have a 12 Megapixel camera with single LED flash, 16x digital zoom, Sony Exmor R CMOS Sensor with an aperture of f/2.4, as well as full HD 1080p video recording with continous autofocus. The camera features all the latest gimmicks, like smile shutter, a VERY handy scene recognition, panorama mode, touch to focus, and even some 3D panorama functions as well, which will be shown in 3D on the TV. The camera will be detailed in a separated review part, but while not being perfect, it is very good for an Android device, if not one of the best. While most of my photos has turned out nice, I have had some problems with out of focus shots (even after several attempts), overexposure, as well as some rather blurry shots. I agree with Steve Litchfield, when he assumed that Sony has sacrificed detail for heavier noise reduction. Sony has always tried to excel in the camera department, and generally speaking, they're doing a nice job. The amount of noise reduction will probably not matter to the man of streets, as I have said before, most of the shots turn out just fine. Video recording was also very nice, although i recognized a bit of a dull sound in the audio recording. But again, I'm already preparing a camera review on the Xperia S, so keep your eyes opened for that. Besides the camera, the backside of the Xperia S also features the second microphone for video recording, a surprisingly good speaker, and yet more surprisingly the old, twisted Sony Ericsson ball logo.
All in all, the hardware of the Sony Xperia S is a good step in the right direction. Some things I don't quite understand, but it seems like Sony Ericsson is moving away from the poor plastic devices from the past, and onto a new future with better materials and build quality. That, i like.
Software
Let's get right to the point: Sony, you're delivering an Android smartphone in March 2012 and it's running Android 2.3.7, instead of a cool taste of Ice Cream Sandwich. Why? Just why? Deep breath… Okay, now that we have that out of the way, let's have a closer look at Sony's Android incarnation once again. After an initial set-up. which explains how to properly press the home button (gah), sets up accounts, Wifi, etc, we're greeted with Sony's Timescape UI, a heavily customized Android skin, with a ton of widgets by Sony. In the past, I have abandoned just about every Sony widget from my homescreen, mostly because they were lagging and not quite functional. Well, times have changed, and some of Sony's widgets are actually quite nice to use.
"Top Contacts" for example, a widget showing the most recent contacts, based on interactions for them, with a simple menu for quick actions like writing a text or calling them. I have been using the beta version of this widget on most of my Android devices and really like it. Another widget I have really learned to appreciate is is the "Timescape Friends" widget, which simply brings in notifications of specific friends, with quick options to immediately reply to a tweet for example. A simple 4×1 "Xperia Share" widgets gives quick options to share to Twitter or Facebook, not to both at the same time though. Widgets for the music player, Sony's TrackID app (similar to Shazam) and a "Music & Videos" widget put a big exclamation mark behind Sony's aim at entertainment, with the latter widget showing posted videos by Facebook friends, making it easy to keep track of those precious facebook friends' party videos. Those video posts can easily be commented or liked, which is nice considering I don't have to open another app for that. And last but not the least (of course there are more, I'm just highlighting my favourites) Sony has also included a quick settings widget, with options for Wifi, mobile data, GPS, airplane mode and many more. I certainly appreciate of Sony's widgets, especially those above, but some are just too much and could've been reduced, in order to make the Xperia S feel a little more lightweight.
Which already brings me to one of the biggest problems I have with the Xperia S' software. I believe Sony should have toned down their heavy customizations and/or get rid of unneeded widgets for two reasons:
Speed: I have had some moments where the Xperia S was terribly lagging. Folders were just blank for a good 5-7 seconds, half of the apps were missing on a page and only slowly rebuilding, or widgets took some time to reappear again. This happened a couple of times, and should not happen on a device that sports such a powerful hardware. Of course this wasn't a daily occurance and most of the time the Xperia S was working alright, but still..
Update timeframes: As I have said before, the Xperia S ships in March 2012 and has no Ice Cream Sandwich on board. That is one major fail on Sony's side, I would've hoped Sony learned from their past mistakes. Yes, ICS is promised for a Q2 update, but that is still too long and there is absolutely no excuse for that. God I miss the ICS multitasking.
Sony has also given the Xperia S their own touch in terms of apps, some of which are:
Sony Music Unlimited: Sony's recreation of Spotify, enabling users to play music on their device, PC, PS3 and more. Music Unlimited is not supported in Austria, yet a website link was present. Go figure.
Timescape: an updated version of the old Timescape app, which displays all events, including calls, tweets, facebook posts, messages, mails in a stack of cards. It was nice to see this evolve and actually be usable with in-app retweets and replies, however, I just can't be friends with that super playful layout. Way too much. Keep it simple Sony, would you? It is unnecessary and just needs to go away.
Track ID: One of the nicer Sony apps, and is basically Sony's version of Shazam. Let the app listen to a song and it will name the you artist, song title, etc. with options to download the track, get more artist infos and search on Youtube. Nice.
Power Saver: Probably the most useful app on the Xperia S, I love that one. The Power Saver app gives different battery saving options, including a timed saver (for example at work hours or at night), with each option having a  settings galore for your choosing. Only one thing was missing in those settings: The ability to switch off mobile data all together. I hope that will be included in a future update!
Update Center: Another simple, yet nice app which gives an overview about eventual updates, including app updates or system updates. Makes it easier for the average guy from the street to keep his Xperia S up to date.
LiveWare Manager: LiveWare Manager keeps track of all connected (or formerly connected devices), and adds possibilities to f.e. launch an app when the device gets connected again. Want your music player to fire up some "friday, friday, gotta get down on friday" once you leave work for the weekend? Well there you go!
Just like the Xperia S as a whole, the software on it has some good and some head-scratchingly bad sides. I definitely think that Sony is trying to add more functionality to their customizations to actually make them more usable on a daily basis, however, some of them just feel out of place, not quite thought through and/or not necessary at all. The beauty of Android is that there's a lot of alternatives, so if you prefer a better version of Sony's attempt, you just visit the good ol' Play Store. Sony, here's an advice: Get rid of your 50.000 customizations, tone it down and actually start optimizing. You'll see, that will work wonders!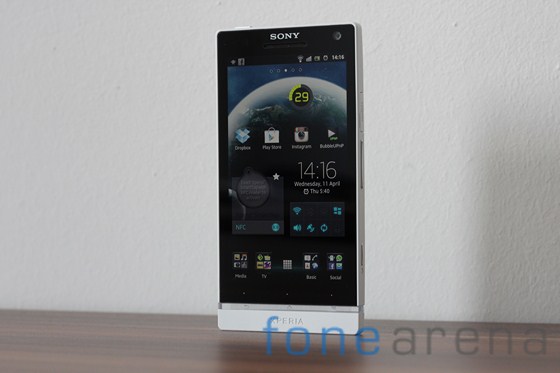 I cannot finish my review though, before highlighting a few more thoughts and observations:
Smarttags: Yes, Sony apparently has some fun with NFC these days, and the Xperia shows some (promising) things to come! I personally love NFC and think it's the next big thing in mobile. Sony apparently read my thoughts and brings smarttags with each device, with the goal to bring NFC to the masses. The Smarttags work with a corresponding app and widget. For example: A smarttag can be assigned to a location, f.e. work. Your work smarttag can now be set up for your work environment: Connectivity options can be changed, music can start playing, an url can be opened, an app can be started, a different wallpaper can be set. The only feature missing is disabling the mobile internet connection altogether, other than that I think the smarttags are brilliant. I'm using them every day and it just works out nicely.
Did you know the Xperia S has a nano coating? A friend at T-Mobile demonstrated that feature nicely, when he violently started to smear cigarette ashes over the back of the Xperia S. Few rubs with a clean tissue, or even a finger will remove it, and the Xperia S looks good as new. That is something I really like.
Why is there a software home button in the app drawer? I have the capacitive one just a bit below that?
Wouldn't it be nice to have the translucent, illuminated bar as a full blown notifications option? let that bar light up in different colors, instead of the tiny LED. Or even better, as a friend said to me a couple of days ago: "Wouldn't it be nice if it could do the Knight Rider red light scrolling?"
Gaming was certainly a nice experience on that screen. Just as pretty much everything I did. The games were running fluently.
The developer scene for the Xperia S isn't quite there in my opinion. Rooting is very difficult to do, let alone custom ROMs. That will hopefully improve in the near future. Here's a nice post from XDA Developers about the state of modding.
The front facing camera of the Xperia S does 720p! Not bad for video chats!
Too bad none of my Nokia NFC Gear works with the Xperia S!
A widget can be dragged to the top of the screen and can be shared on Facebook, with a link to the Google Play Store, which I think is very nice!
So in the end, is the Xperia S worth buying? First of all, Sony needs to hurry up and deliver Ice Cream Sandwich to the masses, simply to have a "current" device on the table. They have done the internals right, simply because I'm not buying into the whole Quad Core craze just yet. But they have a TON of work ahead when it comes to software and hardware, both of which need a lot of fine tuning. The software definitely needs to be toned down, in order to speed up software updates and overall speed of the device. The unnecessary back cover and the weird buttons on the front are facepalm-worthy. The camera could be better (but still very good for Android standards), but all of those niggles and downers are outshined by the absolutely spectacular display. Slap a 720p video on the Xperia S and try for yourself, it is really that good. And not only sharp, but perfectly usable in day to day operations. I was also quite happy about the panorama functions, as well as the attempts of Sony, of bringing NFC to the masses with their clever Smarttags.
In the end, the Sony Xperia S feels a lot like an experimental device. Lots of new things tried, lots of clever bits inside, but all of them need some more fine tuning. I'm happy to report that the upcoming Xperia devices will iron some of my complaints out, which is why I'm already looking forward to test them. In the meantime, should you buy the Xperia S? Well, I had two friends already who bought it after they had a go with mine, just because they loved that display so much. It's probably not the must-have device for the super hardcore modding geek, but everyone else will have a good time with Sony's restart, the Xperia S!