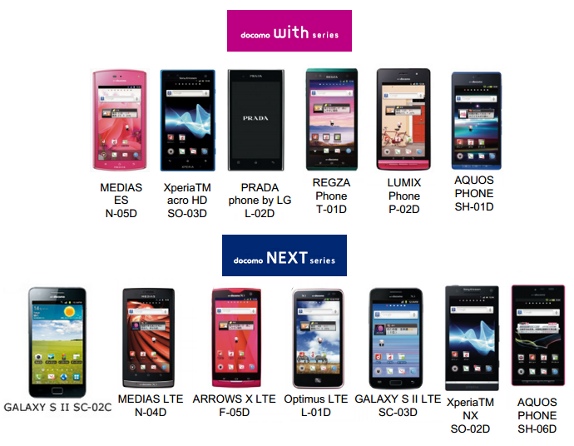 NTT Docomo has announced the Android 4.0 (Ice Cream Sandwich) update for 18 devices in their docomo with series, docomo NEXT series and docomo tablets. Some of these devices were announce in May and October 2012. The Xperia Acro and NX SO-02D were announced this January.
Docomo with series phones
REGZA Phone T-01D
AQUOS PHONE SH-01D
LUMIX Phone P-02D
PRADA phone by LG-L-02D
MEDIAS ES N-05D
Xperia Acro HD SO-03D
Docomo NEXT series phones
GALAXYS II SC-02C
GALAXY S II LTE SC-03D
Optimus LTE L-01D
ARROWS X LTE F-05D
MEDIAS LTE-N04D
Xperia NX SO-02D
AQUOS PHONE SH-06D / SH-06D NERV
Tablets
GALAXY Tab 10.1 LTE SC-01D
ARROWS Tab LTE F-01D
GALAXY Tab 7.0 Plus SC-02D
MEDIAS TAB N-06D
The Android 4.0 update for 7 phones including Disney Mobile F-08D, Disney Mobile P-05D, F-12C, Xperia PLAY SO-01D, Xperia ray SO-03C, Xperia acro SO-02C, Xperia arc SO-01C  are being considered.
They plan to roll out the Android 4.0 update sequentially starting July 2012. The date of roll out for the products and the available features will be announced sequentially on NTT Docomo website.