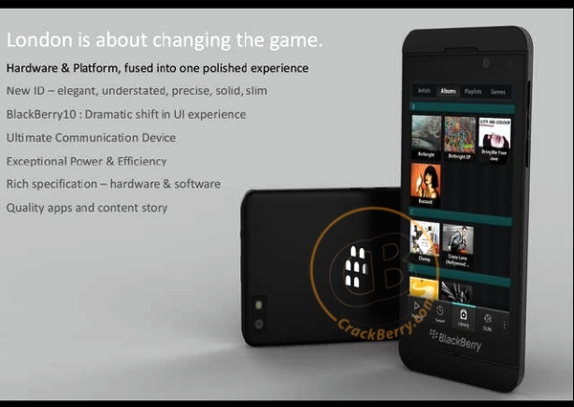 New image of the BlackBerry 10 smartphone code-named London has surfaced. According to Crackberry, this is called Superphone. RIM's 2012 roadmap leaked last week that showed that the first BlackBerry 10 smartphone might be pushed from Q3 to October 2012 . This new phone is a lot different from the dummy model of the London that surfaced last November and looks like a scaled down version of the BlackBerry PlayBook.
RIM is said to be testing the device with TI OMAP5 and Qualcomm chipsets with 1.5GHz dual core processors. This device might head to UK code-named London and would arrive in the US as Laguna and Lisbon.
Let's wait till MWC 2012 next month for RIM to show off this new BlackBerry 10 device and other devices.
Source: CrackBerry