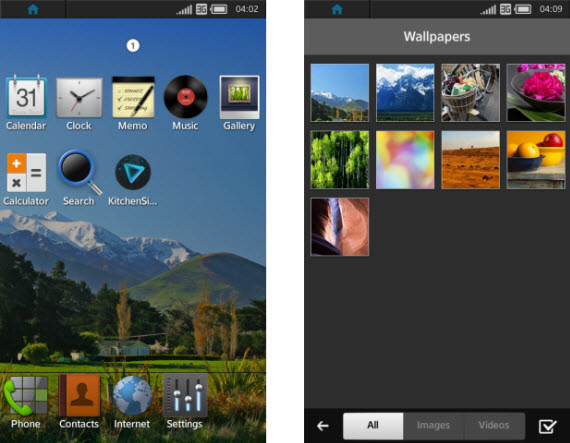 We already know that MeeGo is dead! For the unknown, the Tizen OS is the successor of the MeeGo OS. It is an open-source Linux-based project developed by Samsung, Intel, Panasonic, Vodafone, NTT DoCoMo and the Linux Foundation. According to the rumors, Samsung is expected to announce its first Tizen based device next month at the Mobile World Congress (MWC) 2012 in Barcelona. The guys at SamMobile recently shared some screenshots of the new Tizen OS.
The screenshots are not taken from a real device, but someone got his hands on the TIZEN SDK and took several screenshots. The UI of the Tizen OS looks quite similar to the Samsung's very own Bada Operating System. The above screen shot clearly shows the notification bar on the top of the screen, a five button shortcut and a homescreen which allows you to customize it with app icons and widgets.
The screenshot posted below, shows the device name as Samsung I9500 via browser's user agent. It means that, the much-awaited Tizen OS might debut on a Samsung smartphone in the coming weeks. Interestingly, the Samsung I9500 name was connected to the Samsung's third-gen Galaxy S device, when a photo was leaked last year. Now, it seems that the pic was clicked from the Tizen powered smartphone, instead of the upcoming Galaxy S III. Let us know your views regarding the Tizen OS, in the comments section below. Until then, check out some screenshots of Tizen OS below.