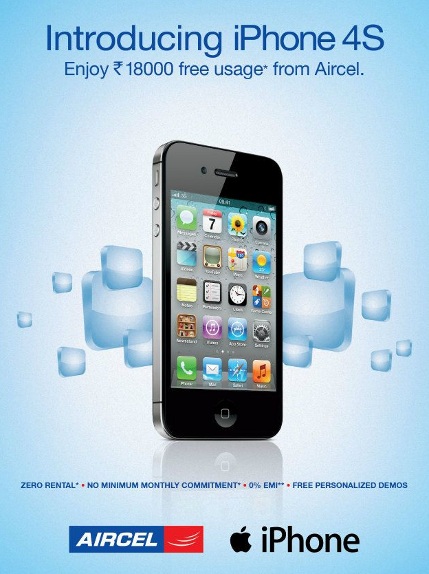 Aircel now offers zero rental plans for the 16GB, 32GB and 64GB iPhone 4S. This would offer Rs 18,000 worth free usage on 3G and Rs 15,000 worth free usage on 2G for 1 year. The free usage include, free voice calling, 3G / 2G data , Wi-Fi data and SMS. They announced the price for the iPhone 4S on 18th November and it went on sale on 25th November.  They also offer 0% EMI for ICICI and HDFC bank credit card holders.
Aircel iPhone 4S zero rental 3G plans

Aircel iPhone 4S zero rental 2G plans

After free usage all the local and STD calls would be charged at 1p/sec, SMS would be charged at Rs. 1, Rs.1.50 for local and national SMS. Data charges at 10p/10kb. The free Wi-Fi data could be accessed via Aircel Wi-Fi zones in select cities across India.
Will you get the iPhone 4S from Aircel with the Zero rental plans?