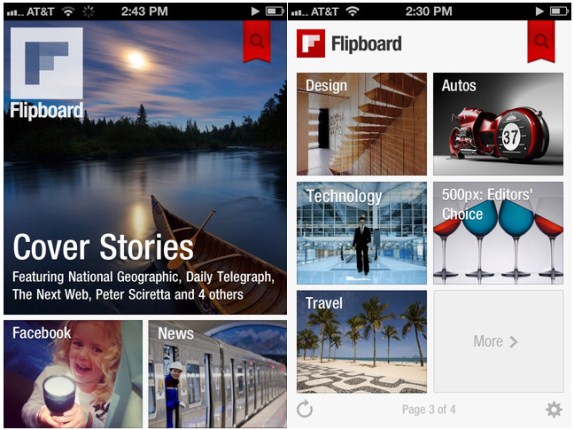 Flipboard, popular social magazine app is now available for iPhone. This includes new feature Cover Stories, that uses a vertical flip to quickly catch up on some of the most interesting news, updates and photos being shared with you. You can also mute anyone you'd rather not hear from, and connecting to your social networks.
Features of Flipboard for iPhone
Cover Stories: Get a quick update on interesting stories and photos from all your social networks and favorite Flipboard content.

Social Networks: Enjoy everything in one place from Facebook, Twitter, LinkedIn, Tumblr, Instagram, Google Reader, Flickr and 500px.
Flipboard Accounts: Access to all the favorite content and social networks you saved on the iPad edition of Flipboard with a Flipboard Account.
Content Guide: Browse recommended reading. Use + to add to your Flipboard.
Search Bar: Find social conversations, posts and feeds from any person or publication and on any topic from Tumblr, Facebook, Twitter, Flickr, RSS and Instagram.
Share Everywhere: Just one tap to share, like or comment to add to the conversation on the social network an item was posted to.
Fast Flip: Scan through pages as quickly as you can with just a flick of a thumb.
Read later: Use Instapaper or Read It Later to mark stories you want to save.
httpv://www.youtube.com/watch?v=vfCaVzbvmVU
Cover Stories feature would be available for iPad in the near future. Download Flipboard for iPhone from the
Apple iTunes store
 (iOS 4.0 or later) for free.