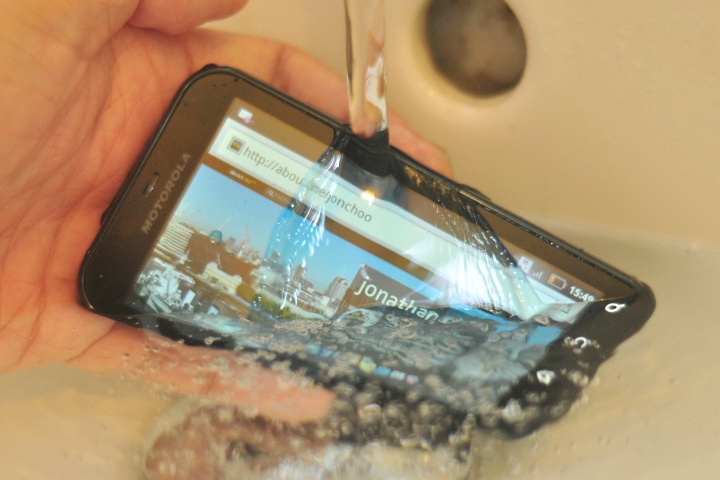 The Motorola Defy+ is an updated version of the Motorola Defy, Motorola's unique take on making rugged phones accessible to all. Externally the Defy+ looks identical to the Defy. In fact side by side it is impossible to tell the two apart. Which is a good thing as we like the same small cute design.
Like the original Defy, Motorola is marketing the Defy+ as a water resistant and dust resistant device that also has a scratch resistant display. The Defy+ is an IP67 certified device, meaning it is capable of being submerged in water up to 1m deep for 30 minutes.
httpv://www.youtube.com/watch?v=GMBKs0mSWYA
Internally there isn't much to tell the Defy+ and Defy apart. The processor has been slightly upgraded from a 800MHz OMAP 3610 to a 1GHz OMAP 3620, but the 512MB of RAM has been left untouched. It also now runs on Android OS 2.3 Gingerbread while the original Defy was initially shipped with Eclair (it now runs on Froyo).
Incredibly, despite the same dimensions, Motorola has managed to bump the battery capacity to 1700mAh, up from the already reasonable 1540mAh that was bundled with the Defy.
httpv://www.youtube.com/watch?v=9A6uyykfJU4
Specs wise there is nothing exciting about the Defy+. Having said that, the Defy+ is a competent smartphone for active people looking for something that may suit their lifestyle, and do not mind being left slightly behind the specs race.
Over the next few weeks we will be testing the Defy+ rigirously to see if it is capable to taking  all the abuse we can throw at it. Watch this space.
Edit: We mistakenly referred to the Defy+'s camera as being capable of 720p video recording. This is wrong and we apologise for this.