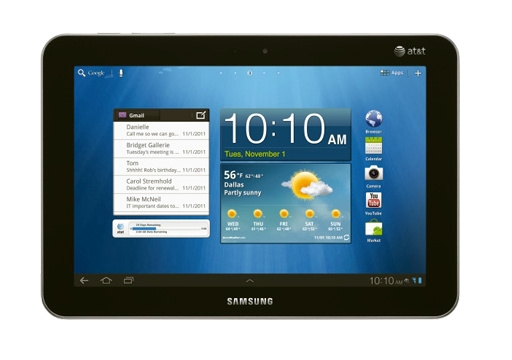 AT&T has announced their second LTE tablet, the Samsung Galaxy Tab 8.9 for their customers. They would also launch the 4G LTE (Long Term Evolution) in 6 new markets (Charlotte, Indianapolis, Kansas City, Las Vegas, Oklahoma City, and San Juan, Puerto Rico) on November 20. The tablet is 8.6 mm thick and weighs 450g.
The tablet has 8.9-inch (1280×800 pixels) HD widescreen display. It is powered by a 1.5 GHz dual core Snapdragon processor and runs on Android 3.2 (Honeycomb). It has 3.2MP rear facing auto focus camera with LED flash and a 2MP front facing camera , The connectivity features include, 4G LTE backed by 4G HSPA+, WiFi 802.11 a/b/g/n, Bluetooth 3.0 and USB 2.0 H/S. It comes with 1GB RAM, 16 GB internal memory and expandable up to 32 GB via accessory option. It also capable of playing 1080p HD videos.
They have also launched new data plans starting at $35 that offers 3 GB monthly data plan option with 2-year contract. There are also postpaid and prepaid plans that offers 250 MB data for $14.99 or 2GB data for $25. $10 per 1 GB of overage would be charged for 2GB postpaid plans. Prepaid customers on 2GB plans can get additional 2 GB for $25.
The Samsung Galaxy Tab 8.9 LTE would be available from the AT&T company-owned retail stores and online starting November 20 for US$479.99 with a 2-year commitment. Customers who select a Samsung Galaxy Tab 8.9 will receive a Samsung Galaxy S II Skyrocket or Samsung Galaxy SII smartphone at no cost (With 2-year commitment).