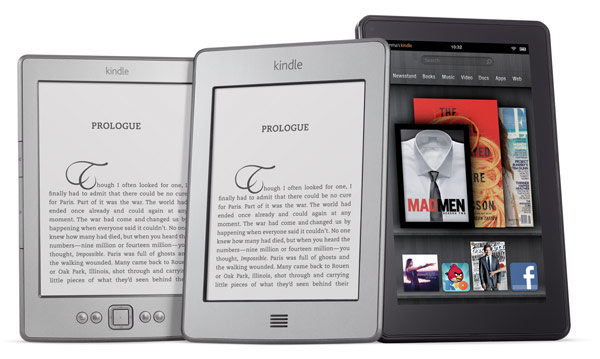 Amazon today announced a handful of new Kindle e-reader products, including the first ever Kindle with a colour display – the Kindle Fire.
Firstly, Amazon has lowered the barrier of entry once again with a new entry level Kindle. For $79, the WiFi-powered Kindle Button features a none-touch 6″ e-ink display. It will be the first Kindle without a built-in QWERTY keyboard. The new Kindle Button will be available from today.
Next up is the $99 Kindle Touch. Like the Kindle Button, the Kindle Touch will not have a QWERTY keyboard.  Instead text entry will rely on the infrared touchscreen similar to the technology used by Sony on their PRS e-readers.  WiFi is included as standard. A 3G version is priced at $149. Both versions will be available from November.
Finally, Android has announced that it will be making its entry to the tablet market with the Kindle Fire. Priced at $199, the Kindle Fire will feature a  7″ IPS display and dual core CPU. It will run on a fork of Android, and thus will be compatible with Android apps. The Kindle Fire will be compatible with a few Amazon services announced today, including the multimedia orientated Whispersync and Amazon Cloud Storage. It will ship from November.
The new Kindle devices are available for pre-order today.