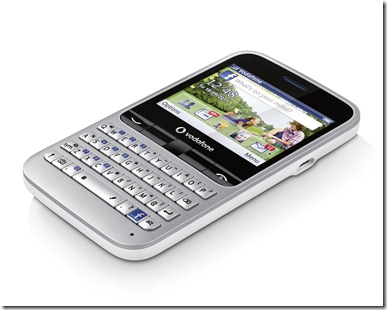 Well this is not first time a Social Networking oriented Phone has been launched. We have seen INQ phones, HTC ChaCha & Salsa facebook smartphones.  But Vodafone Blue Facebook phone is definitely something different.There are few reasons.
1. The price factor:
This new Vodafone Blue is priced for just Rs. 4950/- which includes all taxes (USD 108.00). Except INQ series both HTC ChaCha (Rs. 15,500/-) and Salsa (Rs. 18,900/-) are way expensive.
2. The main USP is Facebook:
Facebook has been really deeply integrated in this Vodafone Blue Facebook phone. Every important FB functionality is available in it including Messages, Mail, Photos, Chat, Search, Status updates, News Feed, Groups, Calendar with all friend's birthdays and various events get synced. The synchronisation is really fantastic for a phone which is just priced at 4.9k. Also the user is not required to manually update the phone but every FB update is pushed to the phone automatically. There is also quite good multitasking for FB Chat, IM, Music and FM Radio background playback and so on.  The instant photo sharing is really a cool feature with dedicated camera button for the same. We actually felt that the phone runs something like 'Facebook OS' than some proprietary JAVA platform .

We also liked the truly integrated messaging where all FB messages appear along with the SMS, Email in common Inbox . Only such functionality is integrated in upcoming WindowsPhone 7.5 Mango update for all current and upcoming new WP smartphones. Many will argue that we can have such functionality on Android smartphones too with 3rd party apps like GO FB Chat but we need to see the Price factor where all these smartphones on Android, WP7 are well definitely above Rs. 8K.
3. Nice Build quality and amazing features at very attractive price:
Just check the features and its great VFM.

1. One Year Facebook Experience for free

2. QWERTY Keyboard with dedicated Facebook Button

3. 2.4" QVGA TFT screen

4. Optical Track-pad

5. Mobile Internet, Email (Gmail, Hotmail, etc.), IM (Gtalk, MSN, Yahoo, etc.)

6. Opera Mini 5 Browser integrated

7. Music Player with 3.5mm headphones jack

8. Bluetooth

9. 2MP Fixed Focus camera with Single LED flash

10. Upto 16GB expandable memory via built in Micro-SD card slot

11. Micro-USB connector port for universal charging and 1000mah Battery

12. Upgradable FirmWare (FOTA)

13. Platform: Vodafone Proprietary, JAVA (JAVA Apps can be installed)

14. Manufactured by TCT – ALCATEL

15. 2 Years warranty
Few Drawbacks:
1. This phone is just 2.5G (EDGE Data only) ready and no 3G.

2. No WI-FI

3. No Facebook Games
Well we can not really say these are some major drawbacks considering its price point. Some may argue for Facebook Games but we will say that no other Facebook phone like HTC Salsa or ChaCha has preloaded Facebook Games which are quite expensive compared to VodafoneBlue phone. We would have more happy if Vodafone could have added the 3G data option for faster data uploads like Photo sharing etc.
Conclusion:
Well  the device is quite interesting for its USP which is Facebook. It's also quite affordable and has quite nice build quality with good features. We need to see how this phone really competes with other similar priced phones like Nokia X2, Samsung Chat Duos and few other similar priced phones from local brands such as Micromax, Maxx Mobiles and Spice Mobiles. We will have its full review soon.
Hands-on Photos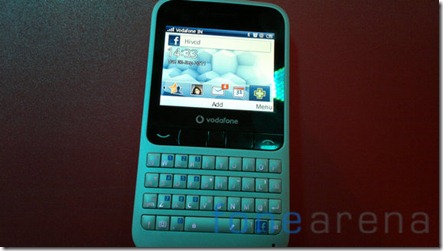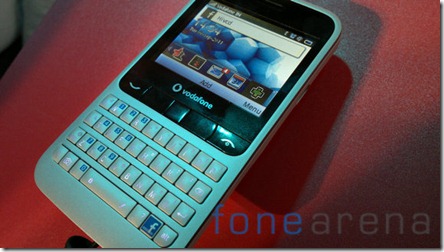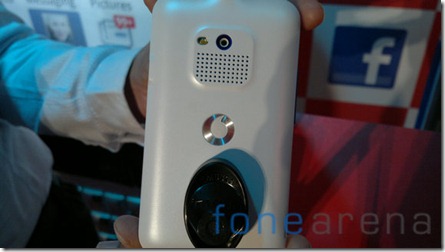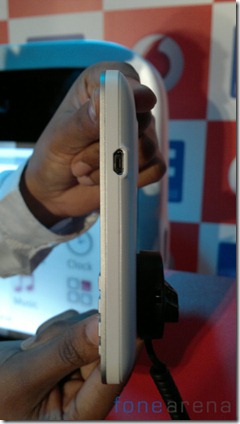 Vodafone Blue Presentation Demo Clip