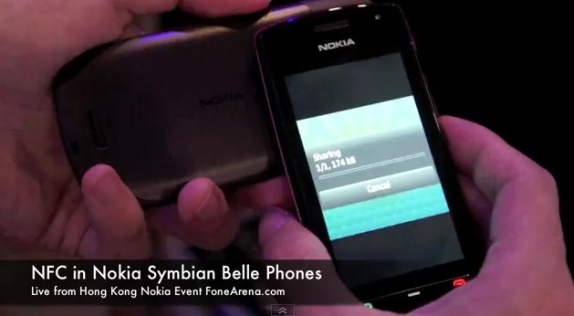 We had the chance to check out the NFC feature in the newly announced Symbian Belle Phones. You can transfer photos from one phone to another by merely tapping the phones together.  Watch the video below to see the technology in action. In the first part of the video a photo is clicked with a Nokia 600 and is sent to another device via NFC or Near Field Communication.  In the second part a wallpaper is shared in a similar fashion.

httpv://www.youtube.com/watch?v=GRRcnAEr-R0
NFC is expected to go main stream in the coming years and looks like Nokia might benefit from the early mover advantage. The Google Nexus S Android phone also supports NFC. The iPhone 5 is rumored to sport NFC.
The application of NFC is not limited to file sharing but can be used for mobile payments , gaming and as authentication tokens. One of the biggest deployments of NFC is in Japan and you can pay for your train fare with your phone.
httpv://www.youtube.com/watch?v=AOLFW6ed4jA
If you interested to know more about NFC head here