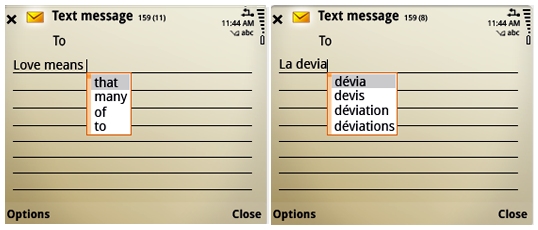 Keypoint Technologies has launched Adaptxt intelligent text input app for S60v3 Nokia phones that lets to users to enter text easily with minimal keystrokes. The app is powered by ambient intelligence to lean the communication style of the user to make contextual word predictions, error corrections & auto correction.
Features of Adaptxt Symbian app
Predicts the next word by understanding your context, that saves lots of keystrokes
It completes the word by providing relevant suggestions of different words as you type
Corrects the words if it's misspelled if you hit the wrong key or miss some letter when you type
Adds the new words to the personal dictionary that are not in the Adaptxt dictionary and suggests it based on your context of usage
Auto corrects the wrongly typed words automatically when you press space or punctuation
Auto capitalization for the nouns and the start of the sentence
Suggests the accents for the words in different languages automatically
The app is available for free as OVI gift when you enter the OVI store app on your phone for select Symbian S60v3 devices that include C5-00, E5-00, E72, E52, 6700.
Download Adaptxt app for other Symbian S60v3 Nokia phones from the OVI store for Rs 25 ($ 0.99). There is also trial version of the app in the OVI store for you to checkout before purchasing it. It has separate language Add-ons for over 40 languages. The Android version of the app is coming soon.