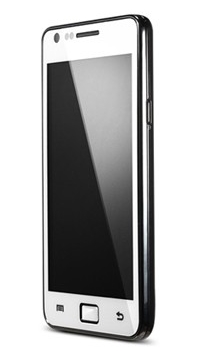 It seems that Samsung is set to release the Galaxy S II in white. It will be the just like the international Samsung Galaxy S II GT-I9100 but in white colour.
The device is said to be coming out early next month (August). Handtec UK is already taking pre-orders for the white version. Were not sure if the entire device will be in white or whether the front or back alone will be in white.
Samsung are also said to be readying another version of the Galaxy S II with slightly better specifications including a faster processor. Perhaps this upgraded model might be released in white as well.
For people who already have the black version of the Galaxy S II and would like it in white, you can try the Glas protector from SGP. It gives you an option of White, Pink or Back front plate which doubles as a screen protector.