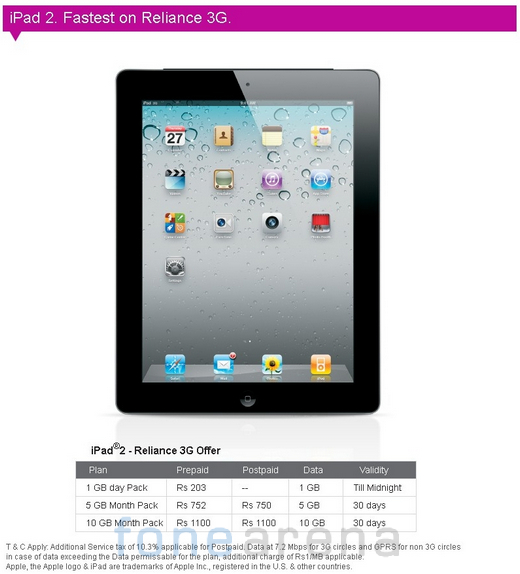 Reliance Communications or RCOM has outed its 3G data plans for the iPad2 and it makes a lot of sense as many iStores selling iPad2s in India are owned by Reliance Retail a sister company.Reliance has been boasting of a superior 3G network through it's ad campaigns recently and we are not exactly sure if claims are true. But if you are a Reliance 3G user and also carry along an iPad, these plans might be of interest to you .
The promo indicates only plans for the iPad 2 , we are not sure if it is applicable for the first gen iPad too. There are 3 plans
1)1GB daily pack at Rs.203
2)5GB Monthly pack at Rs.752
3)10GB monthly pack at Rs.1100
The monthly packs are available both on prepaid and postpaid. The daily pack is available only on Prepaid.
Reliance had won a license for 3G spectrum in 13 circles and 3G data at 7.2 Mbps will be available only in these circles , the iPad will work only over GPRS in circles where Reliance does not have a 3G license.
These plans are very expensive compared to BSNL who offers 3G services almost in every nook and corner of the county. Do check out BSNL 3G iPad plans too.