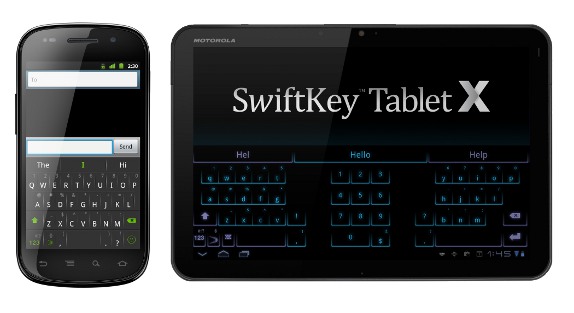 One of the popular Android keyboard, SwiftKey X is now out of beta and SwiftKey Tablet X debuts for the Android tablets. Both these are now available in the Android Market for purchase. SwiftKey was launched last year as beta and it has reached 1.5 million downloads since then.
The SwiftKey X Beta was launched this May and it was updated frequently based on the user's feedback. This has features like Fluency2.0 that predicts the next word to be typed, Cloud learning from the user's Gmail, Twitter and Facebook for frequently used words and Integration of Touch Interaction Modeling that improves word accuracy and predictions based on user's typing precision.
httpv://www.youtube.com/watch?v=mTiuxsY0TNU
The SwiftKey Tablet X has similar features but it also includes split key layout for typing easily with the thumbs on the larger screens. This feature is already available in Swype 3.0.
httpv://www.youtube.com/watch?v=DitijMN4xyo
New features in SwiftKey X and SwiftKey Tablet X version 2.0.5.101 for Android
Themes and customizations for the keyboard
Option to choose 20 languages
Users can type in 3 languages at the same time with auto correction that is language aware
Improved settings and installer user interface
SwiftKey X is available for phones that run Android 2.1 and above and SwiftKey Tablet X is available for Tablets that run Android 2.1 / Android 3.0 and above for $3.99 and $4.99 respectively.
Download SwiftKey X and SwiftKey Tablet X for $1.99 each as first anniversary offer till 6am (PDT) of 16 July 2011.