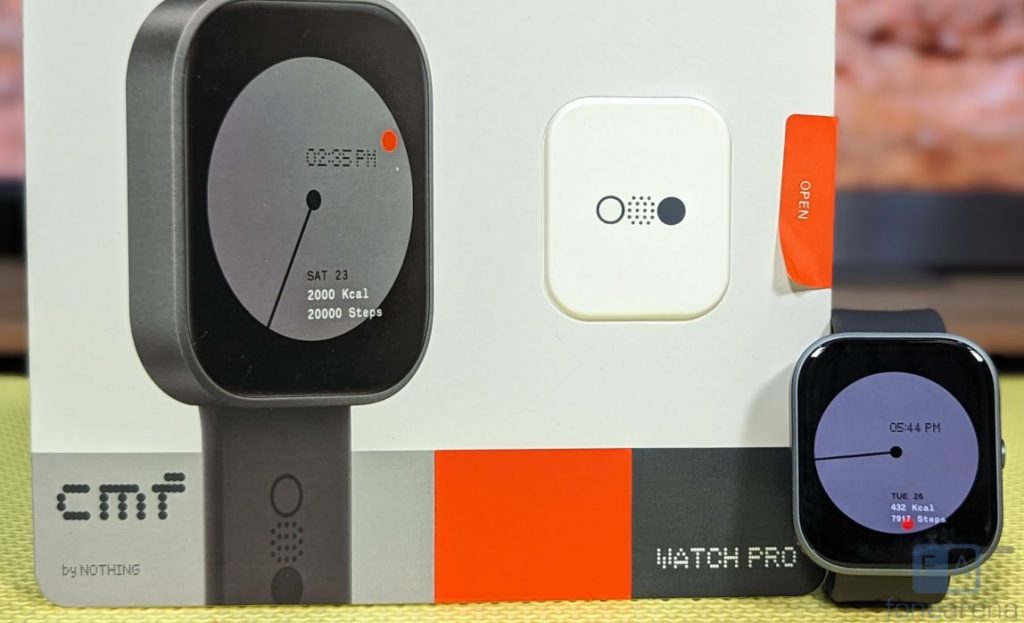 Nothing under its CMF by Nothing brand launched its first ever smartwatch – CMF Watch Pro earlier this week. The smartwatch packs in a lot of features such as a large 1.96-inch AMOLED screen, has built-in microphone and speaker for voice calling capabilities, has 110+ sports modes, GPS support and promises up to 13 days battery life.
I have been using the latest smartwatch for a few days. Is this the best smartwatch under Rs. 5000? Let's dive into the review to find out.
Box Contents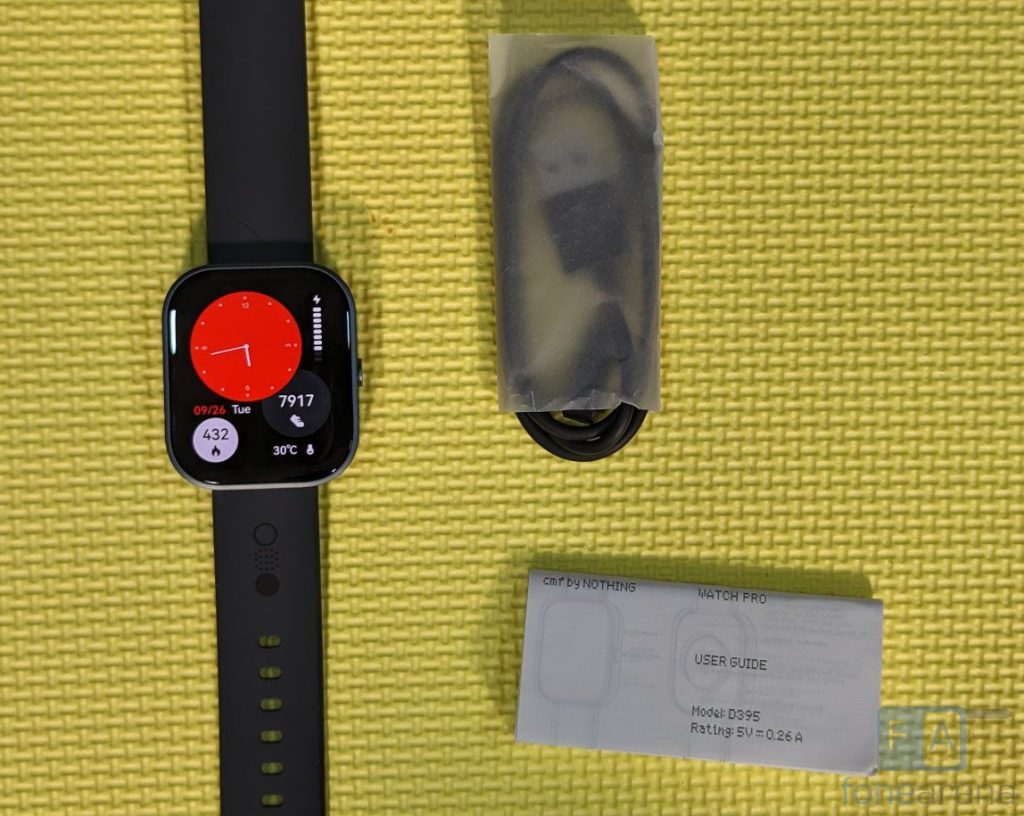 CMF Watch Pro in Dark Grey colour with matching straps
Charging cable
Safety information and warranty information, User Guide
Design and Build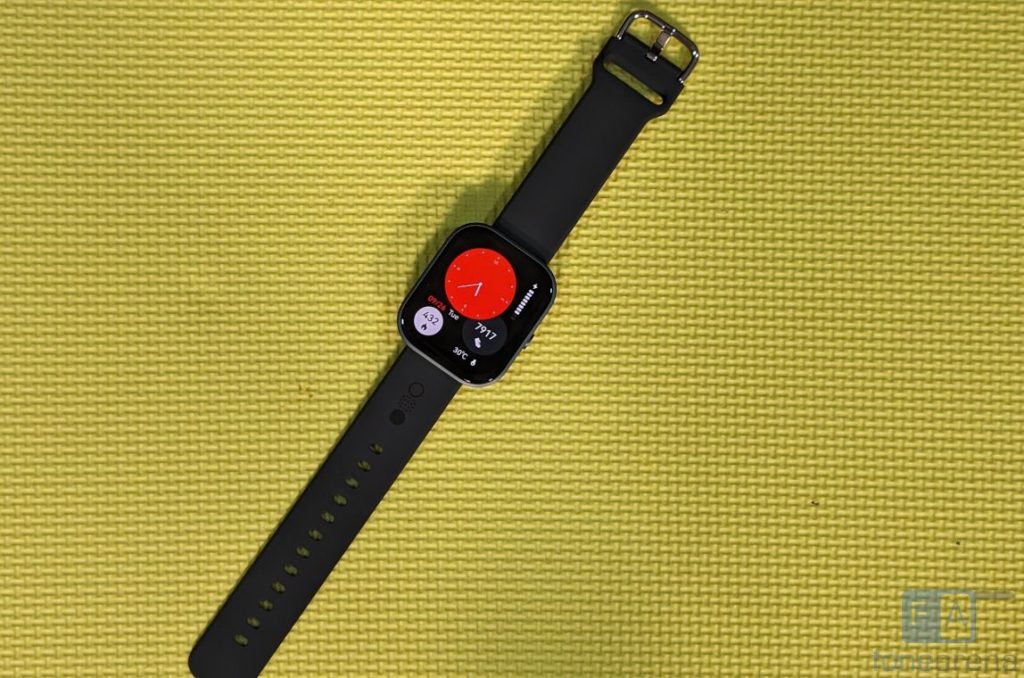 The CMF Buds Pro has the square design that is similar to most watches. It measures 261.2 x 39.9 x 12.9mm and weighs 47 grams with the strap. The smartwatch has IP68 water resistance. There is Accelerometer, 24h Heart Rate Monitor and SpO2 Sensor. It uses Bluetooth 5.3 to connect to Android 8.0 and above and iOS 13 and devices and above.
Coming to the strap, it has a lightweight 22mm interchangeable strap that is made of skin-friendly material, and the quality of the strap is good.
There is a single function button on the right side with a metal finish that lets you wake up the watch, go back, open the menu and also pause workouts. You can also see the speaker below it. On the other side, there is a microphone. The watch has an Aluminum alloy case with an anodized finish in the dark grey model that we have.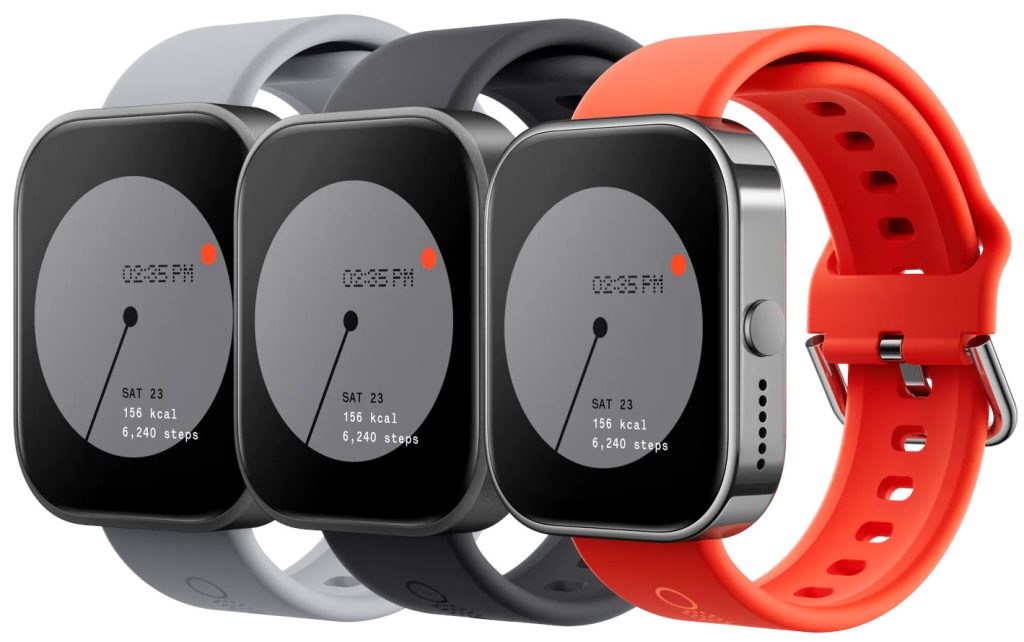 It also comes in a metallic grey model that has a glossy PVD (Physical Vapor Deposition) finish that has a glossy finish, so it is costly.
On the back, you can see the heart rate and SpO2 sensors that have glowing green and red LED lights when you are using it to measure heart rate and blood oxygen.
Display and features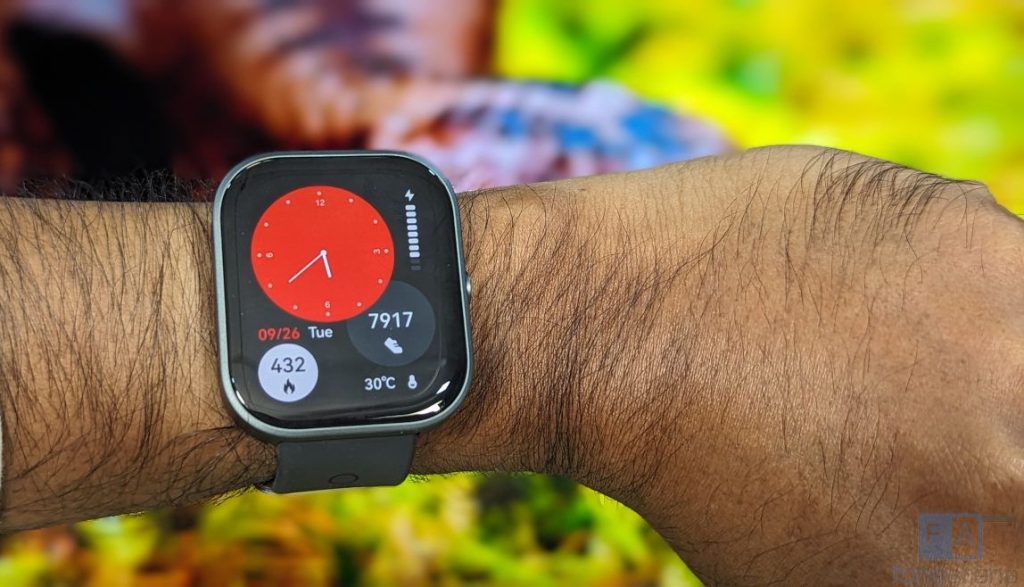 Coming to the display, the CMF Watch Pro has a large 1.96-inch (410 x 502 Pixels) 330 PPI AMOLED touch screen with 2.5D curved glass. You can set it to turn on when you lift your hand, and the screen turns off in a few seconds to save power. You can also use always on display options, and there are 8 always-on options, but this will drain the battery.
Outdoor visibility is good since it has over 600 nits brightness. You can adjust the brightness with the quick settings toggle by swiping from the top or from Settings→Display & Brightness. You can adjust it from level 1 till 5, and increase the screen time out till 20 seconds, but there is no auto brightness adjustment since it lacks an ambient light sensor. For indoors, level 2 is good, and level 4 is need for bright outdoors.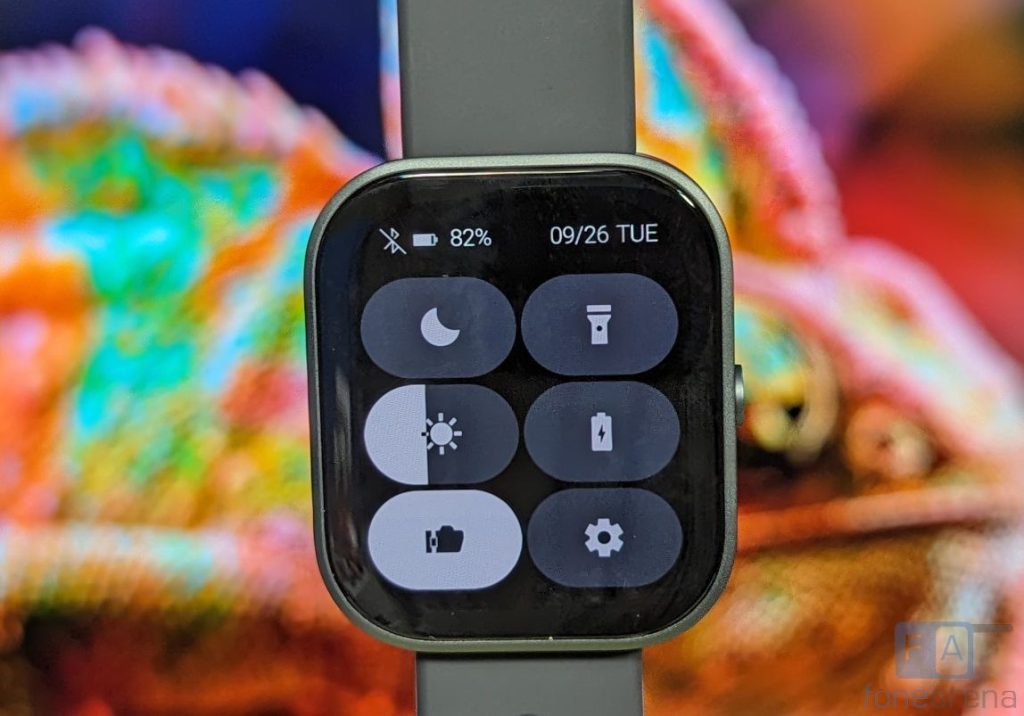 When you swipe from the top, you can see quick settings. This has Night mode, Flashlight, Brightness adjustment, Power saver, raise to wake toggle and settings. Overall, the Watch Pro has a brilliant screen for the price.
Pressing the function button, shows exercise, Exercise records, heart rate, blood oxygen, activity, sleep, stress, phone call, music, camera remote, weather, breathing, voice assistant, stopwatch, timer, alarm, flashlight, find my phone and settings.
Swiping the watch from from the home screen shows different widgets such as activity, heart rate, weather, sleep and phone call. There are music controls that let you play, pause, skip tracks and also adjust volume when you play any music or any kind of content like videos or music when the watch is connected to the phone. There is also camera control option.
Swiping from the bottom on the home screen shows an easy notification shade. You can read them and dismiss, but can't reply.
Bluetooth Calling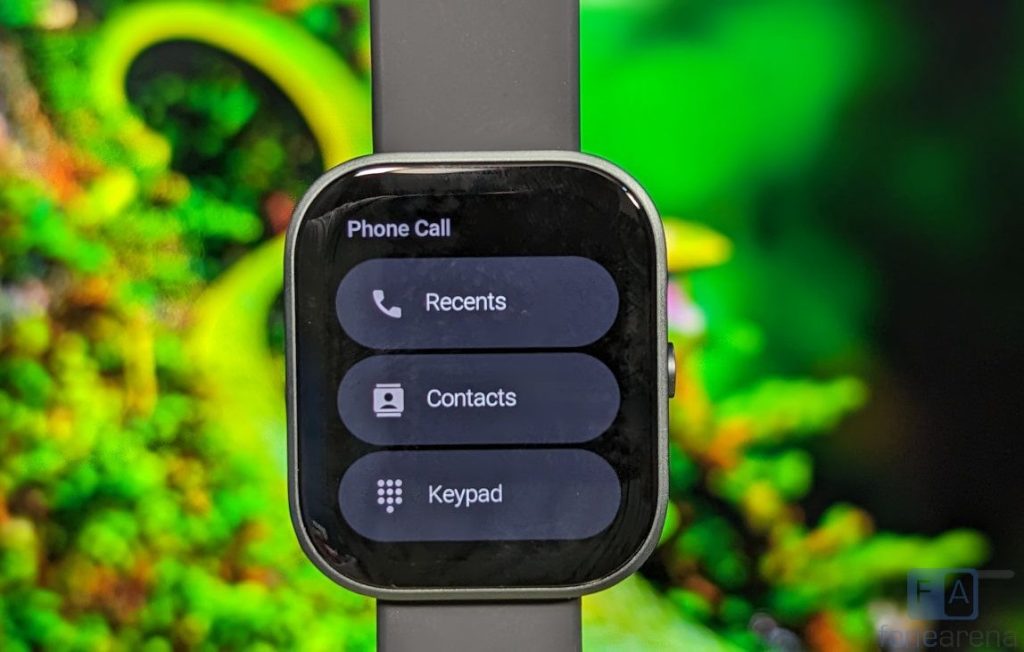 The watch has a built-in calling feature, since it has a microphone and a speaker. It shows call log, and there is even a dial pad, in addition to contacts option which you can add from the app.
Calling experience is good indoors, and the microphone is able to pick up the voice well. The company says that it has trained the watch on over 100,000 noise models, so the AI can accurately identify the type of noise in your environment and cancel it out to ensure the clearest calls. This is clearly noticeable when using the watch for calls outdoors, since it cuts down most background noise, especially in noisy traffic. The speaker output is loud enough for indoors, but not the best outdoors in traffic.
Software
The CMF Watch Pro uses CMF Watch app on Android and iPhone. It shows all the important details on the health tab. In the health tab in the home screen, it shows steps, minutes, calories, distance, and also has tabs for exercise, stress, Blood oxygen, heart rate and sleep. There is also an exercise tab to launch workouts from the app itself, and the device tab shows the battery life, watch faces and more.
The dial gallery shows different types of watch faces. There are a lot of watch faces to choose from, and they are unique that goes in with Nothing's design language.
You can add up to 20 contacts to the watch for quick dial, but there is no search option, so you will have to scroll through your contact list manually, which is a headache if you have several contacts. You can also manage sports list, toggle 24 x 7 heart rate or blood oxygen monitoring and enable auto stress monitoring. You can enable notifications for any app and for incoming call. There are also options for standup reminder, water reminder, alarm, DND option, and lots more.
Fitness tracking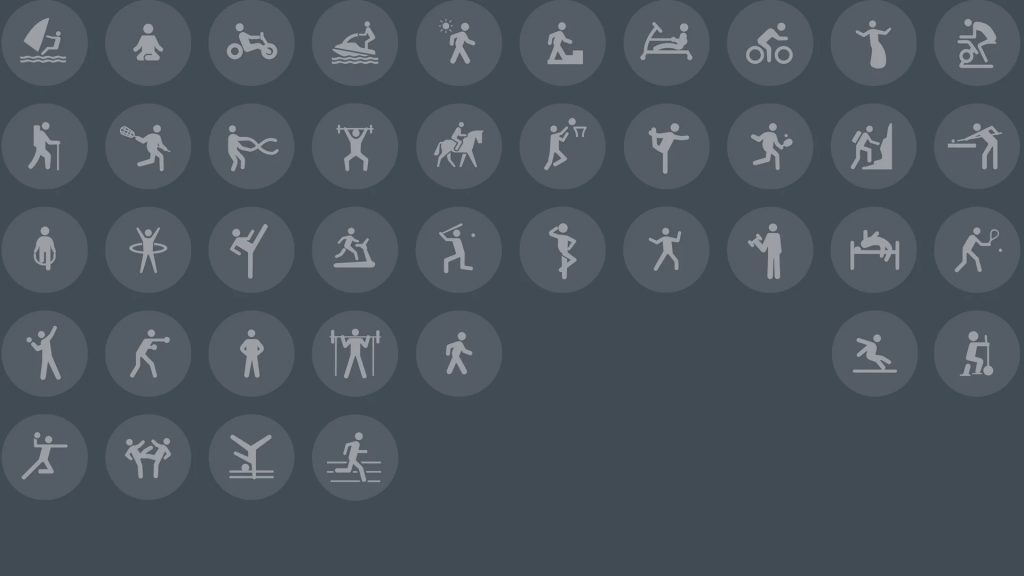 The CMF Watch Pro has 110+ workout modes that include Outdoor run, Outdoor walk, lndoor walk, Outdoor cycle, Indoor run, Strength training, Football, Basketball, Table tennis, Badminton, lndoor cycle, Elliptical machine, Yoga, Cricket, Mountaineering, Trail running, Skiing, Free training, Spinning cycle, Rowing machine, Air walker, Hiking, Tennis, Folk dance, Dance, Cooldown, Cross training, Pilates, Cross fit, Functional training, Physical training, Mixed cardio, Latin dance, Street dance, Kickboxing, Barre, Australian football, Baseball, Bowling, Racquetball, Curling, Hunting, Snowboarding, Fishing, Disc sports, Rugby, Golf, Downhill skiing, Core training, Skating, Fitness gaming, Aerobics, Group training, Kendo, Fencing, Softball, Stairs, American football, Volleyball, Rolling, Pickleball, Hockey, Boxing, Taekwondo, Karate, Flexibility, Handball, Hand cycling, Mind & Body, Wrestling, Step training, Tai Chi, Gymnastics, Track field, Jump rope, Martial arts, Play, Snow sports, Lacrosse, Single bar, Parallel bars, Roller skating, Hula Hoop, Darts, Archery, Horse riding, Shuttlecock, Ice hockey, Sit up, Waist training, Push-ups, Treadmill, Battle rope, Smith machine, Pull-ups, Zumba, Plank support, Kabaddi, Shot put, Solid ball, Javelin, Long jump, High jump, Rock climbing, Trampoline, Square dance, Dumbbell, Karting, Dodgeball, Yoyo, Kendo and HIIT.
For outdoor activities, you get all the details such as exercise duration (hours, minutes, seconds), calories, real-time heart rate, pace, steps, distance and more.
It has built-in GPS support, so you need not carry the phone with you for outdoor activities. Since it uses 5 GNSS Systems such as GPS/GLONASS/Galileo/QZSS/Beidou, the lock is quick, and it did not get cut off during my run. You can press the side button to pause a workout in the middle.
Compared to tracking apps like Strava running on mobile, or other GPS watches like Amazfit BIP 5 that also has GPS, it is almost accurate in GPS tracking. There is no option to share the workout date even as an image, so forget the app integration like Google Fit, Strava or Runkeeper integration. Hope the company updates the app to add these features, which are important in watches with GPS.
Sleep Tracking
Sleep tracking shows core sleep, deep sleep, awake time, as well as REM sleep. Tracking is good until you don't wake up in the middle. I woke up one night and slept again in the middle, and it started calculating the sleep data only from the time I slept for the second time. However, the Amazfit BIP 5 which I was wearing on the other hand calculated this without any issues.
It also shows ratio for each which is good, but it doesn't show breath quality during sleep since it doesn't measure blood oxygen data during sleep which some companies like realme, Xiaomi and Amazfit offer. Hope CMF adds this as an optional feature in future updates.
Heart rate, SpO2 and stress monitoring
The smartwatch uses LED lights and photo-diodes to illuminate the blood vessel for a while and monitors the heart rate via the change of green light absorbed, and it uses red light for SpO2 or blood oxygen monitoring. You can't say this is 100% accurate.
Heart rate recordings — both resting and active, and SpO2 readings are decent compared to oximeter. It also shows stress data, but you need to enable this manually. You also need to enable 24 x 7 SpO2 monitor from the settings, however this drains the battery quickly.
Battery life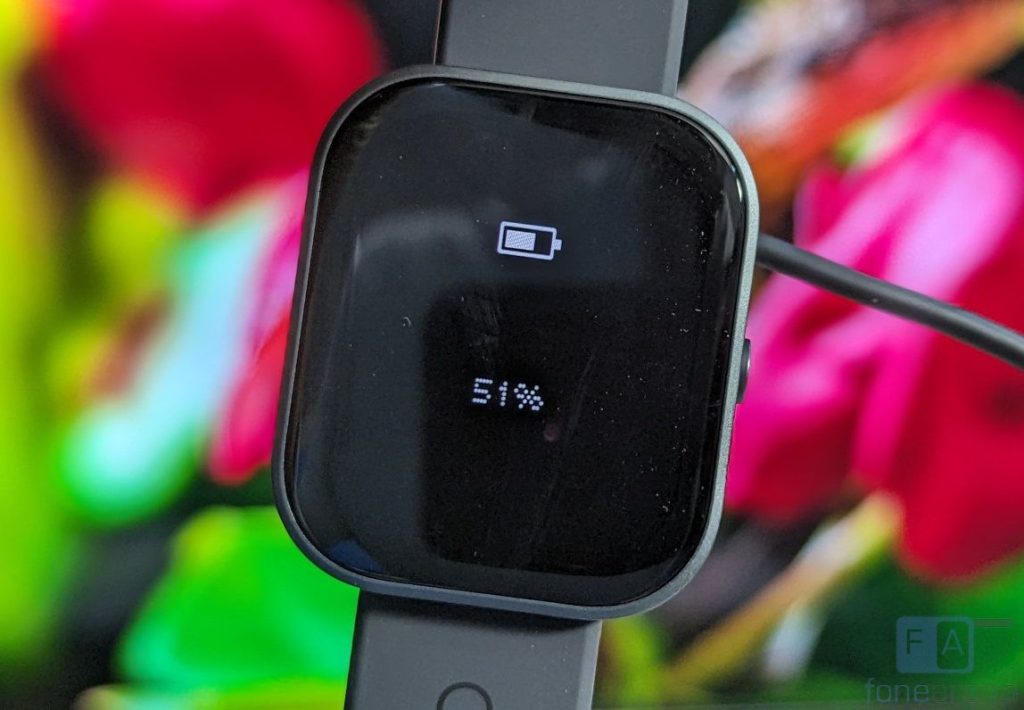 The Watch has a 340mAh battery, and the company promises up to 13 days of battery life with typical use, and up to 11 days with heavy use. During my use, I have 17% charge left with 24h heart rate and SpO2 tracking, GPS use of about 4 hours and 2 to 3 calls over Bluetooth every day during my 5 days of use. The company promises 27 hours under continuous GPS use on a single charge, and up to 18 hours of continuous Bluetooth calls on a single charge.
Battery life might vary depending on frequent use of the display with increased brightness, use of heart rate monitor during workouts, calling and all the notifications turned on.
It has a magnetic charging dock that you can even plug it in a USB port of a PC or a laptop or use power bank in low-power mode. It takes about 2 hours to charge the watch fully from 0%. Charging time doesn't matter since it lasts for over a week.
Conclusion
The CMF Watch Pro is an excellent budget smartwatch with an AMOLED display, voice calling capabilities and GPS support for outdoor activities for Rs. 4499. Hope the company works on the software to add the missing features and improvements to sleep tracking in future updates.
Pricing and availability
The CMF Watch Pro is priced at Rs. 4,499 for the Dark Grey model and the Metallic Grey model costs Rs. 4,999.
The watch will be available at an offer price of Rs. 3,999 (Dark Grey) and Rs. 4,499 (Metallic Grey) during the early access limited drop sale on Flipkart and Myntra on September 30th at 12 PM IST.  It will be available on sale for everyone, starting with Big Billion Days on Flipkart and also on Myntra. It will also be available in offline stores, including Vijay Sales and leading retail partners.
Pros
1.96″ AMOLED display is crisp
Good build quality
GPS support for accurate outdoor activity tracking
Bluetooth calling
Good battery life
Cons
No ambient light sensor
Sleep tracking is not accurate
No option to share workout data as an image, and no Strava or Google Fit sync