Unity, the leading platform for real-time 3D content, has introduced its beta program for visionOS, featuring access to Unity PolySpatial technology.
The recent launch of Apple's visionOS SDK for developers has enabled seamless integration with the Unity editor, empowering creators to develop experiences running in visionOS and utilizing Apple Vision Pro's remarkable features.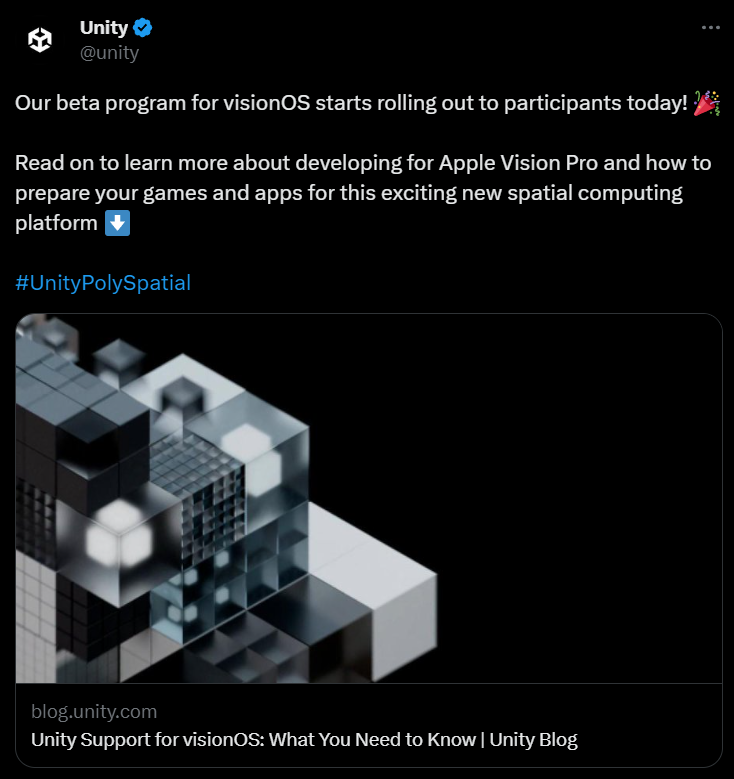 Unified Look and Feel in visionOS
By combining Unity's PolySpatial with Apple's RealityKit-managed app rendering, Unity-created content in visionOS will have a cohesive appearance alongside other apps.
Unity has collaborated closely with Apple to provide support for visionOS and PolySpatial, ensuring users can enjoy their favorite Unity apps in the new spatial environments offered by Apple Vision Pro.
Enhanced Experiences and Easy Porting
Creators now have the capability to build brand-new experiences or port existing ones to visionOS. They can even play directly from the Unity Editor to Apple Vision Pro for rapid iteration.
New authoring workflows have been introduced to facilitate seamless blending of content with the physical world, while robust input tools offer natural and intuitive ways for users to control their content using just their eyes and hands on Apple Vision Pro.
Triband's Successful Integration
Triband, the well-known comedy studio behind the popular What The …? game series, has used Unity PolySpatial to bring their game WHAT THE GOLF? to Apple Vision Pro, demonstrating the capabilities of this cutting-edge integration.
Availability
Developers who want to sign up for the beta can visit unity.com/spatial to learn more about the Unity visionOS beta program.
Commenting on the announcement, Ralph Hauwert, SVP & GM, Unity Runtime, Editor and Ecosystems, said:
We are excited to collaborate with Apple and enable our ecosystem of millions of game and app developers to bring their Unity apps to this innovative new platform. Unity PolySpatial streamlines the process for developers to create immersive experiences using the familiar Editor. This fulfills our commitment to allowing developers to create once and deploy anywhere.
Speaking at the announcement, said Mike Rockwell, Apple's vice president of the Vision Products Group, said:
We are thrilled to bring the apps of the vast community of developers, who have been creating amazing 3D experiences using Unity's powerful authoring tools, to Apple Vision Pro. Unity-based apps and games run natively on Apple Vision Pro, allowing them to fully utilize visionOS features such as pass-through and high-resolution rendering, and take advantage of the unique and powerful capabilities of Apple Vision Pro.