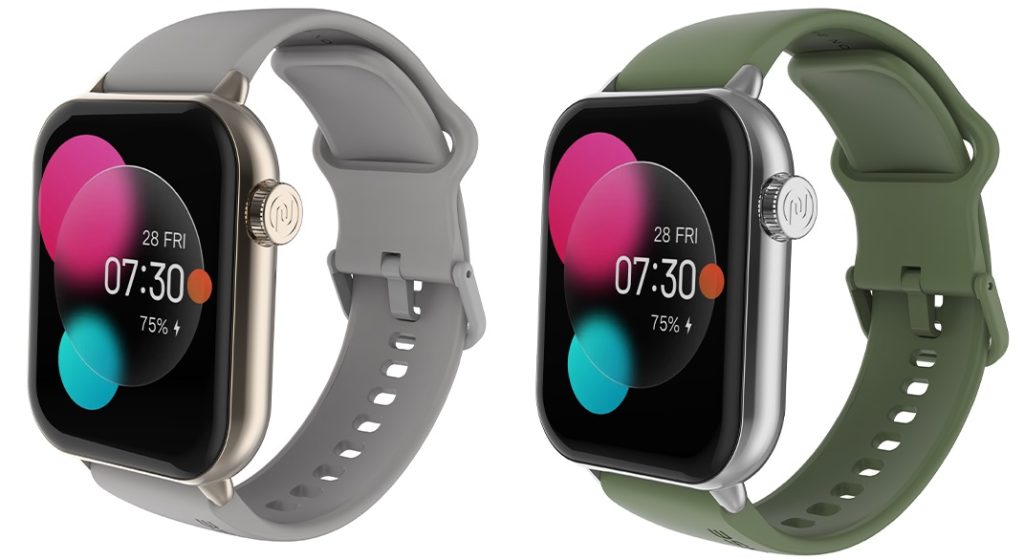 Noise has introduced its latest offering, the Noise ColorFit Mighty, a smartwatch designed with a larger screen and tailored to meet the needs of working professionals. This launch comes shortly after the introduction of the Noise ColorFit Quad Call earlier this week.
The Noise ColorFit Mighty boasts a sleek and metallic design, complemented by a newly crafted strap that adds a premium touch. Its 1.96-inch TFT display, with a brightness of 500 nits, ensures excellent visibility even during outdoor activities.
One of the notable features of the Noise ColorFit Mighty is its 360-degree rotating crown, which allows for effortless navigation. It utilizes advanced Bluetooth v5.3 technology, enabling seamless pairing with smartphones and delivering stable long-range calls with optimized battery consumption.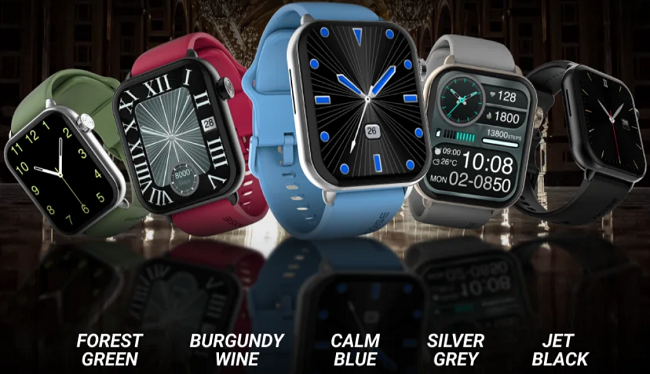 Furthermore, this smartwatch offers a comprehensive range of wellness features through the Noise Health Suite. It monitors essential metrics such as SPO2 levels, heart rate, sleep patterns, breathing patterns, and activity levels. The built-in Productivity Suite provides daily reminders and weather forecasts to keep you informed.
With over 110+ sports modes, 100+ watch faces, and integration with the NoiseFit App, it offers versatile customization options. The Noise ColorFit Mighty is equipped with a long-lasting battery that can power the device for up to 7 days on a single charge. Additionally, it possesses an IP67 rating, making it resistant to water and dust.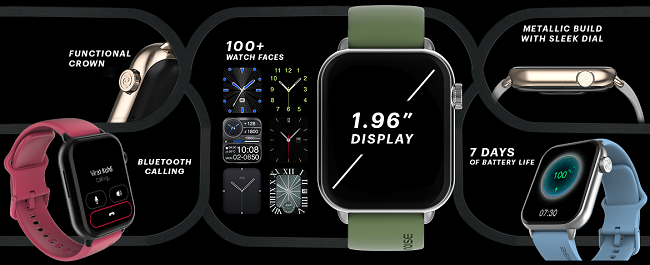 Quick specifications: Noise ColorFit Mighty
Sleek design with metallic build
Functional Crown
1.96″ Display, 240×286 Pixels, 500nits of brightness
Bluetooth 5.3 with Bluetooth Calling by TruSync
Inbuilt Mic and Speaker
Battery life: 300mAh; Up to 7 days
110+ Sports modes
100+ cloud-based watch faces
Sensors: Heart Rate, SpO2, Accelerometer
Noise Health Suite: Sleep, SpO2, and Heart rate tracking
IP67 Water-Resistant
Other Smart Features: Call rejection, Remote music control, Stopwatch,
Alarm, Reminder etc.
Noise Fit App
Pricing and availability
The Noise ColorFit Mighty is scheduled to be released on 28th May 2023 at 12 pm. It will be available for purchase from GoNoise.com and Flipkart.com at a launch price of Rs. 1,999.
The smartwatch will offer five vibrant color options: Jet Black, Clam Blue, Forest Green, Burgundy Wine, and Silver Grey.
Speaking at the launch, Amit Khatri, Co-founder of Noise, said:
We want to make smartwatches better by using the newest technology for what our customers need. Our new smartwatch, Noise ColorFit Mighty, has some great new features that will change the way people use smartwatches.