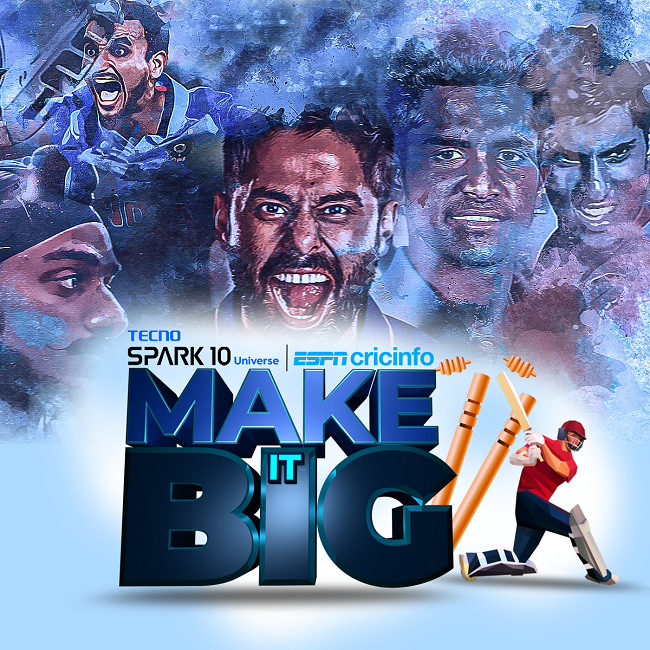 TECNO Mobile and ESPNcricinfo have partnered to provide unique cricket content during the 2023 T20 cricket event. The initiative aims to satisfy fans' desire for innovative cricket content and showcase exclusive 'Make It Big' stories of new-age cricketers.
TECNO Spark 10 Universe x ESPNcricinfo 'Make It Big'
TECNO Spark 10 Universe x ESPNcricinfo Make It Big is a collection of ten stories about emerging T20 cricket stars, with the aim of presenting fans with ESPNcricinfo's renowned storytelling. These stories follow players from the newest generation of cricket luminaries who have already made a name for themselves in the shortest format of the game. The TECNO Spark 10 Pro's large FHD screen complements the visual experience of the stories, which showcase the young players' journeys to superstardom.
The TECNO Spark 10 universe's philosophy aligns with the elegant and richly packaged visual spectacle that follows the players' journeys. The smartphone range includes the first-ever 5G smartphone in TECNO's SPARK product line, targeting new-age digital consumers who want a trendy design with the latest technological advancements.
The TECNO SPARK 10 Pro offers 16GB RAM through Memory Fusion Technology 2.1, 256GB internal storage, and a 32MP Ultra-Clear Front Camera, making it the first and only smartphone in the sub-15K segment to offer this unique combination.
ESPNcricinfo's reputation for creating compelling cricket content is leveraged in this video series, which aims to build brand loyalty for TECNO and leave cricket fans eager for more. The series coincides with the year's biggest cricket festival, adding to its appeal to cricket fans.
Speaking on the announcement, Arijeet Talapatra, CEO, TECNO India asserts, said,
TECNO is known to provide excellent customer experience with breakthrough technological interventions. We develop products as per customers' insights by understanding what they want from their smartphones. We wanted to associate with cricket as it is the biggest emotion that unites every Indian, beyond anything else. For the launch of our latest TECNO Spark 10 Universe, we are seeking to build a remarkable rapport based on shared synergies between the brand and the Zillennials around the cricketing tournament. ESPNcricinfo will be integral in obtaining this for us owing to its equity it enjoys as a brand, and has a proven record in leading cricket fandom.
Commenting on the launch, Akshaya Kolhe, Director – Revenue, South Asia at ESPNcricinfo seconds, said
We believe in fostering lifetime brand partnerships that deliver value to all stakeholders – the foremost being fans of the sport. ESPNcricinfo prides itself in creating content that is credible, authentic, and range-driven, and TECNO Spark 10 Universe x ESPNcricinfo Make It Big is a testimony to this. Fans will get to witness the unheard-of stories, of cricket's next generation of emerging superstars, as we aim to drive positive recall for the TECNO Spark 10 Universe among the large cricket fan diaspora in India.