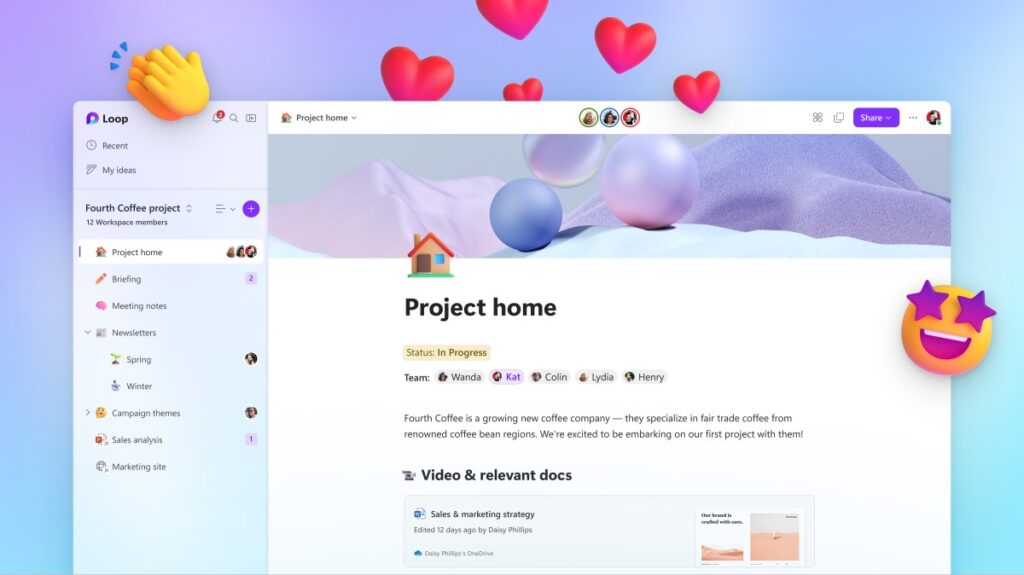 After being available in private beta for a year, Microsoft has now launched its new Loop app in public preview. With Loop, teams can collaborate in real-time using components, pages, and workspaces, all in one place.
This means users can share content from Microsoft services without constantly switching between different apps, improving collaboration speed and efficiency.
We're thrilled to announce the Microsoft Loop app is available in public preview today! Get the details: https://t.co/764pQWF9hJ pic.twitter.com/uzZwoD8lcH

— Microsoft 365 (@Microsoft365) March 22, 2023
Microsoft Loop: Co-Create with Ease
Microsoft Loop is all about making it easy for people to collaborate and create together, regardless of their location or preferred tools. This innovative co-creation experience brings teams, content, and tasks together seamlessly across a range of devices and platforms.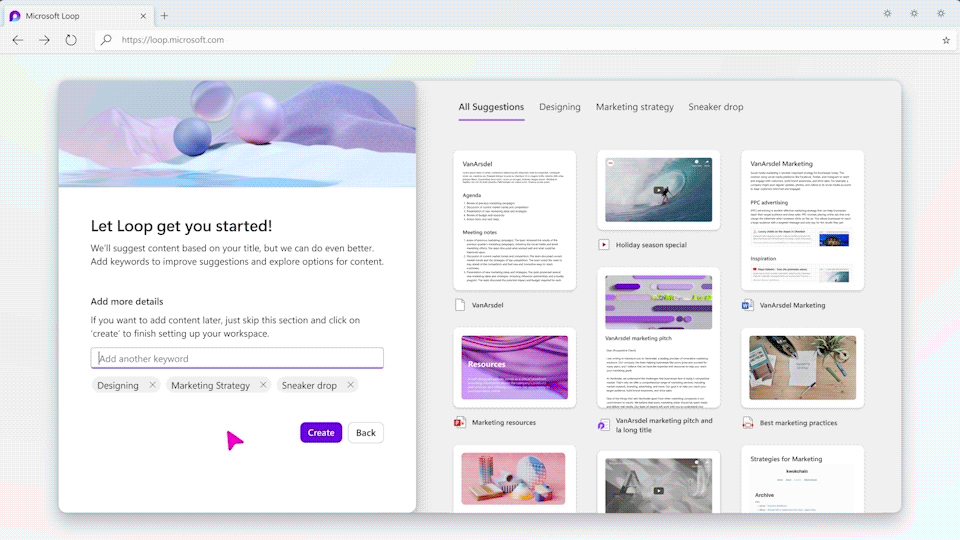 The Three Key Elements of Microsoft Loop
Components: These are the building blocks of Loop, allowing you to easily create and share content.
Workspaces: Workspaces provide a centralized hub for your team to collaborate and manage projects.
Pages: Pages are where your team can work together to create, edit, and share content in real-time.
Organize Your Projects with Ease
The platform allows you to organize everything in a single workspace and even searches for relevant pieces to include. To get started, simply add a workspace title and relevant keywords.
Microsoft Loop will suggest the most relevant pieces to add to your workspace, and you can choose which ones to include. Your content will be organized into pages that you can easily view. Microsoft Loop's flexible workspaces allow teams to keep up with the fast evolution of projects.
New pages can easily be started with templates and content can be structured through drag and drop.
The insert menu offers easy access to labels, live dates, images, emojis, tables, checklists, and more.
The "@" command suggests files and people based on context, allowing for quick collaboration.
Simple commands allow for commenting, reacting, building on ideas, resolving issues, and making decisions quickly.
Sharing Information with Microsoft Loop Components
When working on a dynamic project, sharing information with different groups of people can be challenging. Microsoft Loop components make it easier to decompose information and share just the right parts with the right people.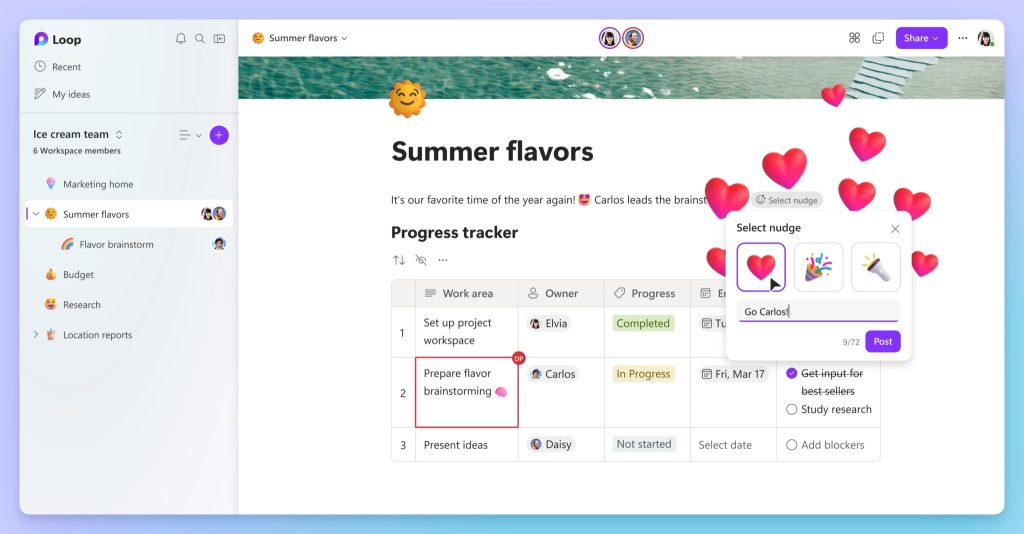 Turning Content into Components
With Microsoft Loop, you can turn any content on a Loop page into a component. This allows you to easily copy and paste the information across M365 apps, including Teams chat, Outlook, Whiteboard, and Word for the web.
Sharing Pages and Components in Microsoft Loop
Share entire pages or components easily through links or live pages. Collaborators can respond in real-time, and their input will update across all shared locations.
Keeping Everyone Up-to-Date with Microsoft Loop
Microsoft Loop helps keep team members focused on the most important aspects of a project by keeping them informed as different elements progress.
Stay in Sync and on Track with Microsoft Loop
Working with great teammates is effective and rewarding, but with fast-moving projects and workstreams, staying informed and keeping track of everything can feel like a Herculean task.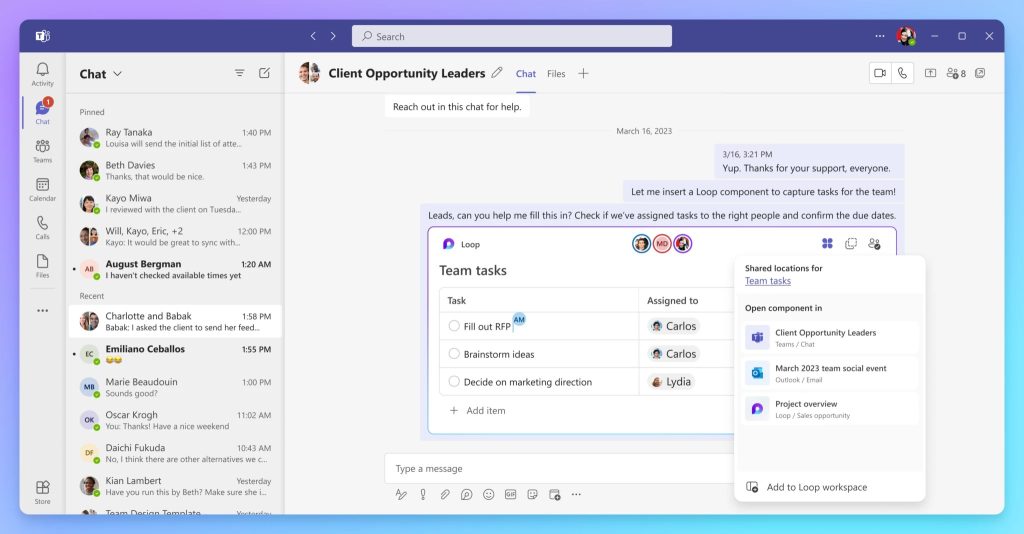 Progress Trackers: Microsoft Loop offers progress trackers that help keep your team aligned on dynamic workstreams.
Custom Labels: Use custom labels to categorize and organize tasks effectively.
Sync Across Platforms: Tasks you assign in the Loop app and in the task list component sync across Microsoft Planner and To Do so you always have the latest list of what you need to focus on.
Express Yourself: Comments, nudges, reactions, and emojis help you express yourself as you work with your team.
Stay in Control with Loop App Notifications, Including Security and Permission Settings
Loop app notifications keep you in control of your time and attention, from desktop to mobile. Microsoft Loop's security settings apply to components just like Word, Excel, and PowerPoint. Quickly view access and sharing, search for what you need, and set custom filters with Microsoft 365 integration.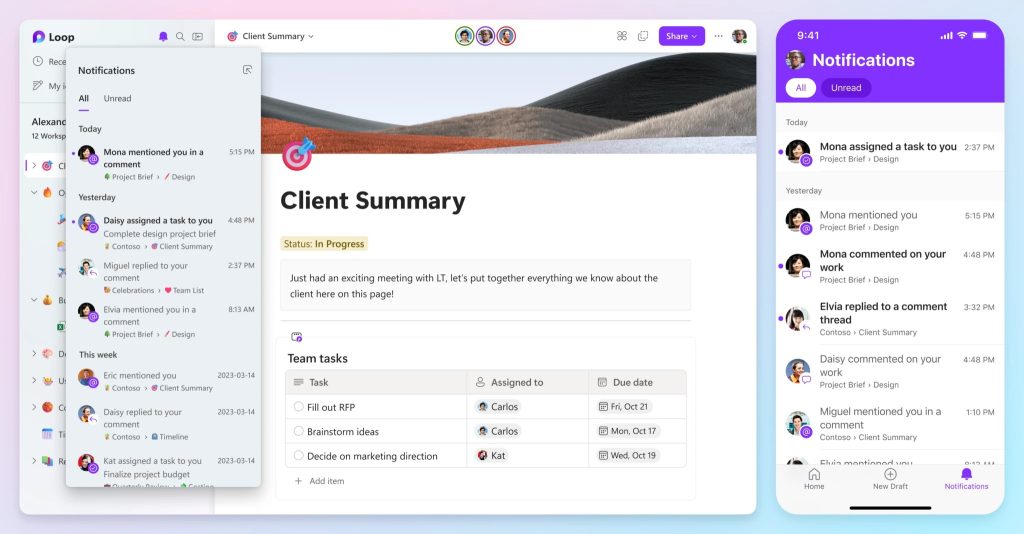 Stay Connected Across Devices with Microsoft Loop Mobile App
Access your project content from your phone with Microsoft Loop mobile app. Navigate workspaces and pages with ease using visual icons. Capture ideas and collaborate on the go.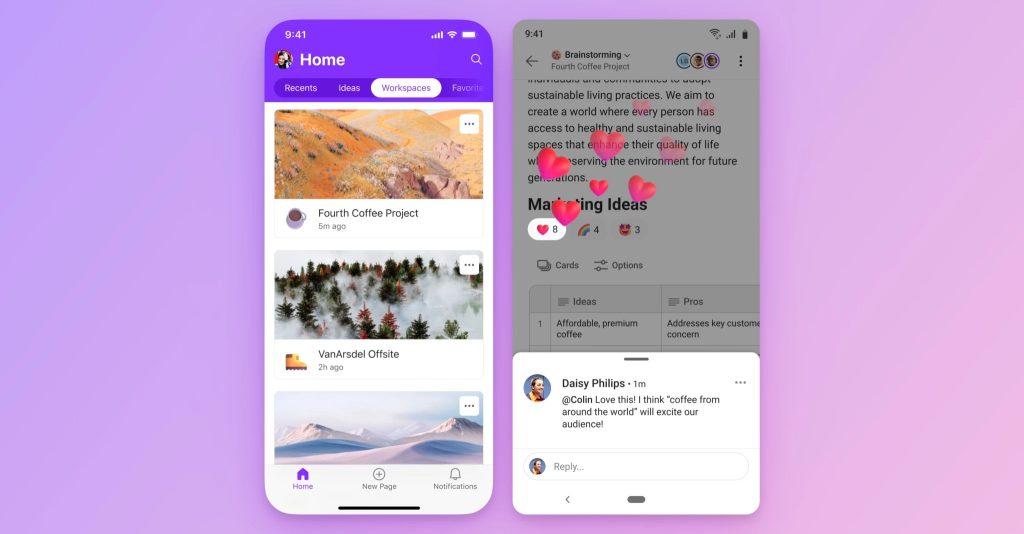 Unlock Creativity with Copilot in Loop
Microsoft 365 Copilot combines AI with your apps and data to transform the way you create and collaborate. Copilot in Loop offers prompts like create, brainstorm, blueprint, and describe.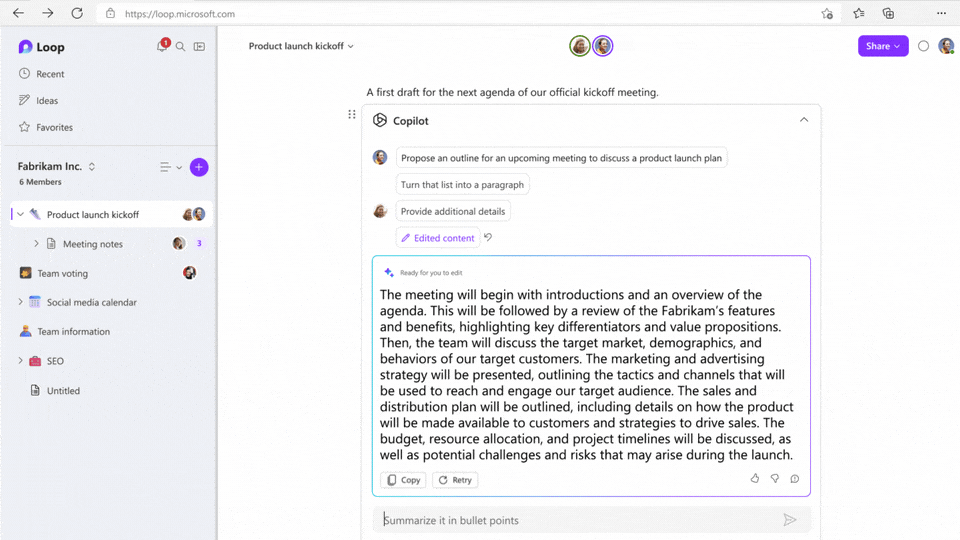 It also summarizes content to help everyone get to the point. Edit summaries, add detail or context, and send them to others as Loop components to keep everyone in sync.
Availability
Check out Microsoft Loop now – The app is in public preview and ready for use. Simply head to Microsoft Loop on the web to get started. If you're using Android or iOS, download the Loop mobile app for easy access.
Speaking on the announcement, Wangui McKelvey, General Manager, said,
Microsoft Loop app – Microsoft Loop is about people—people who want to create together with ease, no matter where they are or what tools they use. New Microsoft Loop app is built for modern co-creation.