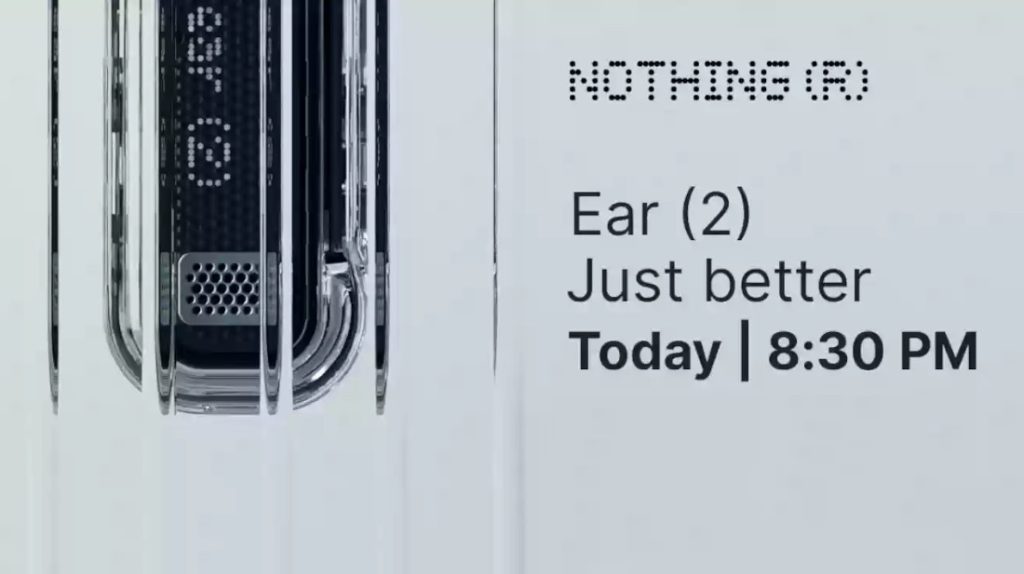 London-based consumer technology brand Nothing, Nothing Tech is launching Ear (2) TWS earbuds, the successor to the company's first product Ear(1). The company will reveal the specs and pricing information at today's launch event, which starts at 8:30 PM IST.
You can watch the live stream on YouTube in the video below. Popular Tech YouTuber Marques Brownlee (MKBHD) is expected to be part of the launch.
Nothing says that the Ear 2 will follow Nothing's iconic design with elite engineering and next-level personalisation for the ultimate sound experience. It is expected to be available in India shortly, so we can expect the Indian pricing as well today.
While the company has not shared extensive details about the product so far, going by the teasers, the earbuds will have a similar transparent design and come in a transparent case. Nothing has also teased an improvement in the audio performance and personalisation features.
The company has confirmed IP54 Dust and water-resistant ratings, similar to the Ear (Stick). To remind you, the Ear (1) had IPX4 ratings. The Ear (2) is also confirmed to support LHDC 5.0 offering hi-res audio streaming. The company's first two earbuds only support AAC audio codec.
Stay tuned for the official announcement and pricing details during the live launch event at 8:30 PM IST today. Once the Ear (2) TWS earbuds become available in India, you can expect to find them on popular e-commerce platforms including Flipkart.