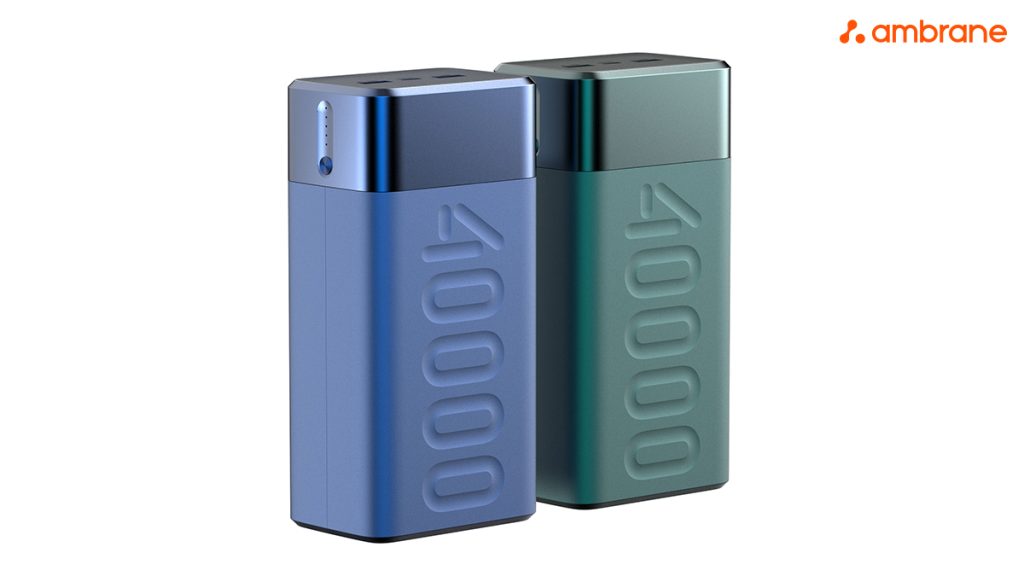 Ambrane introduced the 40000mAh Stylo Boost powerbank, made in India, with 65W fast charging, appealing design and more. This comes after the release of last year's Stylo Max 50000mAh Power Bank.
Ambrane's Stylo Boost is a stylish powerbank with a premium matte-metallic body. It has a large, 40,000mAh capacity and a lithium-polymer battery that charges quickly. It also has 65W PD fast-charging and 20W QC 3.0 output for fast charging.
The Stylo Boost's 65W output is powerful enough to charge Type-C laptops, such as a MacBook Pro, which can go from 0 to 100% in 2 hours and 20 minutes. It can also quickly charge up to 50% of an iPhone or Android device. With three output ports and 60W fast charging input, the powerbank can charge multiple devices at once and quickly recharge itself for convenience.
The Stylo Boost powerbank features a durable outer body and 12 layers of chipset protection for reliable charging, certified by the Bureau of Indian Standards. It's lightweight, made of ABS plastic, and has LED indicators for battery life. Despite its high capacity and power, it remains the lightest and most stylish PD powerbank in the market, thanks to its high energy-density battery cells and advanced electronics. It is also compatible with all devices that can be charged via USB or Type-C port.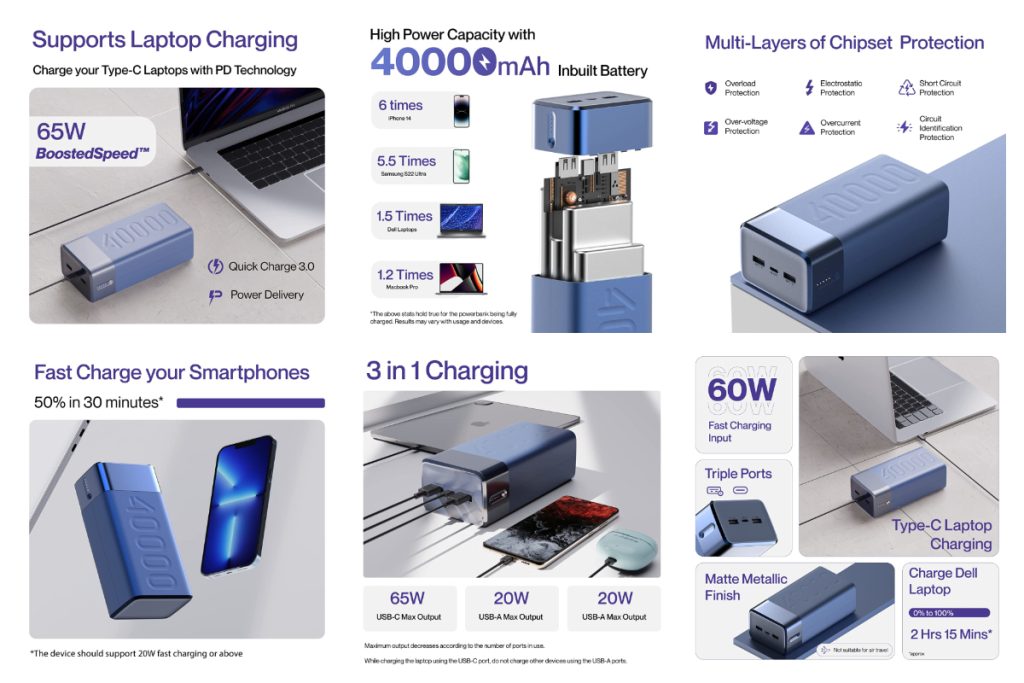 Quick specifications: Ambrane Stylo Boost Powerbank
Mattee Metallic Finish
Triple ports
40,000mAh Capacity
65W BoostedSpeed
60W Fast charging input
Supports Quick Charge 3.0 and PD Charging
Supports Laptop Charging (Type-C)
Multi-Layers of Chipset Protection
Supports 20W Fast charging or above
Output Max: 65W USB-C, USB-A 20W and USB-A 20
Colors: Blue and Green
Warranty: 180 days
Pricing and availability
Ambrane Stylo Boost comes with a 180-day warranty and is available for purchase on Amazon.in for Rs. 3999 and on the brand's website. It will be available on Flipkart starting Feb 1st, 2023. The product is available in two colors: blue and green.
Speaking on the new addition, Ashok Rajpal – Managing Director, Ambrane India, said,
It's a given fact that we rarely have the chance to plug our laptops or phones into wall outlets because of our active way of life and active device interface. Seeing the growing device consumption, we have built a 100% Made in India 40000mAh Powerbank. We have the users covered for all the Netflix marathons, seamless work sessions, PUBG gaming sessions, and more!