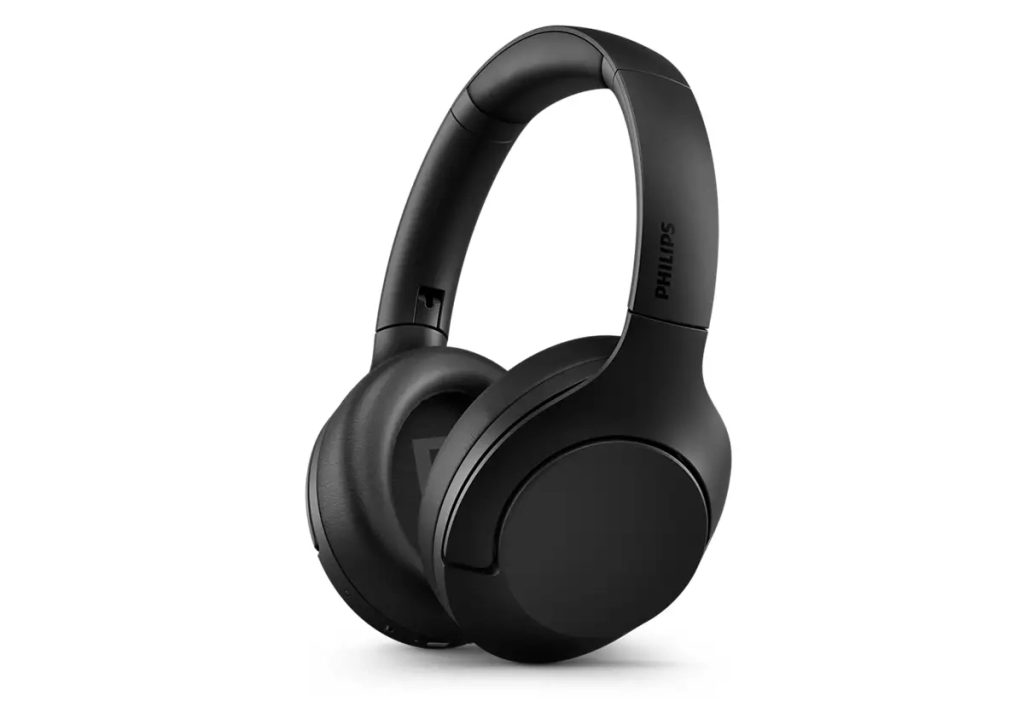 TPV Technology announced today the launch of a wide range of Philips premium audio products for consumers in India.
These headphones are incorporated with features like ANC Pro and Swipe Touch controls that provide comfort and ease in addition to a longer playtime and quick charging, among other things. Recently, Philips launched new Dolby Atmos soundbars in India.
Philips TAH8506BK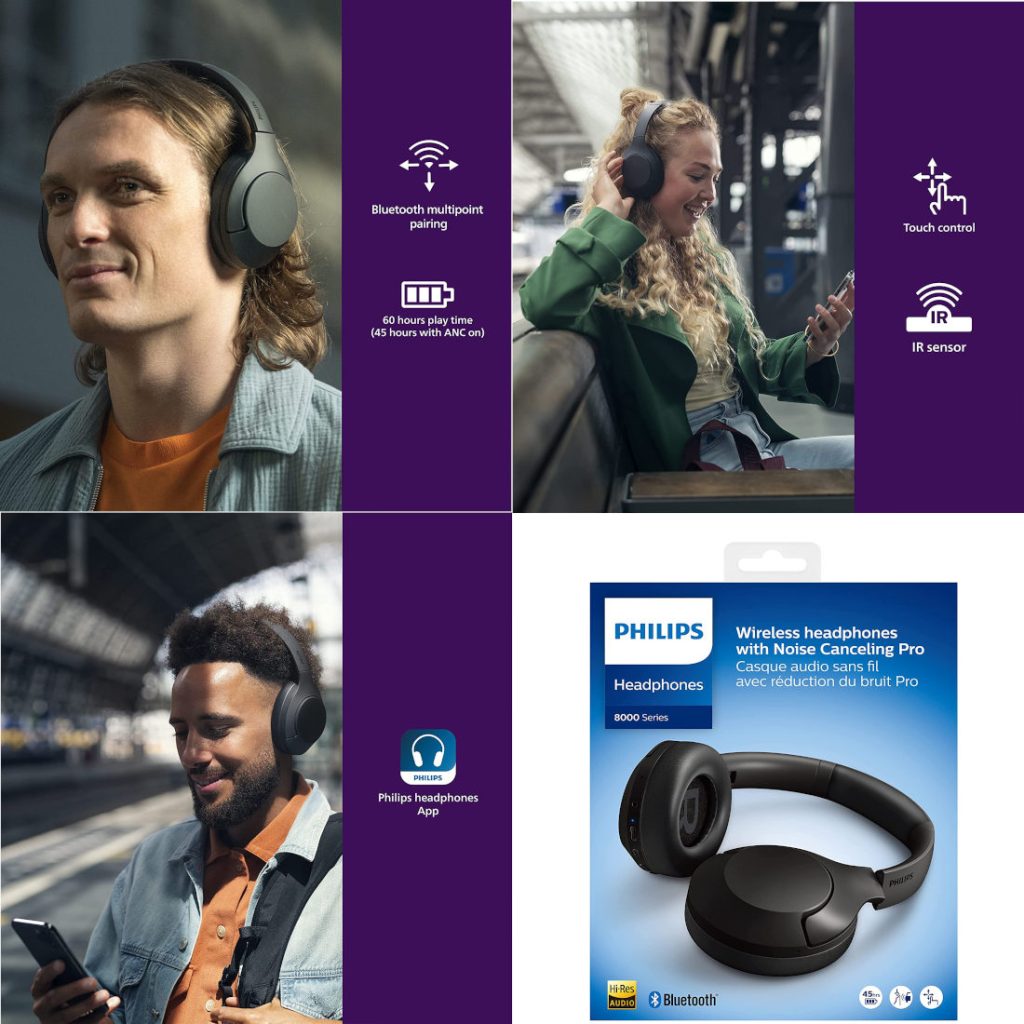 The Philips TAH8506BK has completely immersive audio and customizable ambient mode in addition to adaptive active noise cancellation. Additionally, it has certified Hi-res audio capable 40 mm speakers and is optimized for a rich audio experience.
The headphones have a Bluetooth multipoint pairing connect capability, folding and adjustable ear cups, and swipe touch controls to alter the volume or make calls, providing the user with a smooth experience. These headphones also come with four preset EQ levels: Bass, Voice, Power, and Travel, which can be modified via the Philips Headphones app.
In terms of charging, it offers up to 60 hours of playback time (45 with ANC) on a single charge, and it gets an additional 8 hours of playtime on a fast 15-minute charge.
Philips TAH6506BK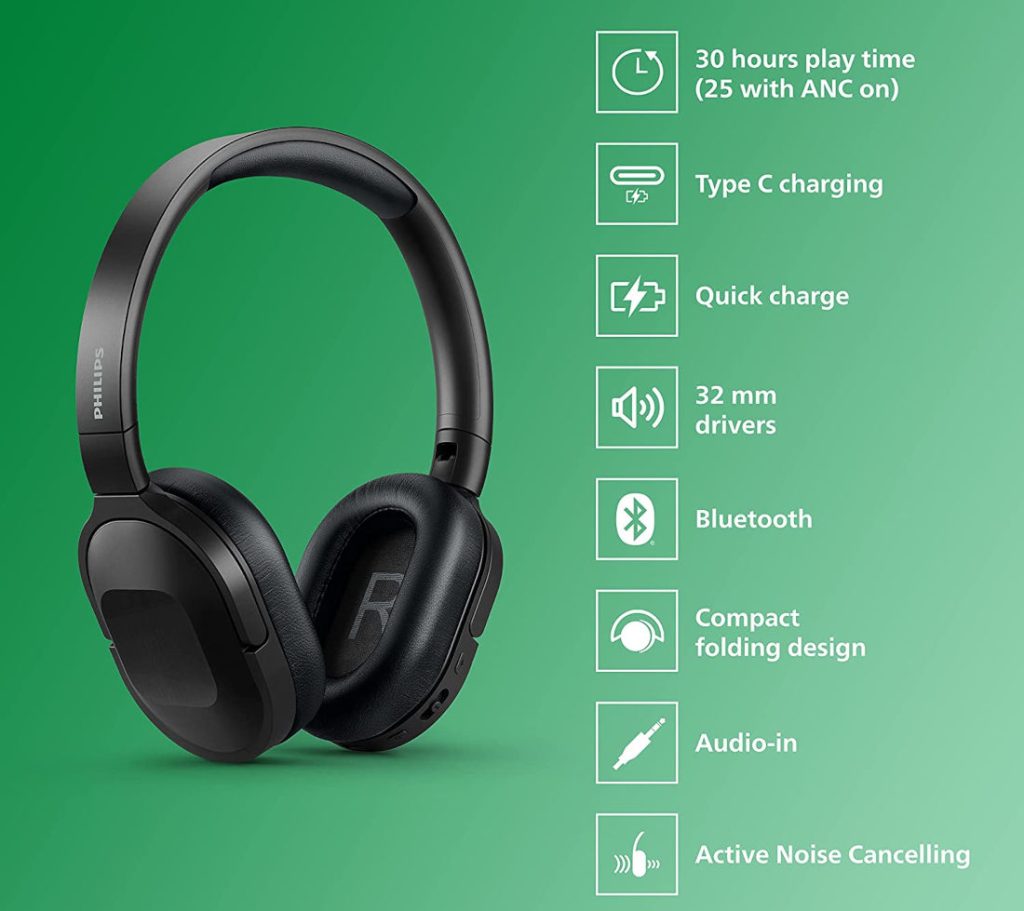 Slim and lightweight ear pads with compact flat-folding construction make these headphones convenient to wear and transport. The headset has Hybrid active noise cancellation, which provides a flawless audio experience. With Multipoint pairing capabilities, these wireless headphones could connect to two Bluetooth devices at the same time.
Philips TAA4216BK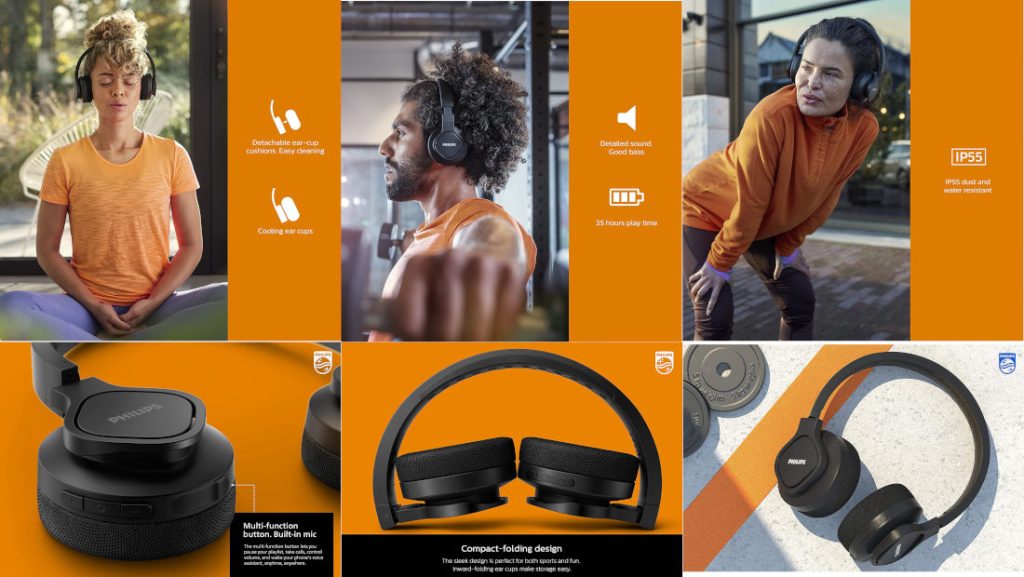 The detachable ear cups distinguish these headphones. Detachable ear-cup cushion sleeves are composed of tough, lightweight material for simple cleaning. These ear cups are loaded with cooling gel to make long workout sessions more comfortable. It also has superior 40 mm neodymium drivers that give energetic bass and has a play time of up to 35 hours.
Philips TAH4205XTBK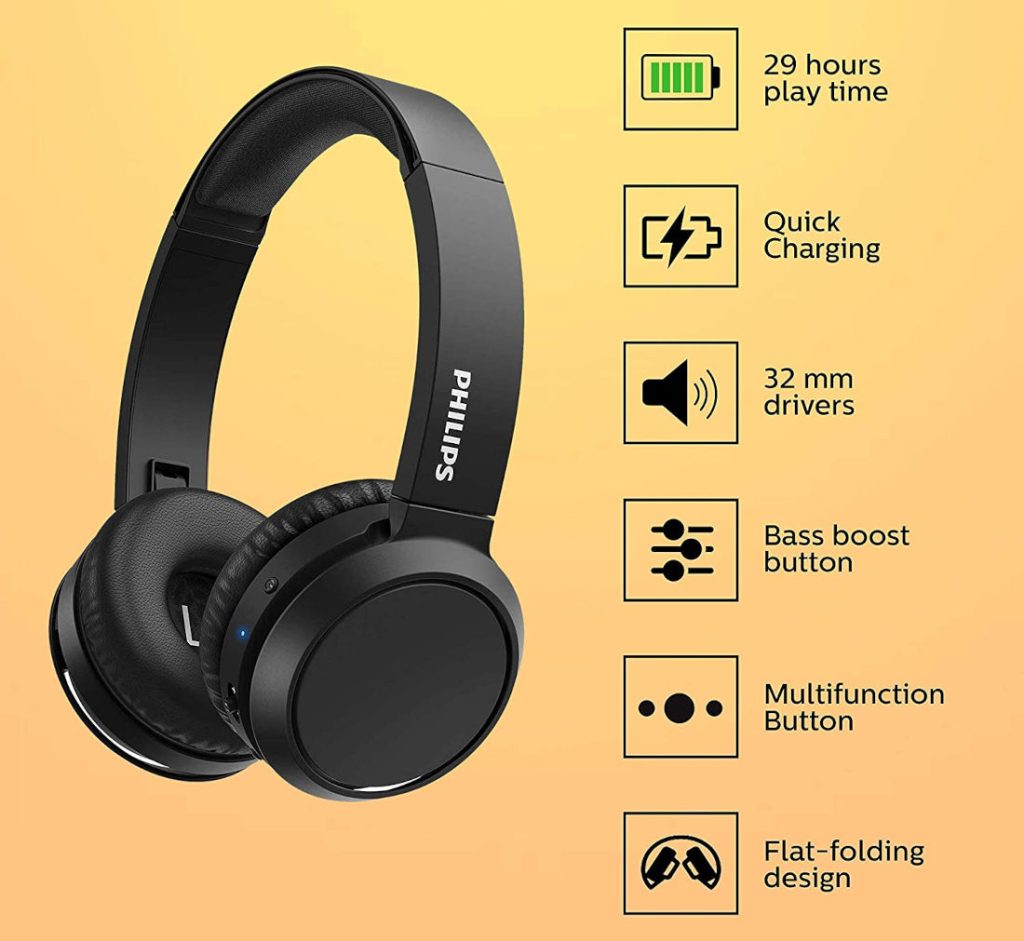 The lightweight, padded headband can be adjusted, and the soft ear cups can be tilted for maximum comfort. These headphones contain a bass boost button for music, which will instantly and clearly make you experience the louder bass and beats.
Additionally, a multi-function button was added for simple calls and audio control. These headphones backed by "Quick Charge" that helps you play 4 hours of gameplay in just 15 minutes of charging. In total, these headphones have a playback time of 29 hours and a talk time of 21 hours on a single charge.
Philips TAUH201BK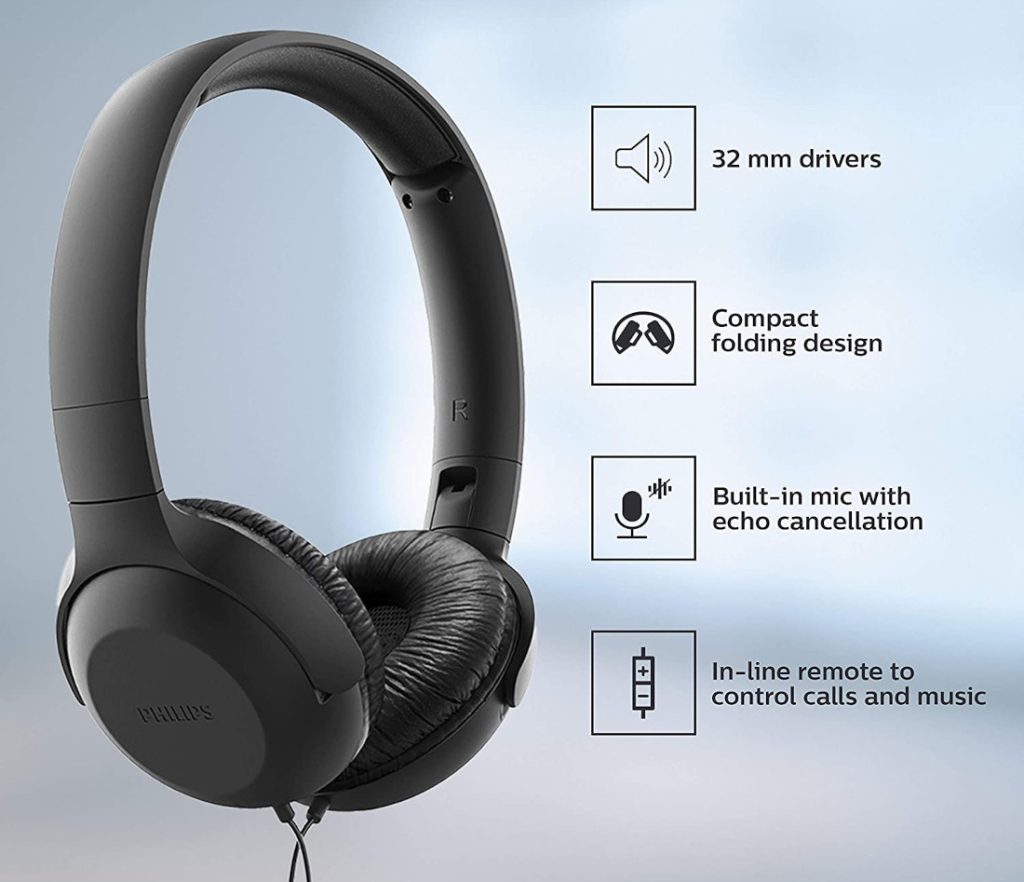 These headphones are lightweight and portable thanks to their soft earcups and flat-folding construction. It has Premium Neodymium acoustic drivers built in to provide you with a clear and crisp audio experience. These headphones also have an in-line control for simple toggling between music and phone conversations. These headphones have a built-in microphone with environmental noise cancellation to provide noise-free calls and smooth discussions.
Pricing and availability
The Philips TAH8506BK will be available at a special price of Rs. 10,999 for a limited time, says the company, but you can get it for as low as Rs. 8,999 on Amazon.in.
Additionally, the Philips TAH6506BK, TAA4216BK, TAH4205XTBK & TAUH201BK headphones are available at a price an an MRP of Rs. 11,999, Rs. 8,999, Rs. 4,999 & Rs. 1,990, respectively at all leading online and offline stores across the country.
Commenting on the launch of the range of the new headphones, Piush Sharma, India Business Head, Philips TV and Audio Business, TPV Technology India Pvt. Ltd said,
With rapid increase in the growth of the wireless headphone market in India, consumers will continue to migrate from wired to wireless devices and upgrade to devices with better sound experience, longer battery, and comfort. To further bridge the gap, we aim to keep innovating and have launched the TAH8506 headphones to end the year on a more exciting note.

We at TPV feel affordability, availability, and appealing aesthetics are the key drivers for the headphones market and with this launch, we aim to further fill up the needs of our consumers and provide them with the best of innovation and technology at amazing prices.