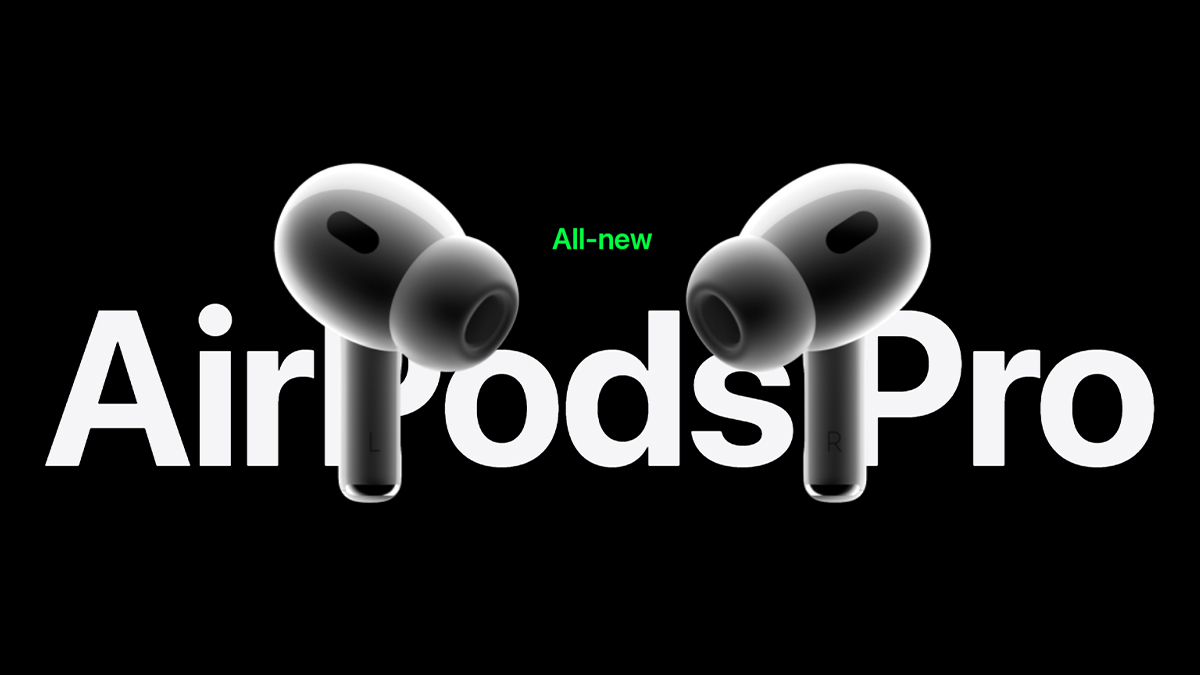 Apple launched the iPhone 14, Apple Watch Series 8, and new AirPods Pro today. Apple says its new wireless earbuds provide the highest audio quality for their size. Despite looking identical to the present model, there are several internal alterations.
The H2 chipset, 2X improved Active Noise Cancellation, Transparency Mode, and Spatial Audio are new to the 2nd-generation Apple AirPods Pro. Apple also added touch controls for playing music and changing the volume, a new charging case, and bigger ear tips.
AirPods Pro drivers feature low-distortion audio combined with a proprietary amplifier for better detail and broader sounds. Apple will also offer extra-tiny (XS) ear tips. AirPods Pro come in small, medium, and large sizes.
The earbuds include improved spatial audio technology, and iOS 16 adds Personalized Spatial Audio, which lets users create an immersive audio profile. The audio profile will be built using an iPhone or iPad with a TrueDepth camera. This will let people use their iPhone, iPad, Mac, and Apple TV to listen to Personalized Spatial Audio with head tracking. The technology will map a user's ear to produce a customized listening experience.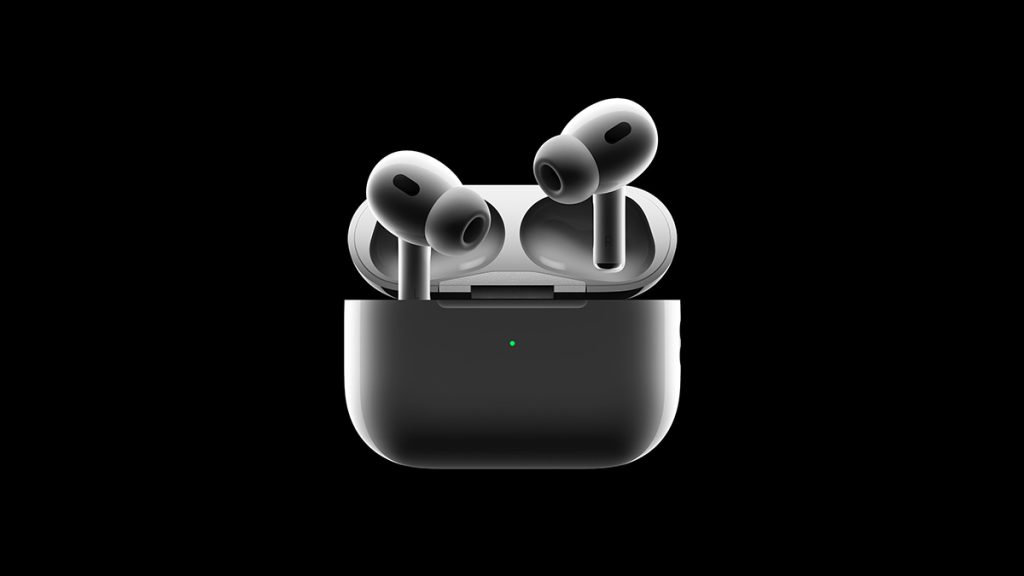 The battery life has been increased by six hours per charge. Apple says it's 1.5 hours longer than the previous model. With the charging case, you can listen for 30 hours. The charging case improves more than just battery life. The redesigned casing charges wirelessly with MagSafe and Apple Watch chargers. The casing is still Qi-compatible. Apple's Precision Finding Tool will make it easy to find the case. The case's speaker will tell users when the iPhone is nearby and charging.
The new H2 chip will double prior noise cancellation. Adaptive Transparency will increase transparency mode, minimizing harsh outside sounds. The new earbuds will scan outside audio 48,000 times per second to detect loud noises.
The newest AirPods Pro will have a touch-sensitive stripe for volume control. Pressing, double pressing, and triple pressing would still be possible. Furthermore, AirPods Pro are made with recyclable rare earth elements and other eco-friendly components.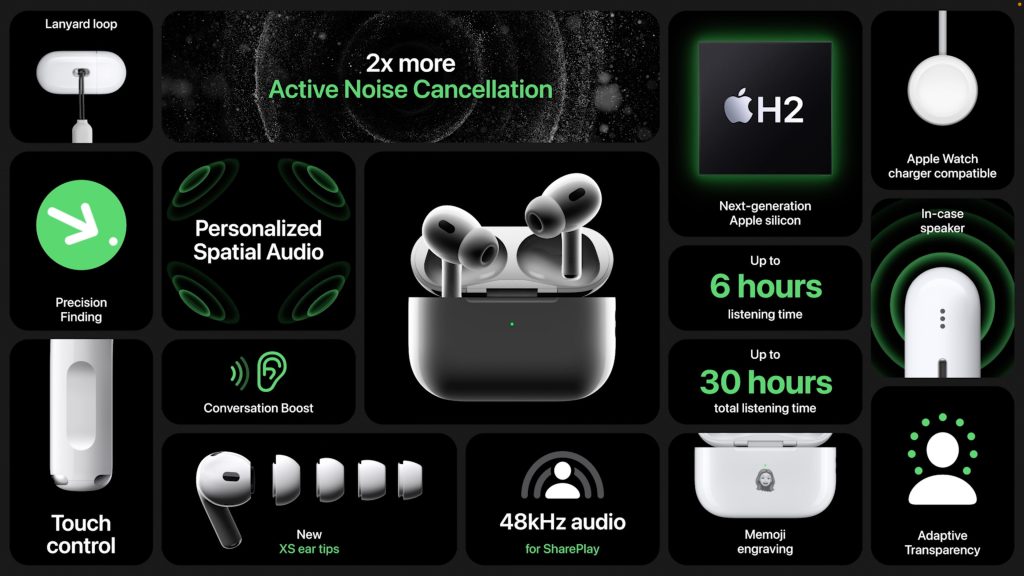 Apple AirPods Pro: Specifications
Custom high-excursion Apple driver with high dynamic range amplifier
Active Noise Cancellation
Connectivity: Bluetooth 5.3 wireless technology
Personalized Spatial Audio with dynamic head tracking
In case speaker, Conversation Boost, Precision Finding
Adaptive Transparency, Adaptive EQ
Sensors: Dual beamforming microphones, Inward-facing microphone, Skin-detect sensor, Motion-detecting accelerometer, Speech-detecting accelerometer and Touch control
Chipset: Apple H2 headphone chip; Apple U1 chip in MagSafe Charging Case
Sweat and Water Resistant: IPX4 both the AirPods Pro and charging case
Battery life – AirPods Pro: Up to 6hrs of playback time; Up to 4.5hrs of talk time (with Spatial Audio and Head Tracking enabled)
Battery life – AirPods Pro with MagSafe Charging Case: Up to 30 hours of listening time; Up to 24 hours of talk time
5 minutes in the case provides around 1 hour of listening time or around 1 hour of talk time
Pricing and availability
The AirPods Pro (2nd generation) will be available to order at Rs. 26,900 starting September 9, with availability in stores beginning September 23, 2022.