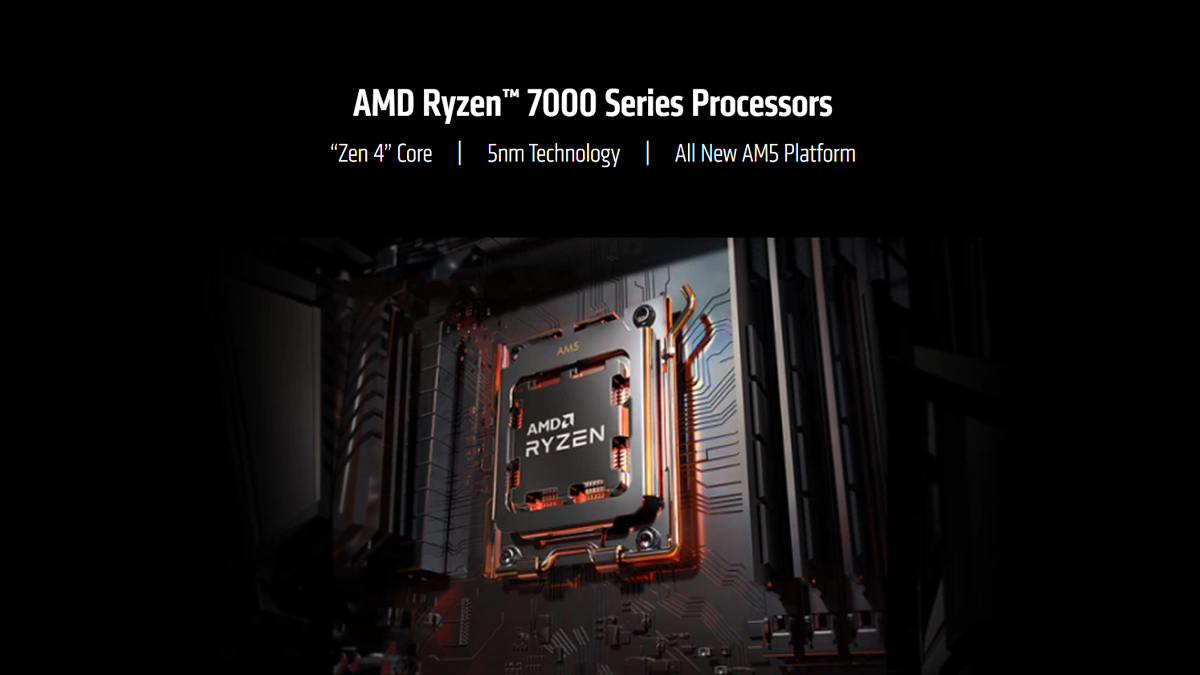 A new age of high performance for gamers, enthusiasts, and content creators has arrived with AMD's introduction of the Ryzen 7000 Series Desktop CPU family, which is based on the brand-new "Zen 4" architecture. The Ryzen 7000 Series desktop processors with the new "Zen 4" architecture were shown off by the company at COMPUTEX 2022 in May.
The Ryzen 7000 Series CPUs offer unmatched performance and industry-leading energy efficiency. They can have up to 16 cores and 32 threads and are constructed on an optimized, high-performance TSMC 5nm process node.
AMD Ryzen 7000 Series Desktop Processors
The AMD Ryzen 7000 Series continues the award-winning "Zen" architecture's tradition of innovation, execution, and delivery by increasing IPC by a double-digit margin over "Zen 3". The Ryzen 7000 Series, the first high-performance x86 5nm CPUs in the world, introduces the amazing speed of the "Zen 4" architecture and raises the bar for gaming and content creation performance.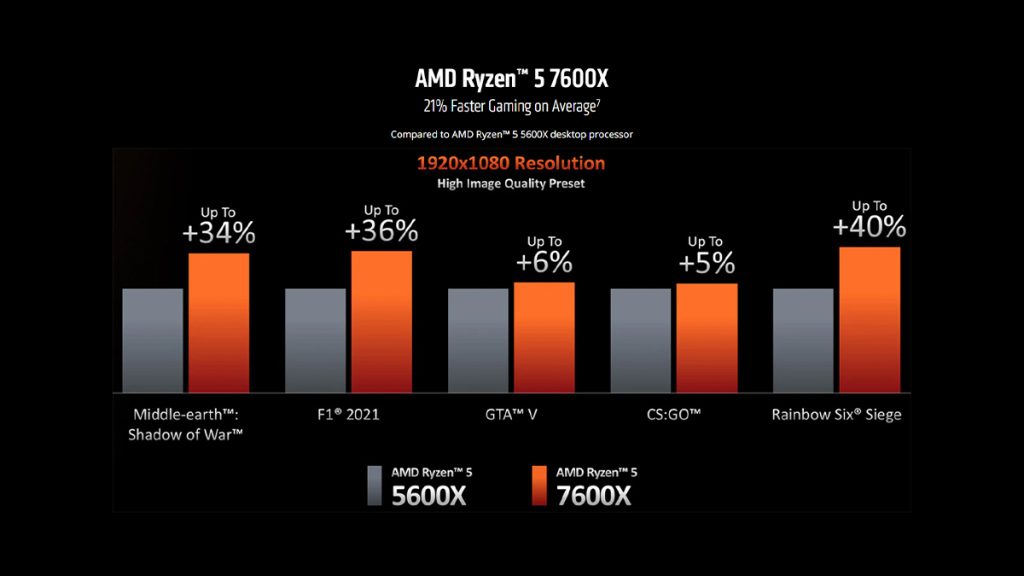 The Ryzen 7000 Series desktop processors run more effectively than ever thanks to a variety of new power management features implemented across the CPU and adapted from AMD's incredibly efficient mobile processors. The AMD Ryzen 7950X processor is up to 47% more energy efficient than the competition, in addition to the astounding performance increases. In addition to the core, Ryzen 7000 Series Processors have a brand-new 6nm I/O chip that supports multiple displays, hardware-accelerated video encoding and decoding, and light graphics tasks.
The 16-core AMD Ryzen 9 7950X CPU, which is at the top of the heap, outperforms the competition in V-Ray Render by up to 57%. Furthermore, the 6-core AMD Ryzen 5 7600X CPU outperforms competitors' flagship gaming processors in some games by 5% on average.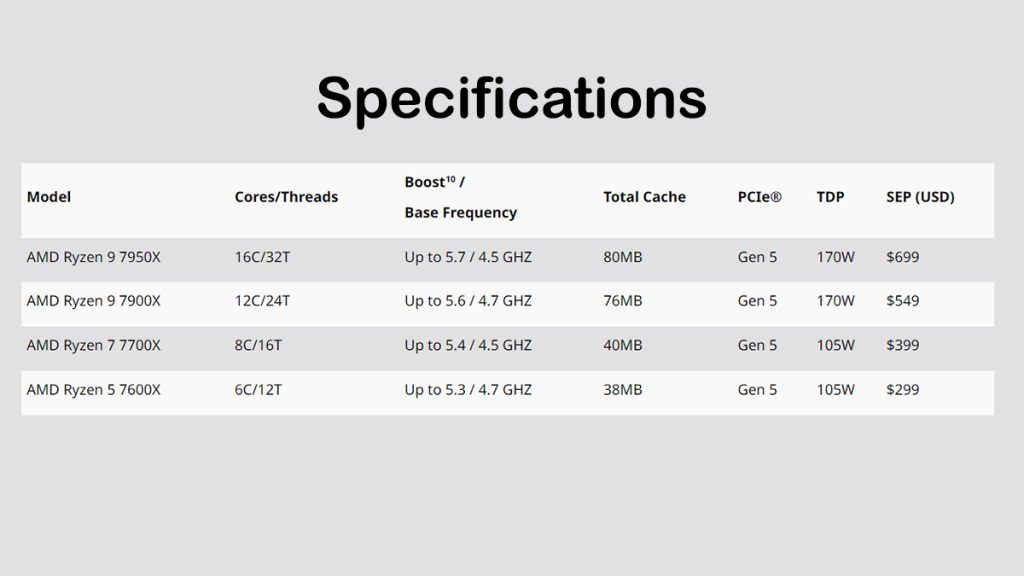 New AMD Socket AM5 Updates
With the Ryzen 7000 Series desktop processors, AMD revealed the new Socket AM5 platform, which offers dual-channel DDR5 memory. The AM5 platform includes up to 24 PCIe 5.0 lanes, making it AMD's largest desktop platform to date. Users may grow with their Socket AM5 solution, which AMD will support until 2025 and beyond. The new Socket AM5 motherboard family has four new chipsets, providing users with more options as follows:
AMD X670 Extreme: PCIe 5.0 supports graphics and storage for maximum connectivity and overclocking.
AMD X670: Overclocking is possible with PCIe 5.0 storage and optional graphics support.
AMD B650E: For high-performance users, PCIe 5.0 storage and optional graphics support are available.
AMD B650: For mainstream users, DDR5 memory and PCIe 5.0 are supported.
AMD EXPO Technology
Gaming performance can be boosted by up to 11% with AMD EXPO technology in F1 2022. Additionally, MD EXPO provides advanced DDR5 overclocking profile settings. AMD EXPO was meant to boost gaming performance using pre-configured overclocking settings.
PC aficionados can discover public self-certification reports that detail an AMD EXPO-enabled module's full timing table, components, and system settings. AMD offers EXPO sans royalties or licence costs to memory partners. AMD EXPO technology debuts with Ryzen 7000 Series processors from ADATA, Corsair, GeIL, G.SKILL, and Kingston. Furthermore, memory kits using AMD EXPO technology will be available with speeds up to DDR5-6400.
Pricing and availability
From September 27, Ryzen 7000 Series Desktop processors will be available for purchase from all major e-tailers and retailers at the price of $299 (Rs. 23,890 approx.) from September 27th.
The new motherboards will be available starting at the price of $125 (Rs. 9,987 approx.), with the AMD X670 and X670E chipsets available for purchase in September, and the AMD B650E and B650 chipsets in October.
Speaking on the announcement, Saeid Moshkelani, Senior Vice President and General Manager, Client Business Unit, AMD, said,
The AMD Ryzen 7000 Series brings leadership gaming performance, extraordinary power for content creation, and advanced scalability with the new AMD Socket AM5. With the next generation Ryzen 7000 Series Desktop processors, we are proud to uphold our promise of leadership and continuous innovation, delivering the ultimate PC experience for gamers and creators alike.