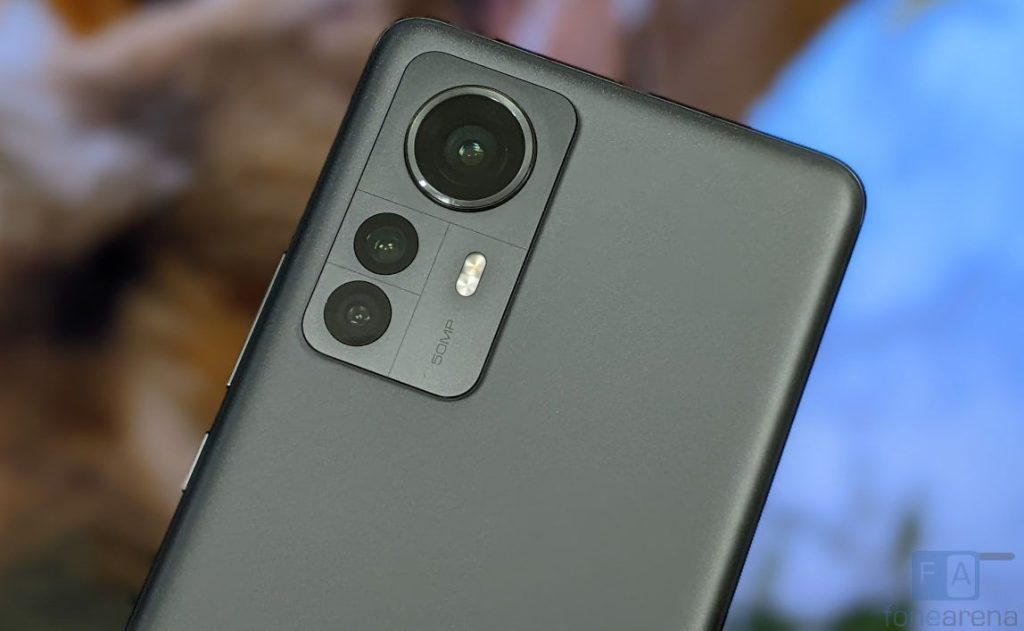 Canalys, an independent research firm, has published a report on smartphone shipments in the Indian market for the second quarter of 2022. According to the report, shipments were 36.4 million units, a 5% decrease from the first quarter of 2022. The good news is that the YoY (Year-on-Year) growth rate is up by 12%. Analysts believe that YoY increase is due to the second wave that hit us at the same time last year. As expected, Xiaomi led the smartphone market.
According to the study, there are various causes for the decline. As customer demand fell, major companies struggled to sell units. In addition, rising inflation has reduced consumers' disposable income, and vendors are struggling to cover their operational expenses. Top Chinese brands, including Xiaomi, vivo, and OPPO, have faced government scrutiny as well as financial difficulties.
Indian Smartphone Shipments Q2 2022: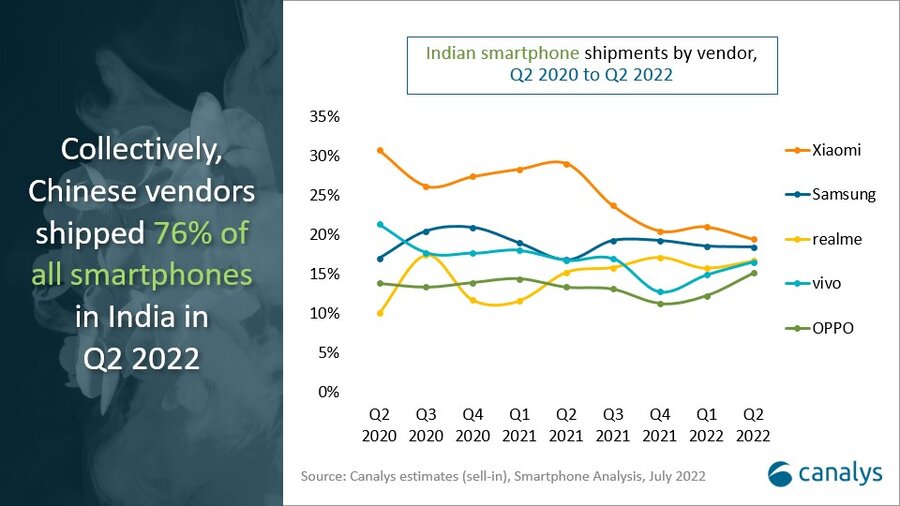 Xiaomi maintained its market leadership, shipping 7.0 million handsets despite declining annual and quarterly sales for the third consecutive quarter. Please keep in mind that Xiaomi shares include both POCO and Redmi sales. Samsung came in second with 6.7 million units, closing in on Xiaomi. Samsung has an 18% market share and a 23% yearly growth rate.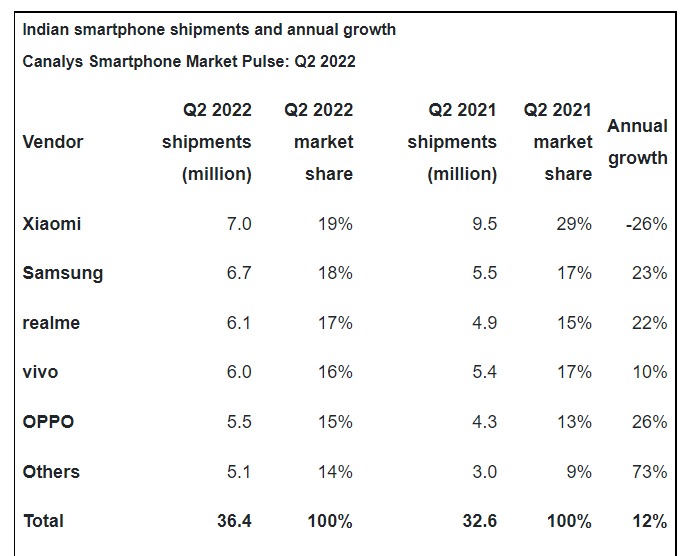 realme remained third with 6.1 million units sold and a 17 percent market share, while Vivo and OPPO completed the top five with 6.0 million and 5.5 million units shipped, respectively. VIVO's fourth-place finish was aided by a 16 percent market share, while OPPO's fifth-place finish was aided by a 15 percent share. OnePlus' sales data is included in OPPO's figure.
Analysts predict that Q3 of 2022 will have a better result than Q2 considering the sales that are going to happen in aid of festive seasons.
Regarding the smartphone shipments in Q2 2022, Canalys Analyst Sanyam Chaurasia said, 
Vendor activity remained muted in Q2, due to falling demand and government scrutiny of Chinese manufacturers. Ballooning inflation hit consumers' disposable income and vendors are struggling to cover their operating costs. Top Chinese brands, such as Xiaomi, vivo and OPPO, struggled with government scrutiny as well as financial problems.

But the business impact remained limited, with no major changes in the vendor shares. Xiaomi maintained pole position, despite organizational changes owing to its revamped Redmi number series. OPPO and vivo continued to develop their omnichannel strategy, with the launch of the new K10 model and T1 series with their estores and eretailers. In the premium segment, Samsung's positive reception for its flagship S series boosted its value share, while Apple is using India's PLI scheme to make the iPhone 13 locally and support future aggressive pricing.