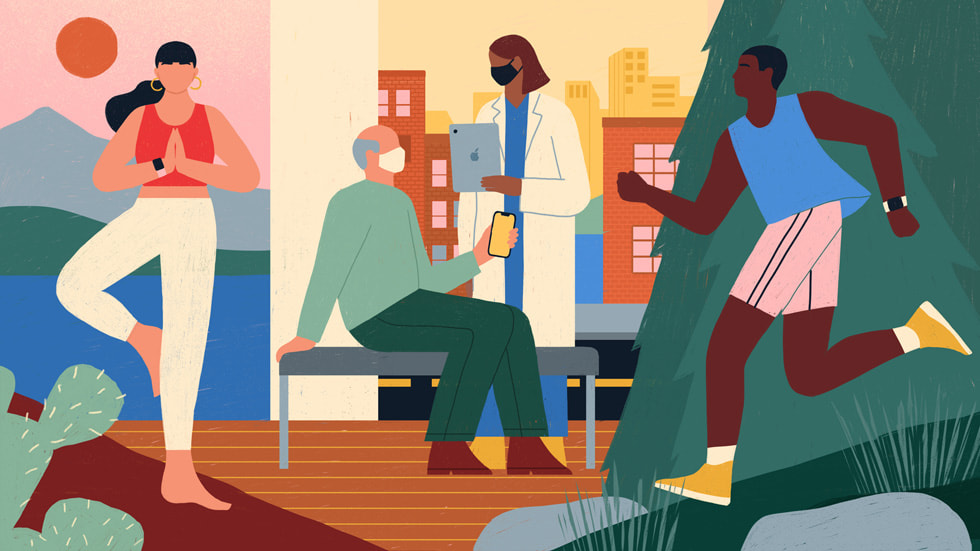 Ever since the release of the Health app in 2014 and the Apple Watch in 2015, Apple has provided a wide range of ground-breaking health and fitness features to assist people to live a healthier life.
Today, Apple revealed a new study demonstrating how its devices assist individuals in taking charge of their health and safety. Apple products, features, and APIs are used by users, developers, medical institutions, and health organizations all across the world to break down barriers between individuals and their health information.
Apple's health-related initiatives are divided into two categories, which are discussed in the report. The first section discusses Apple's emphasis on personal health and fitness features on the Apple Watch and iPhone in order to protect consumers' health and safety.
The second portion discusses Apple's initiatives in medical research and care. In both sections, you'll find examples of how third-party developers, health institutions, and other groups use Apple technology to come up with new ideas.
Apple Watch can store 150 different types of health data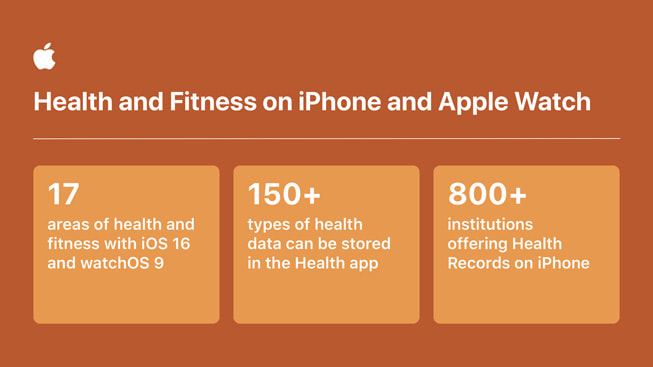 The paper describes Apple's four fitness pillars: providing a central and secure location for users to store and view health data in the Health app; enabling the Apple Watch to act as an intelligent guardian for users' health; assisting users in improving their everyday health and fitness for better health outcomes; and empowering innovative third-party health and fitness apps with developer tools.
Also, Apple has announced that iOS 16 and WatchOS 9 will prioritize 17 different aspects of health and fitness, ranging from heart health and sleep to mobility and women's wellness. The Health app now allows users to save over 150 different types of health data from their Apple Watch, iPhone, and connected third-party apps and gadgets. The HealthKit API is used by tens of thousands of App Store products. It lets developers use user-selected health and fitness data from the Health app.
Apple Supporting Medical Community:
Apple believes the strongest health advances are feasible only via direct partnership with the medical community. And the ResearchKit framework allows researchers to enroll iPhone and Apple Watch users for studies and enable participants to exchange health data to enhance science.
Apps and gadgets produced by third parties utilizing Apple developer tools assist build physician-patient connections with useful data. Over 800 institutions and 12,000 sites now offer Health Records, allowing patients to view their medical data from numerous doctors via the Health app.
Apple has collaborated with Harvard T.H. Chan School of Public Health and the National Institute of Environmental Health Sciences, Brigham and Women's Hospital and the American Heart Association, and the University of Michigan and World Health Organization to offer users across the US the opportunity to participate in three first-of-their-kind research studies: the Apple Women's Health Study, the Apple Heart and Movement Study, and the Apple Hearing Study.
The report includes early findings from the research, as well as information on additional studies financed by Apple, such as the Heart Failure Study with University Health Network and the Digital Mental Health Study with UCLA. 
More than a million Apple Watch users reportedly take part in 55 programs across 17 nations. Participants' levels of physical activity and healthy behaviors, such as regular sleep patterns, mindfulness, and healthier eating choices, have increased as a result of these programs.
Balancing Research and Privacy: 
Apple claims that all health and fitness features follow two principles: rigorous scientific validation processes and privacy at the center. It is said that Apple's in-house doctors work with engineers and designers on product development. Collaboration with premier research institutions ensures scientifically sound and user-friendly products and features.
Further, Apple's health and fitness services protect users' privacy with openness and control. All health and fitness data in the Health app, other than Medical ID, is encrypted when the iPhone is locked with a passcode, Touch ID, or Face ID. Health data uploaded to iCloud is encrypted in transit and on Apple servers.
Health and activity data cannot be seen by Apple if a user has a current version of WatchOS or iOS with two-factor authentication and an encrypted passcode. Without the explicit consent of the user, no health app data is shared.