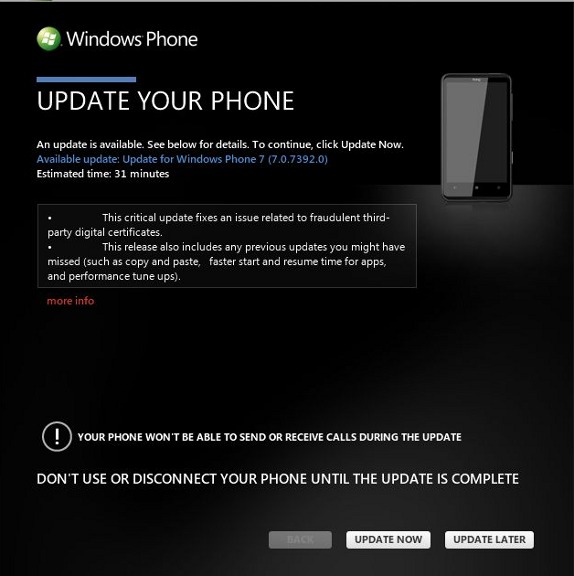 Microsoft has pushed the latest update (7.0.7392.0) for Windows phone 7 users. This update includes the fix for 9 untrusted third-party digital certificates issued by Comodo, that issues SSL certificates.
First Windows phone 7 update (7.0.7008.0) was available this february and NoDo update (7.0.7390.0) was available this March that included copy paste functionality. These digital certificates are used to access popular websites like Google, Skype, Mozilla Addons and email portals like Gmail, Yahoo Mail etc.
All these are third-party certificates and do not come under Microsoft's security vulnerability. These certificates might be used to spoof content, perform phishing attacks, or perform attacks against all web browser users. After this update these certificates would be moved to "Untrusted Publishers" certificate store on Windows Phone, that will prevent the browser from using them.
You need to install Zune desktop software to update your phone, like previous updates. As you can see from the screenshot from the screen shot, this update takes about 31 minutes to complete. According to Mobiletechworld only HTC, LG and the Samsung Focus devices are getting the update for now.
Source: Microsoft