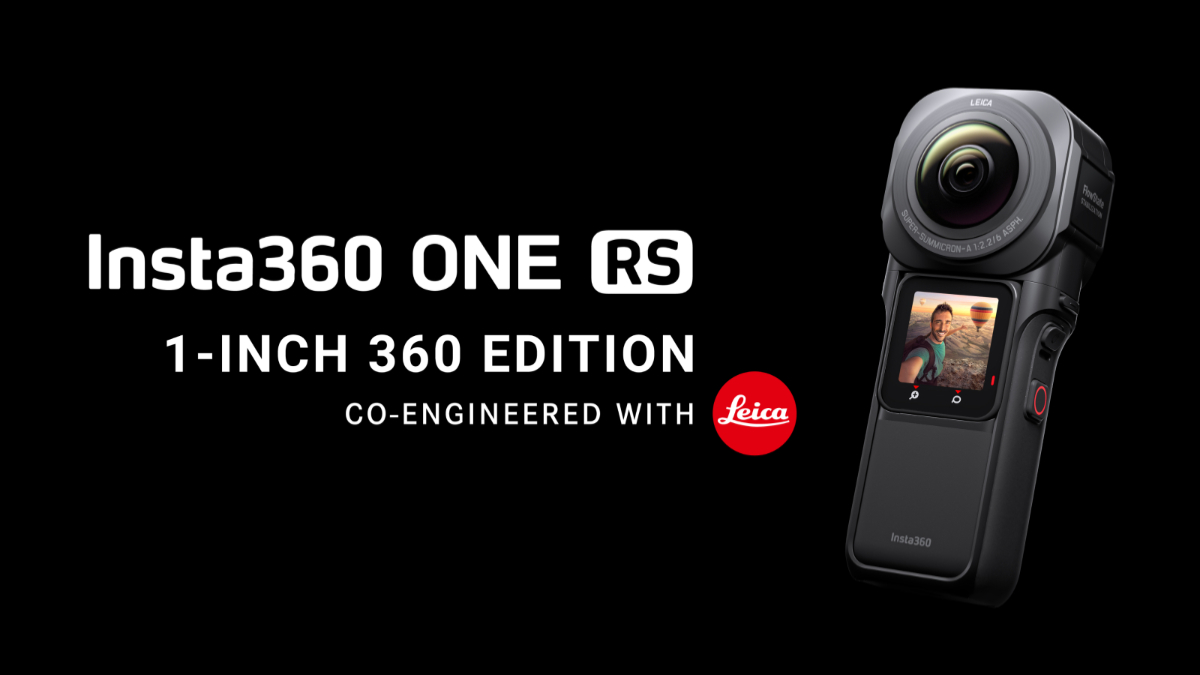 Insta360 has announced the ONE RS 1-Inch 360 Edition, a camera with dual 1-inch sensors and 6K video resolution that pushes the bar for 360-degree shooting.
The 1-Inch 360 Edition, which was "co-engineered with Leica," enables filmmakers to shoot at the best image quality available in the business with a portable device. With conventional shooting rigs, it would be impossible for designers to quickly capture imaginative shots owing to their dual-lens 360 design.
The ONE RS 1-Inch 360 Edition has two 1-inch CMOS sensors, a big advance for creators. The camera can shoot 6K 360 video and 21MP 360 images. The 1-inch sensors are indeed the secret to the camera's low light performance, giving an outstanding dynamic range from twilight to dawn. Other consumer 360-degree cameras have trouble with shadows and brightness, but the 1-Inch 360 Edition has accurate colors and details.
The ONE RS 1-Inch 360 Edition eliminates bulky shooting setups. The small size of the camera means that it can be used in ways that weren't possible before. Creators no longer need to worry about where the camera is directed with two lenses. Instead, they can catch all the action in one take and then reframe it according to their vision. Insta360 makes sharing 360-degree or flat footage easy.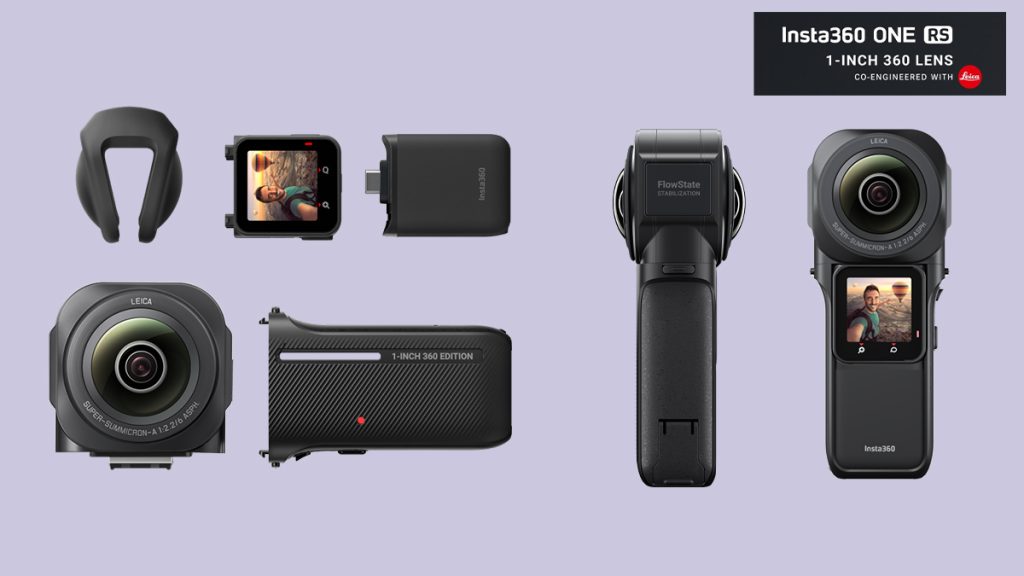 Dolly shots and third-person perspectives are feasible with panoramic 360-degree capture. Dual lenses remove selfie sticks from footage, resulting in clean, unobstructed shots. The FlowState Stabilization and horizon levelling algorithms in Insta360 make it, so you don't need a gimbal to get smooth, level video.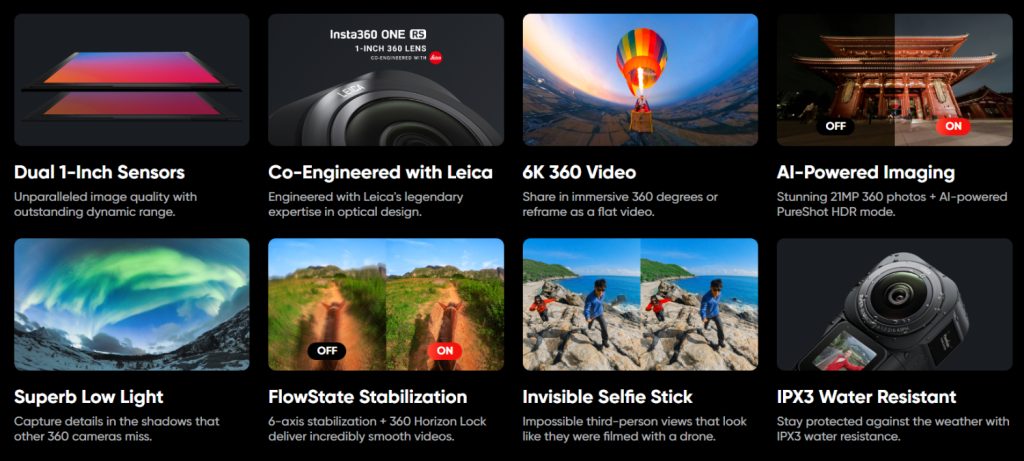 With AI, creators can easily make remarkable modifications to the 1-Inch 360 Edition. The new PureShot HDR photo feature employs AI and intelligent exposure bracketing to boost the dynamic range of your shots, eliminating post-editing. Shot Lab employs AI to automate cloning, dolly zooms, and star trails in the Insta360 app. Creators can use the desktop software Insta360 Studio or an upcoming Adobe Premiere Pro plugin to fine-tune their work.
ONE RS 1-Inch 360 Edition can be used to make a time-lapse of the Northern Lights or a virtual tour of a house for sale. The camera's IPX3 water resistance protects the camera from rain or snow when shooting outdoors, and its 1-inch sensors give exceptional dynamic range and sharpness indoors. Due to its portability, the camera can be installed on a car or backpack for Google Street View, on a tripod for virtual tours, or on a hardhat for construction site monitoring. The device will be compatible with Matterport and OpenSpace via an SDK.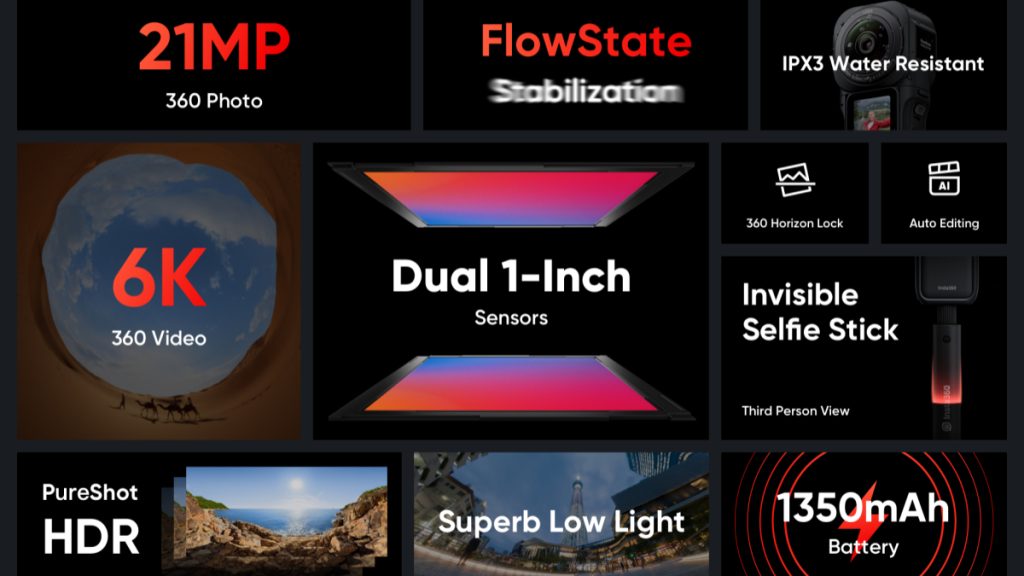 Insta360 ONE RS 1-Inch 360: Specifications
Aperture: F2.2
Max Video Bitrate: 120Mbps
35mm Equivalent Focal Length: 6.52mm
Photo Resolution: 6528×3264 (2:1)
Live Streaming: 360 Live, Reframe Live (streamer sets a fixed perspective)
Video Resolution: 5888×2944@30fps, 6144×3072@25/24fps, 3840×1920@30/25/24fps and 3040×1520@50fps
Photo Format: insp and RAW (dng) (RAW files require software on PC/Mac to export.)
ISO Range: Photo: 100-3200 | Video: 100-3200
Shutter Speed: Photo: 1/8000 – 120s | Video: 1/8000 – to the limit of frames per second
Exposure Value: ±4EV
White Balance: 2000K-10000K
Video Format: insv (can be exported via App or Studio)
Audio Format: 48 kHz, AAC
Connectivity: Bluetooth v5.0, Wi-Fi 5 GHz, 802.11ac, USB Type-C, MicroSD Card
Battery Capacity: 1350mAh
Charging Time: 90 minutes (powered off)
Weight: 239g
Dimensions (W x H x D): 53.2×49.5×129.3mm
Warranty: 1 year
Pricing and availability
The Insta360 ONE RS 1-Inch 360 Edition can be bought from store.insta360.com and other stores around the world for $799.99. (Rs. 63,175 approx.)
Additionally, the 1-Inch 360 lens works with both the ONE R and ONE RS Cores. This means that creators can turn their action camera into a better 360 camera by adding the 1-Inch 360 Lens.
The ONE R and ONE RS upgrade bundles come with a 1-Inch 360 Lens, Battery, and Mounting Bracket, but not the Core, and it's available for the price of US $649.99 (Rs. 51,331 approx.).
Speaking of the announcement, JK Liu, Founder of Insta360, said,
The 1-Inch 360 Edition represents Insta360's continued mission to make ONE RS the most comprehensive and versatile camera on the market. This latest edition turns ONE RS into a powerful 6K camera capable of impressive performance even in low light.
Speaking of the launch, Matthias Harsch, CEO of Leica Camera AG, said,
We're excited to bring Leica's optical and digital imaging expertise into a new product segment with the ONE RS 1-Inch 360 Edition. Creators can take advantage of both the camera's 360 capture capabilities and its dual 1-inch sensors, no longer having to choose between creativity and premium image quality.