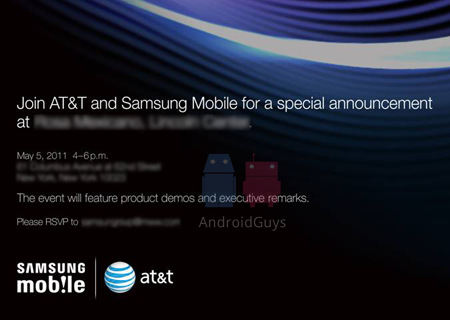 Google Nexus S was announced by Google and Samsung last year which is successor to Nexus One and also the first ever Gingerbread device. It's currently available in almost every major country and in USA, T-Mobile and Sprint is offering it. Sprint got the 4G version whereas the one on T-Mobile is just normal one. We heard back in February that AT&T will be launching it soon but no sign of it so far. But now it looks like AT&T and Samsung are getting ready to announce it. As our friends over at Android Guys got an invitation from Samsung and they are inviting them on a "special announcement". It seems that AT&T is finally bringing it, but it could be something else too because it's not set on stone that AT&T will launch Nexus S. Maybe Samsung and AT&T are bringing the Infuse 4G, which was announced back at CES.
Well, after collecting all the rumors, it's indicating towards the announcement of Nexus S, but what I am feeling is that maybe Samsung is planning to launch the Galaxy S II. Galaxy S II was recently launched and it's one of the hottest devices. As AT&T was also the first one to launch the Samsung Captivate in USA, maybe they are also planning to launch the Samsung Galaxy S II first in the USA as we heard that T-Mobile is also carrying it. The event is on May 5th, so stay tuned with us because we will let you know.
So friends, what do you think Samsung and AT&T is launching on May 5th?