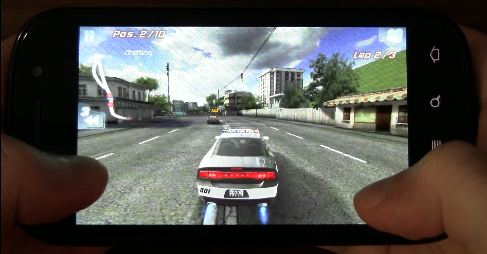 Recently a new blockbuster movie was launched which is known as Fast Five. It's an amazing movie and it's especially for people who love racing movies. If you are a big fan of this movie and you want to play a game based on this movie, then it's your lucky day. If you are an Android user, then you can download this new game directly from Gameloft for $4.99. It's not available in Android Market at the moment, so I hope it will hit Android Market soon. It looks like a good game and it comes with some amazing features. Have a look:
Escape hard-nosed federal agent Luke Hobbs by tearing up the streets of Rio de Janeiro, the Dominican Republic, Hong Kong and more!
Get behind the wheel of famous cars from the film, including the latest Dodge Challenger 2011 and Dodge Charger 2011
Discover the unbelievable Rewind Time feature and get a second chance at taking a nasty corner or avoiding a pile-up.
Performance of this game may vary on the device you are using. If you have a G1, then this game will lag a little, but if you are on a dual-core device, then this game is piece of cake. Want to buy this game? Then don't forget to check out the video review after the break. So racing game fans, are you going after this one?
httpv://www.youtube.com/watch?v=-I2QlqdH_0Y