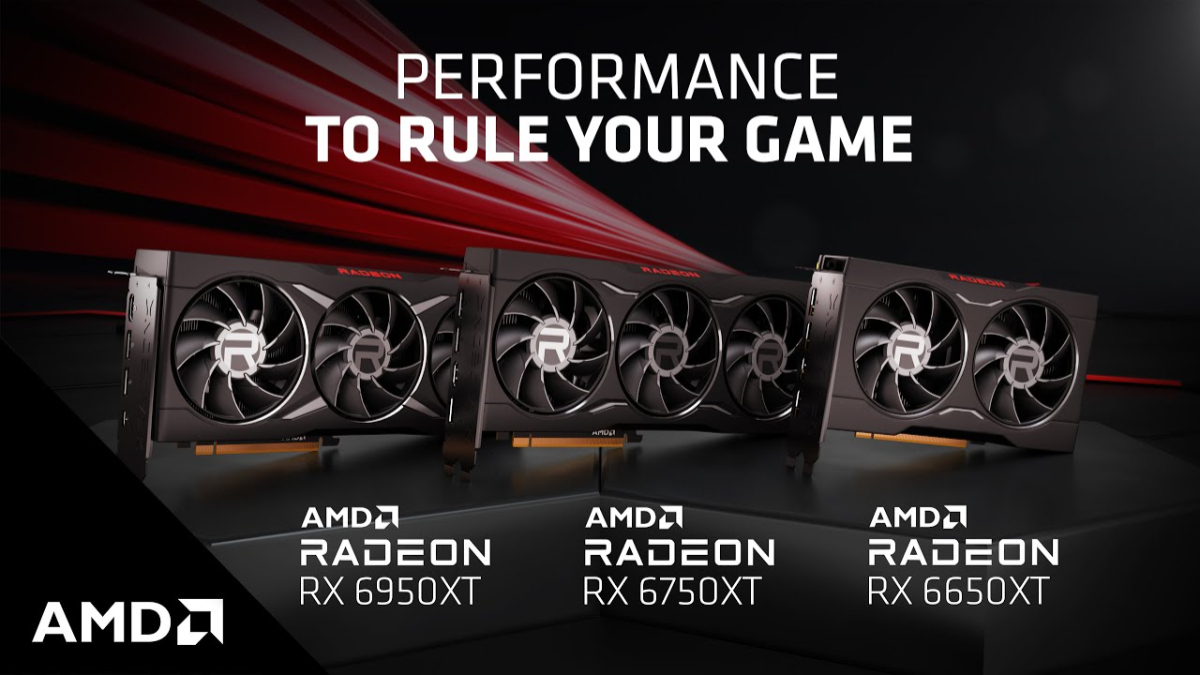 AMD revealed new graphics cards in the Radeon RX 6000 series today, touting better game clocking as well as memory. The RX 6650 XT, RX 6750 XT, and RX 6950 XT are three new GPUs in the Radeon RX 6000 series. The latest cards, like the rest of the RX 6000 series, feature RDNA 2, the same graphics architecture as the PS5, Xbox Series X/S, or Steam Deck.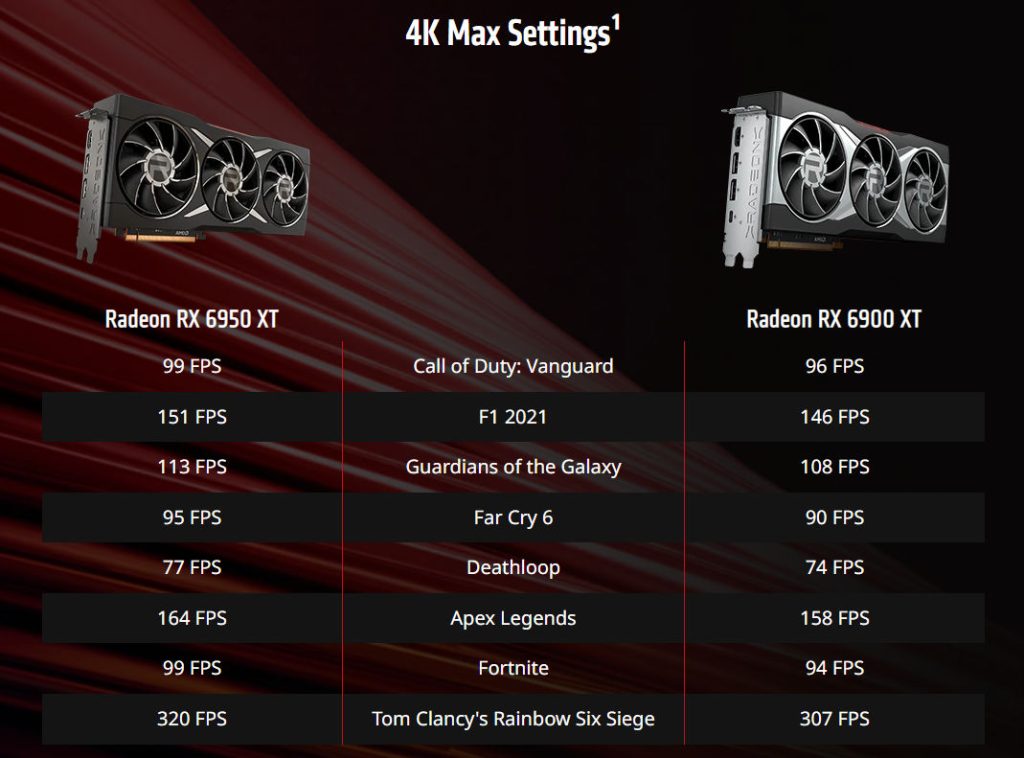 The RX 6950 XT is the most powerful of the three new product lines released today, and it's designed for 4K gaming. It comes with 16GB of GDDR6 RAM and is the latest flagship of the RX 6000 graphics card lineup. AMD launched the Radeon RX 6700XT GPU back in March 2021 as part of their Radeon 6000-series graphics cards in India.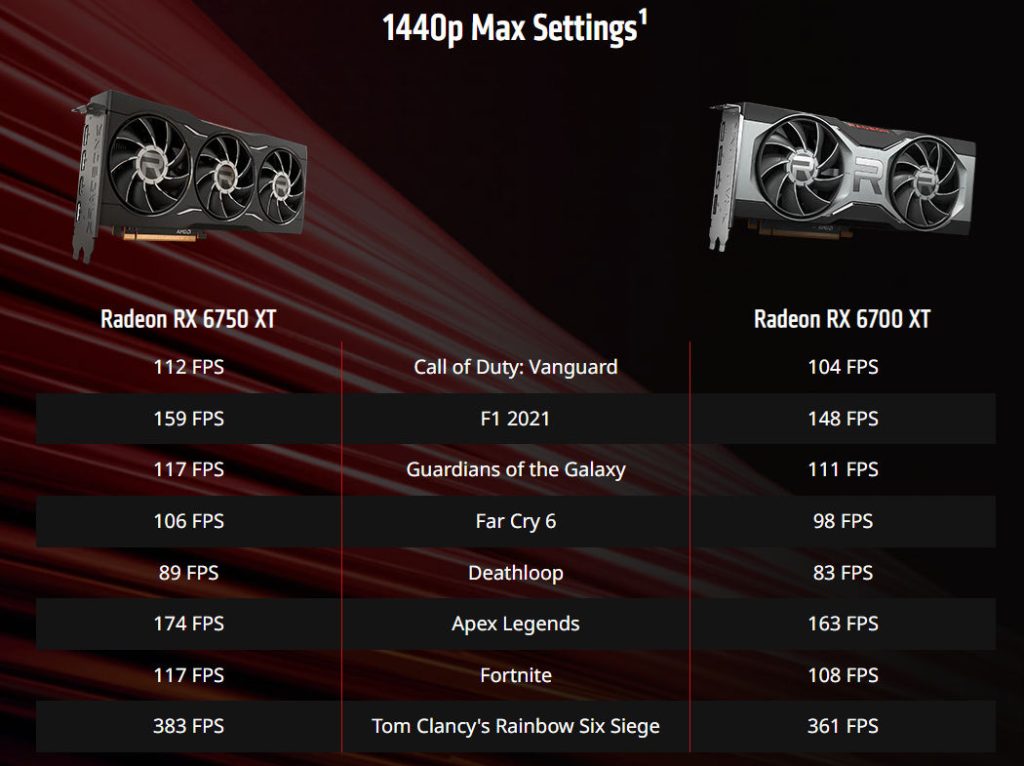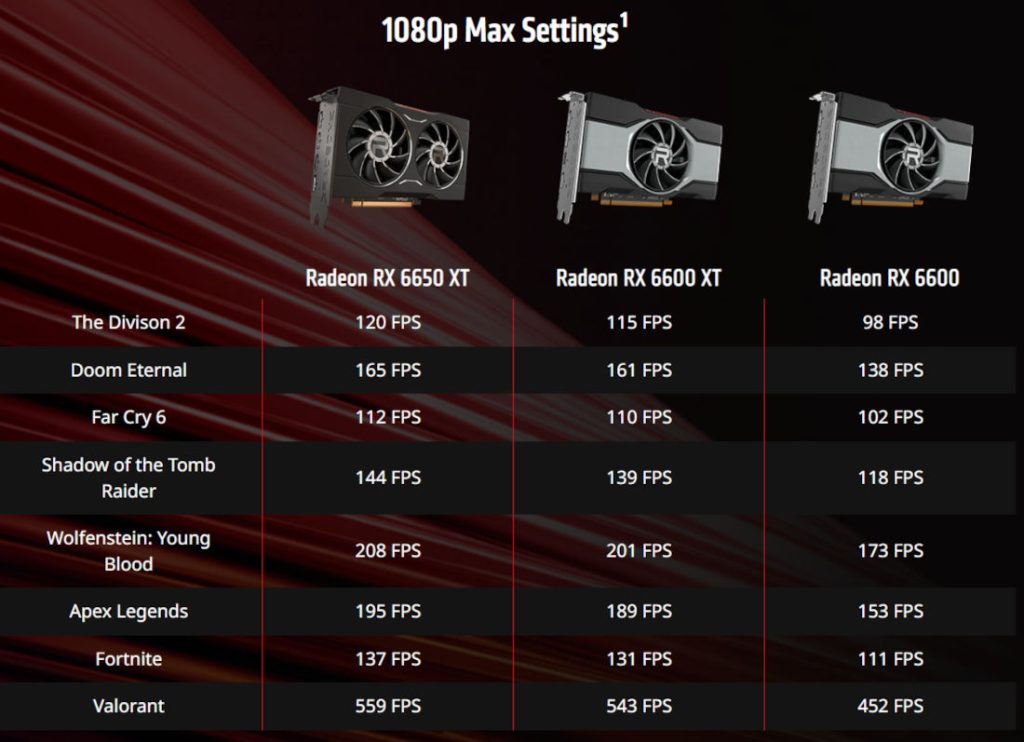 Highlights
The AMD Radeon RX 6950 XT graphics card promises outstanding performance and stunning visuals for the most demanding AAA and esports titles at 4K resolution and the highest settings.
The AMD Radeon RX 6750 XT graphics card delivers 1440p gameplay performance, while the AMD Radeon RX 6650 XT graphics card delivers 1080p gaming performance.
These AMD Radeon graphics cards have high-bandwidth, low-latency AMD Infinity Cache technology as well as GDDR6 memory that can go up to 18Gbps.
Supports AMD FidelityFX Super Resolution 1.0, AMD FSR 2.02 with AMD Radeon Super Resolution upscaling techniques, and other extra features that deliver a visually outstanding high-refresh-rate gameplay experience.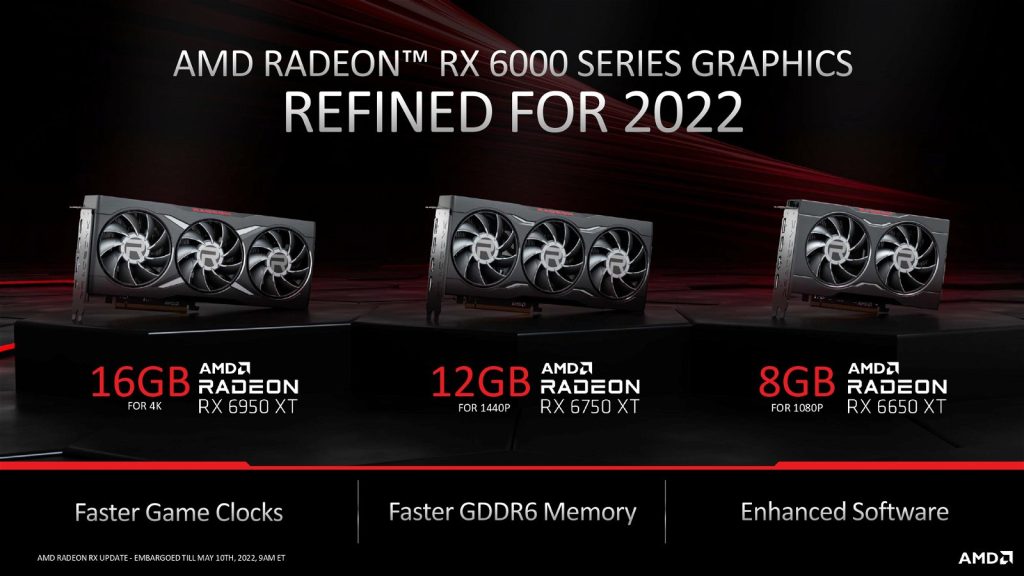 Key Features
AMD Software Adrenalin Edition: It brings superior and innovative capabilities to AMD graphics and processor-powered systems. The latest update improves performance by up to 10% in some DX11 games. Radeon Super Resolution 1.1 now works with AMD Ryzen 6000 Series processors that have Radeon graphics built in.
AMD FidelityFX Technology: AMD FidelityFX technology is an open-source toolbox for game developers available at AMD GPUOpen. It contains AMD FidelityFX Super Resolution (FSR) 1.0 spatial upscaling technology, which will be compatible with over 80 games. It also works with AMD FSR 2.0, a cutting-edge temporal upscaling method that improves framerates in games that support it while still making the images look better.
AMD Smart Access Memory (SAM) Technology: The AMD Radeon RX 6000 Series graphics cards can access the full GDDR6 graphics memory when paired with specific AMD Ryzen desktop processors and AMD 500 Series motherboards. AMD Radeon RX 6950 XT, as well as AMD Ryzen 7 5800X3D processors with SAM, deliver up to 14% better performance.
AMD Infinity Cache Technology: The last-level data cache implemented on the GPU die reduces latency and power consumption, allowing for faster gaming performance.
AMD FidelityFX Super Resolution 2.0 Game Support: FSR 2.0, the latest upscaling technology from AMD, uses prior frame data to give equivalent or better graphics performance at all resolutions. With it, you can use a wide range of graphics cards, including AMD and perhaps some competitors, without special machine learning hardware.
AMD Radeon Raise the Game Bundle: A new AMD Radeon Raise the Game Bundle will give gamers free access to games with the purchase of AMD Radeon RX 6000 Series graphics cards.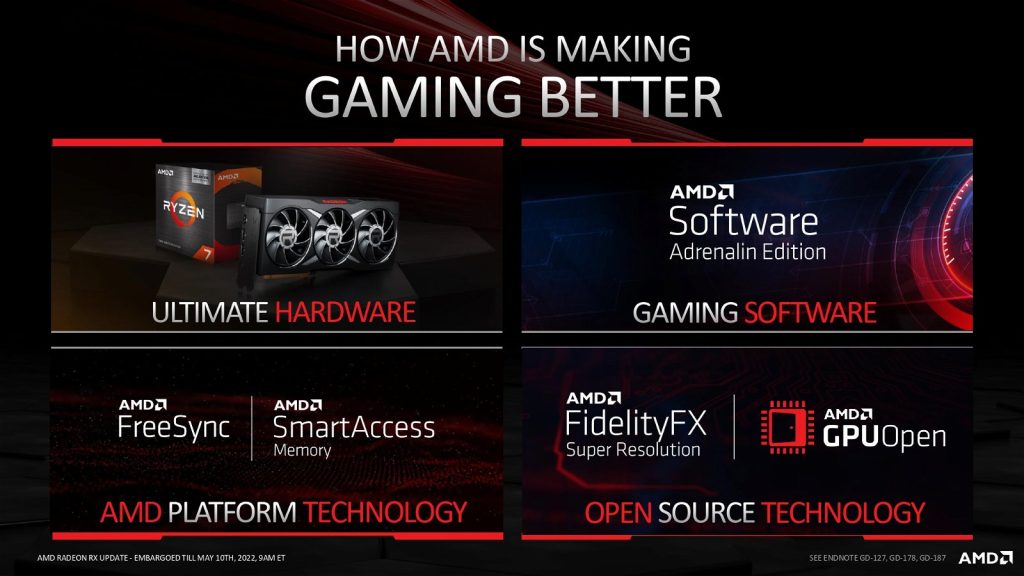 Product specifications and Pricing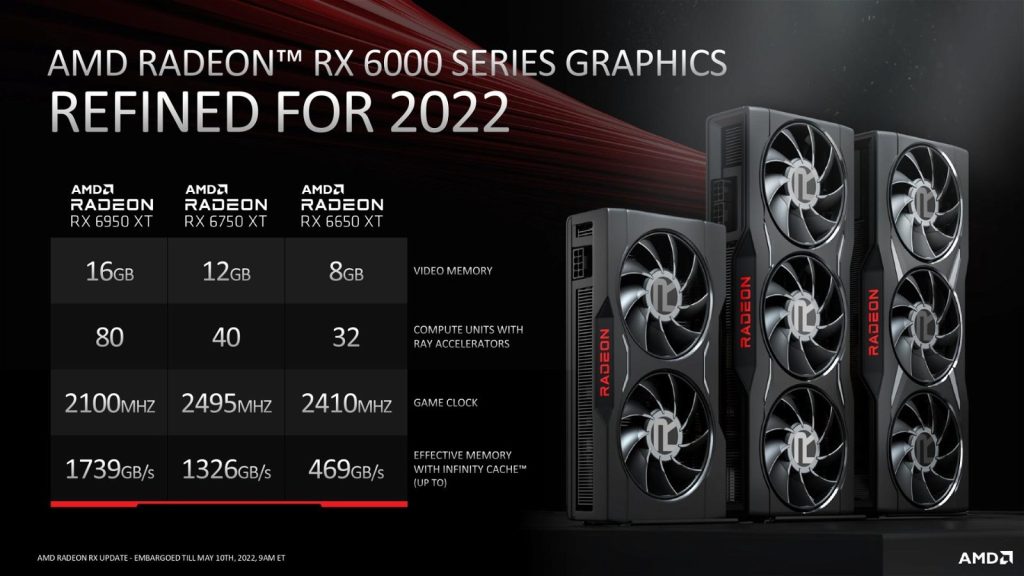 Radeon RX 6950 XT pricing starts at $1099 (INR 84845 approx.)
Radeon RX 6750 XT pricing starts $549 (INR 42380 approx.)
Radeon RX 6650 XT pricing starts $399 (INR 30800 approx.)
Availability
The AMD Radeon RX 6950 XT, Radeon RX 6750 XT, and Radeon RX 6650 XT graphics cards will be available starting today, May 10, 2022, from global e-tailers/retailers and AMD board partners, which include ASRock, ASUS, BIOSTAR, Gigabyte, MSI, Sapphire, PowerColor, XFX, and Yeston.
AMD Radeon RX 6950 XT and Radeon RX 6750 XT graphics cards are also expected to become available on AMD.com starting today.
AMD Software Adrenalin Edition will be available from May 10, 2022.
Speaking on the launch, Scott Herkelman, Senior Vice President and General Manager, Graphics Business Unit at AMD, said,
There are three billion gamers worldwide and counting, and about half play on PCs. As gamers grow in numbers, these new Radeon graphics cards will provide next-level gaming experiences and performance. And the incredible efficiencies of AMD RDNA 2 architecture deliver substantially better performance-per-dollar with the new Radeon graphics cards compared to the competition.