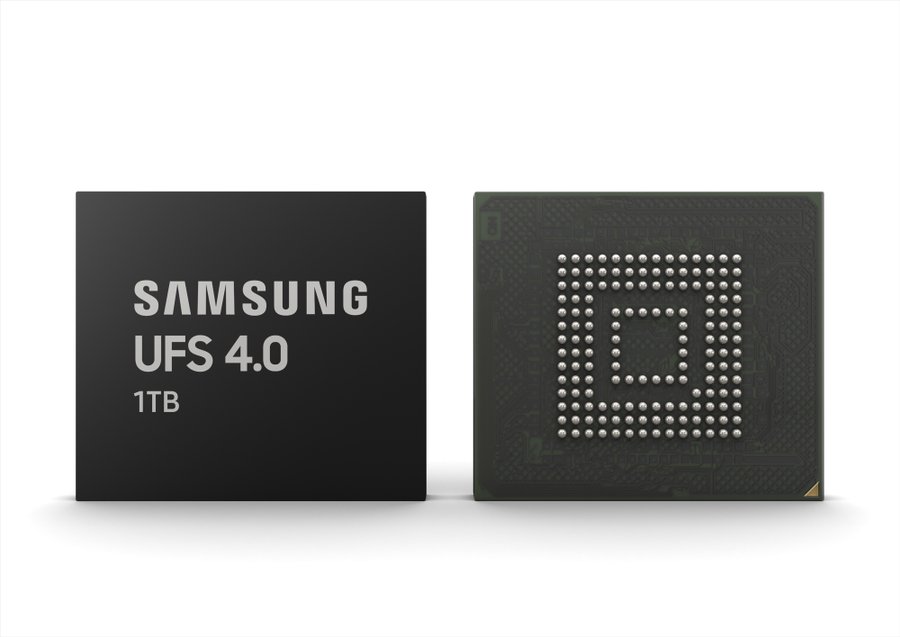 Samsung today announced the launch of version 4.0 of its Universal Flash Storage (UFS) solution, which will go into mass production in the third quarter of this year. UFS 4.0 will significantly improve the speed and efficiency of devices such as smartphones, tablets, and foldables.
The UFS 4.0 storage solution could make its debut on the latest models of Samsung's new foldables, such as the Galaxy Z Fold 4 and indeed the Galaxy Z Flip 4. Or else, UFS 4.0 will most likely make its debut on the 2023 Samsung Galaxy S23 flagship series.
According to the company, UFS 4.0 has a bandwidth of up to 23.2Gbps per lane, which is double that of UFS 3.1. According to Samsung, UFS 4.0 is ideal for 5G smartphones that require massive amounts of data processing. The company also claims that its new 7th-generation V-NAND technology can achieve sequential read performance of up to 4,200 MB/s as well as sequential write speeds of up to 2,800 MB/s, which are significantly faster than the existing UFS 3.1 storage system's read and write speeds.
Also, the company said that it will work with other companies to make UFS 4.0 available for Samsung's foldable phones and other tech products, as well as for other Android phones, automobiles, and AR and VR apps. According to Samsung, because of advancements in power efficiency, devices using UFS 4.0 seem to last longer whilst also benefiting from faster writing and reading speeds. According to the Korean manufacturer, UFS 4.0 is a 46% improvement over UFS 3.1.
Samsung has managed to incorporate all of these enhancements into an even smaller package. A 512GB UFS 3.1 module, for example, has dimensions of 11.5 x 13 x 1.0mm. A UFS 4.0 module, on the other hand, will have a maximum size of 11 x 13 x 1mm for 1TB of storage.
According to the Samsung Semiconductor tweet,
Samsung's UFS 4.0 implements the newest JEDEC® standard specification and enhances our diverse portfolio. Our UFS mobile storage solutions differentiate key technologies in controller design to improve performance and power efficiency.

Last but not least, UFS 4.0 will come in a compact package with a maximum dimension of 11mm x 13mm x 1mm for more effective space utilization and design convenience, and will come in a variety of capacities ranging up to 1TB.