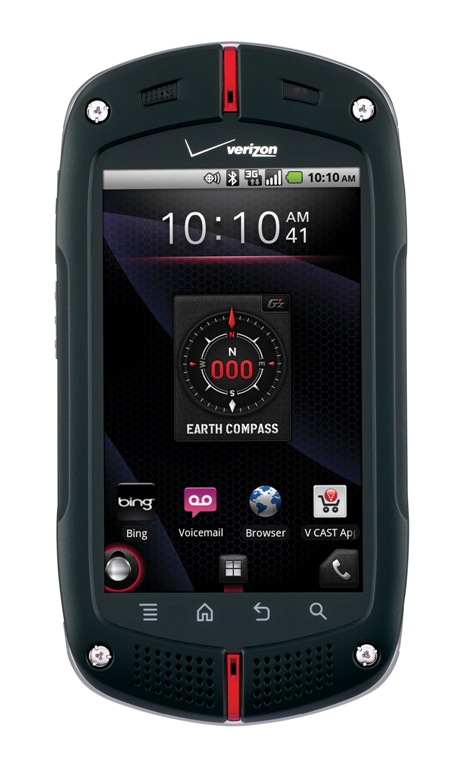 We just told you about the Droid Incredible 2, which is finally announced for Verizon Wireless, but it's not the only phone Verizon is launching on April 28th. Today, Verizon officially announced the Casio G'zOne Commando which is there first ever Android powered rugged device. We first heard about it in March, and now Verizon has officially unveiled it. They are planning to launch it along with the Incredible 2 on 28th April for $199.99 with a new 2-yr customer agreement. Casio G'zOne Commando is an amazing device and the design of the phone seems very strong. It meets Military Standards 810G, which means that the phone is powerful enough to face Immersion, Rain, Shock and Dust Resistant, Vibration, Salt Fog, Humidity, Solar Radiation, Altitude, Low and High Temperature Storage. Well, that's one powerful phone, and if you are a worker at a construction site or something where using your phone is not safe, then this rugged device is a nice choice. Want to know more about the device? Then check out the press release after the break.
Verizon Wireless And Casio Introduce The CASIO G'zOne Commando

First Ruggedized Android Smartphone for Verizon Wireless

BASKING RIDGE, NJ — Verizon Wireless and Casio today announced a new addition to the rugged wireless category and a new Android-powered smartphone in the marketplace, the CASIO G'zOne Commando™. Deployment ready, the Commando is a mobile office with high security features for secure corporate email; Wi-Fi for high-speed Web access; XT9 and T9 trace input for efficient typing; and snap-out menu for customized access to high-use applications.

Designed to withstand the most extreme conditions, the CASIO G'zOne Commando easily transitions from work to play with advanced G'zGEAR software. As the ultimate outdoor tool in a mobile device, G'zGEAR operates in eight modes to enhance the active, adventure-driven lifestyle. With the help of its Triple Sensor technology utilizing direction, acceleration and temperature, G'zGEAR enables adventurers to perform at their peak.

The Casio Commando is ideal for the business environment, especially for fields such as construction, transportation, manufacturing, utilities and healthcare. Workers in hazardous environments, such as construction sites, warehouses and factory floors, need a smartphone that has the capability to download blueprints, files and pictures; update project plans; access field force management, inventory access and corporate applications; and capture signatures.

Key features:

Android™ 2.2
Meets Military Standards 810G for Immersion, Rain, Shock and Dust Resistant, Vibration, Salt Fog, Humidity, Solar Radiation, Altitude, Low and High Temperature Storage
5-megapixel camera with auto-focus, still photo, video capture, LED light
High-security encryption for corporate email
Wi-Fi 802.11 b/g/n connectivity
Stereo Bluetooth™
VZ Navigator® for GPS and audible turn-by-turn directions
Mobile Hotspot capable-share 3G connection with up to five Wi-Fi-enabled devices

Lifestyle features:

G'zGear operates in eight modes

Earth Compass – Functions as a standard compass, the GPS shows the distance and direction to several domestic and international landmarks, including Yosemite National Park and Mt. Everest.
Walking Counter – Measures steps, distance and energy consumption, and total steps for the day, week or month. It also provides virtual treks for famous North American trails and roads including Mt. Kilimanjaro, Annapurna Circuit, Torres Del Paine Circuit, John Muir Trail and Transcontinental.
Adventure Training – Takes training to a new level by allowing users to run with virtual opponents, like world-record holders, wild animals, or their own best personal performance stored in the training history.
Trip Memory – Plots and records outdoor activities along with location information to share with friends and family on Twitter™ and Facebook®.
Tides – Showcases the tidal graph for the day; time of tide ebb and flow; and current, past and future sea tide levels. GPS displays the nearest location map.
Thermometer – Displays current temperature in both Celsius and Fahrenheit with numeric and graphic thermometer readings and compares the current temperature across multiple locations.
Sun / Moon – Checks the time of the next sunrise, sunset, moonrise and moonset, and tracks the moon phases for your current location.
Star Gazer – Utilizes GPS to display the stars and constellation names based on the current season and time.

Pricing and availability:

The CASIO G'zOne Commando will be available online atwww.verizonwireless.com on April 28 for $199.99 with a new two-year customer agreement. CASIO G'zOne Commando customers will need to subscribe to a data plan. Unlimited data plans are available to customers starting at $29.99 monthly access.
Business customers who want to purchase the device can contact their Business Sales Representatives at 1-800-VZW-4BIZ.

For more information on the CASIO G'zOne Commando or for other Verizon Wireless products and services, visit a Verizon Wireless Communications Store, call 1-800-2 JOIN IN or go towww.verizonwireless.com. Customers can visitwww.CasioGzOne.com to experience the CASIO G'zOne Commando.