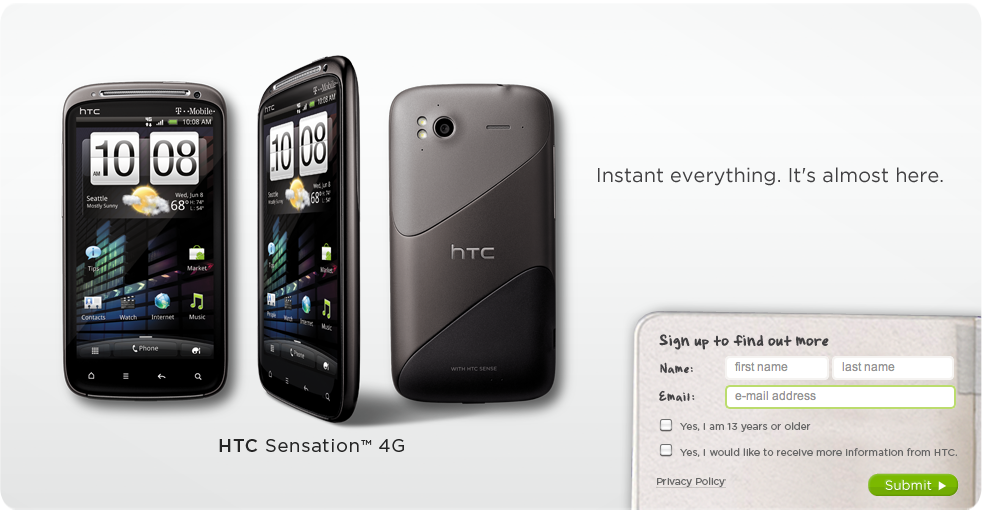 HTC Sensation 4G is a new smartphone which was announced by HTC this month. Sensation is HTC's first device to come with a dual-core processor. It's an amazing looking device and HTC answer to devices like Samsung Galaxy S II, Atrix 4G and Optimus 2X. T-Mobile USA is launching it in USA and Vodafone will be the first one to officially launch this device next month in UK. Now it looks like the time is near and HTC will be launching it soon because HTC has officially launched the sign-up page for the HTC Sensation. If you want to keep in touch with HTC Sensation then head over to HTC and sign up, or stay with FoneArena because we will keep you updated about everything related to this device. Don't forget to check out our hands-on time with the Sensation 4G, and check out the specs after the break:
4.3-inch qHD (540 x 960 pixel) SLCD display
1.2 megapixel front-facing camera, 8 megapixel rear camera w/ dual-LED flash
1.2GHz Qualcomm Snapdragon dual-core processor
4GB of internal flash memory w/ 8GB MicroSD
Android 2.3 running Sense 3.0
So who's getting it, anyone?