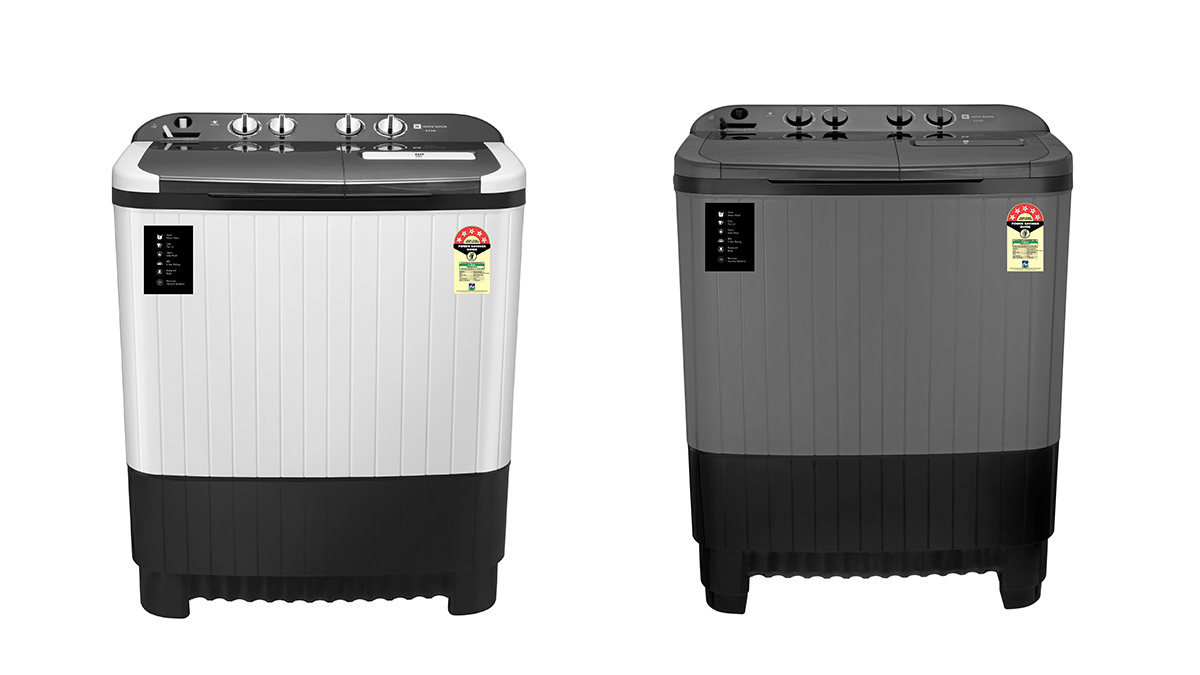 realme has introduced semi-automatic washing machines as part of its TechLife portfolio, after the launch of its first washing machine in September last year. According to the manufacturer, the new washing machines will meet the increased need for antibacterial, energy-efficient, as well as powerful home appliances.
realme's latest washing machines are available in two sizes: 8 kg and 8.5 kg. The silver ion wash in the washing machine inhibits the growth of bacteria and microbes on clothes. The washing machine's exterior body is made of highly reliable plastic that resists rust and corrosion. Each time you wash your clothes, the machine has a 1400 RPM spin cycle, an Air-Dry mode, a Hard Water Wash mode, and even a collar scrubber to make sure they get clean.
According to the firm, the washing machines are tailored to Indian conditions. The washing machines also have hard water wash features. The semi-automatic, top load line-up has a sizeable capacity and jet stream technology for deeper and more consistent cleaning. They also got a BEE 5-star rating, which means that they will be more energy efficient and use less power.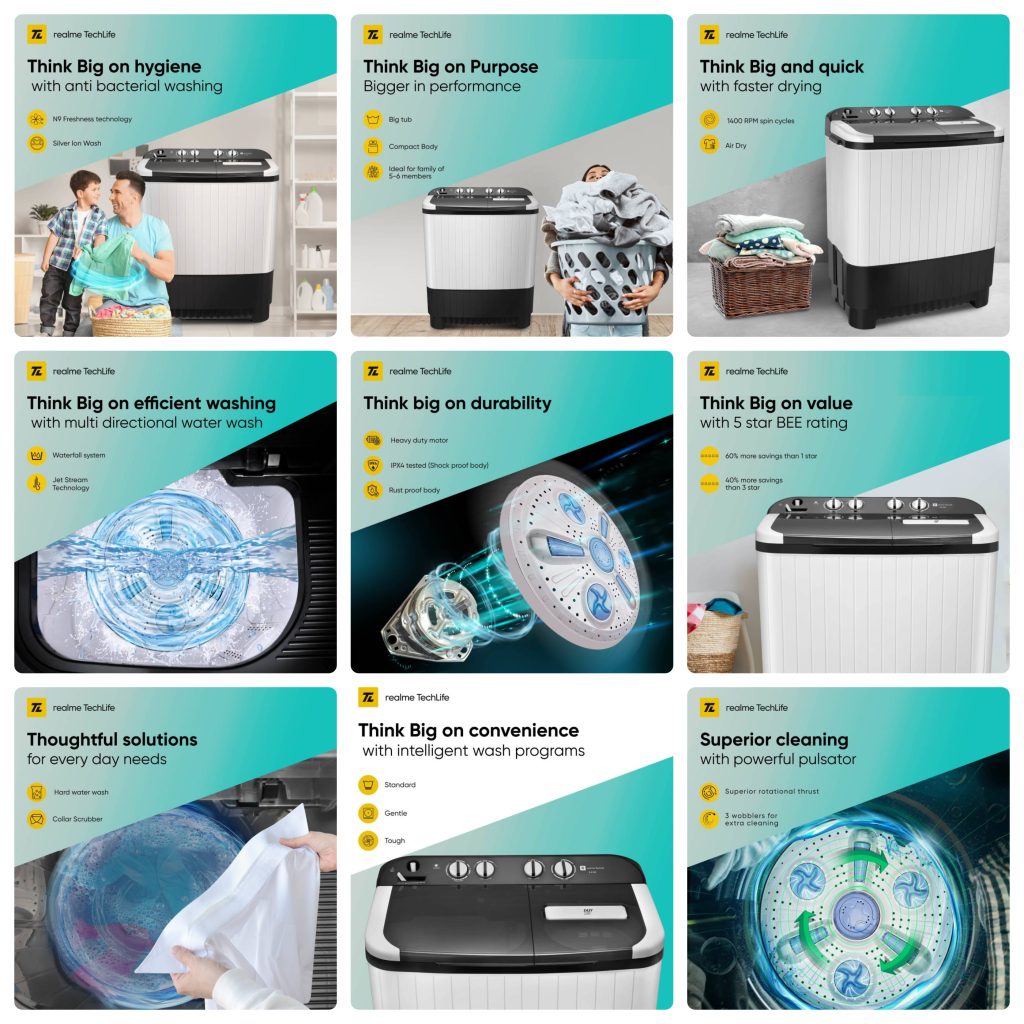 realme TechLife 8 kg/ 8.5 kg: Specifications
Brand: realme TechLife
Model Name: RMSA805NNNDW | RMSA855NNNDG (8.5 kg)
Function Type: Semi Automatic Top Load
Energy Rating: 5
Washing Capacity: 8 kg
Washing Method: Pulsator
Maximum Spin Speed: 1400 RPM
In-built Heater: No
Dryer Type: Spin Dry
Dryer Capacity: 6 kg
Water Level Selector: Yes
Color: White, Black | Grey, Black (8.5 kg)
Anti-bacterial Protection: Silver Ion wash, N9 freshness Technology
Smart Performance: Hard Water Wash, Waterfall System and Jet Technology
Built and Durability: Bigger tub size for smaller wash cycles, Compact built and Heavy Duty Motor
Water resistance: IPX4 tested
Warranty Summary: 2 Years Comprehensive and 5 Years on Wash Motor
Pricing and availability
realme's new washing machine series is now available on Flipkart. The 8 kg washing machine starts at Rs. 10,990, while the 8.5 kg model starts at Rs. 11,190.
Commenting on the launch, Madhav Sheth, CEO – realme India, Vice President – realme and President – realme International Business Group, said,
As a brand that specializes in providing a trendsetting tech lifestyle, realme endeavors to cater to customers' niche requirements by developing technological solutions that suit the Indian customers. Our new range of TechLife washing machines offers hard water and bacteria-free wash with its powerful and long-lasting motor and is a testament to our understanding of our customer base. We are delighted to partner with Flipkart on this launch and cater to customers' evolving requirements across the country in a seamless manner. Through this launch, we will continue to enhance our Smart Home category, strengthen TechLife category, and aim to be the No.1 Lifestyle and Techlife Brand in India.
Speaking on the launch, Hari Kumar, Vice President, Large Appliances at Flipkart, said,
Over the past few years, customers have demonstrated an increased awareness around wellness and healthy living. As a customer-focused organisation, Flipkart is committed to bringing a vast selection of choices and bringing best-in-class technological solutions to customers' doorsteps. With the latest realme TechLife Washing Machine range, we hope to cater to the needs of users for an anti-bacterial cleaning while delivering superior performance. Its suitability to Indian conditions will be a key customer delight.