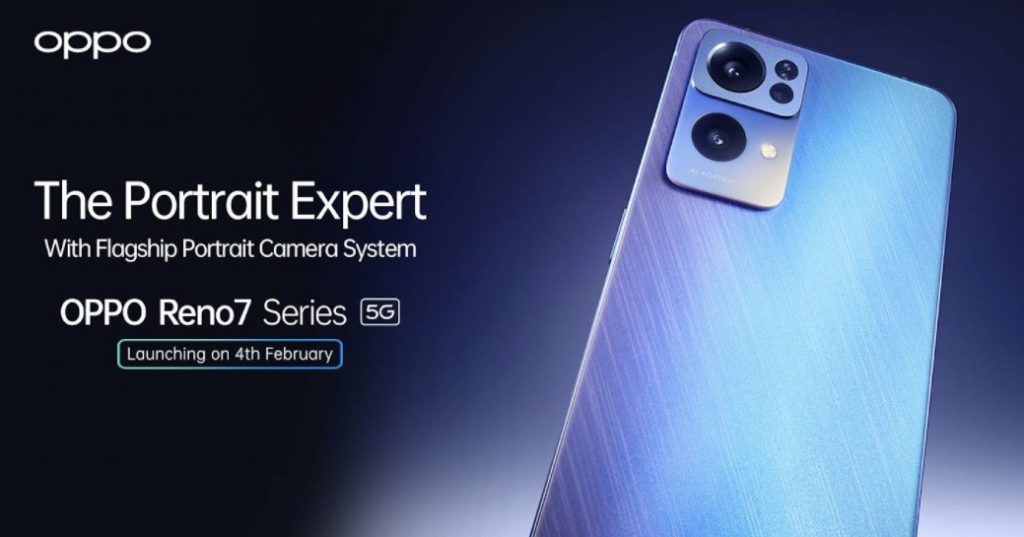 Update: January 24, 2022 – OPPO has confirmed the launch of Reno7 series – Reno7 Pro 5G and Reno7 5G in India on February 4, 2022. These will feature a proprietary OPPO Glow design that incorporates aircraft-grade Laser Direct Imaging (LDI) technology, said the company.
OPPO Glow is a design technology where the glass back cover of the phone achieves two seemingly paradoxical properties: Matte texture and a shiny appearance. These make the phones fingerprint and stain-resistant. The newer LDI technology has been repurposed to etch fine textures—as small as 20 microns in size—onto the photoresist-coated AG glass back cover of the Reno7 series, said OPPO.
It added that each device's back features a total of 1.2 million micro-etchings that create the illusion of thousands of stars—complete with long tails of light—shining across the sky. These micron-scale etchings give the phones a matte in-hand feel and brushed finish.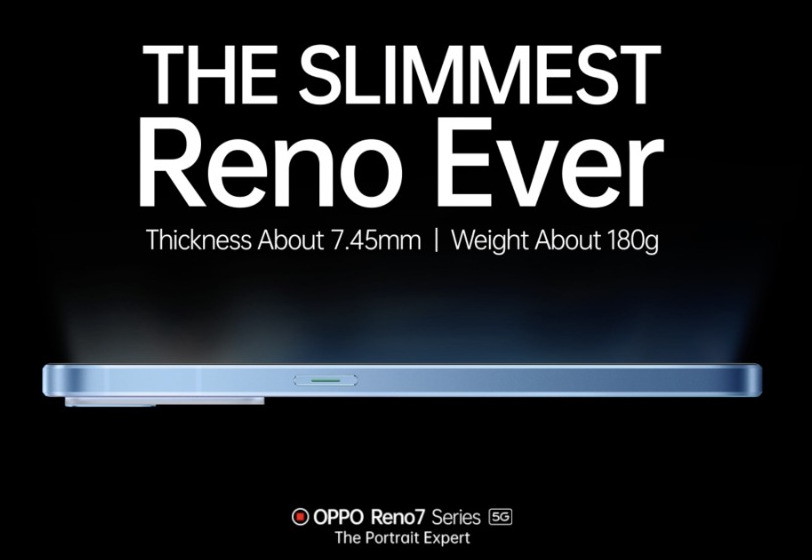 The Reno7 Pro feature a lightweight, yet durable aluminum middle frame offering a flat-edge design making it easier to hold and operate. The smartphone feature a 6.55-inch FHD+ 2.5D OLED screen, which the company says it the narrowest bezel packaging process in the history Reno. This makes the left and right black edges of the screen 0.2mm narrower. The Reno7 Pro is 11.5% thinner than last gen's Reno with a 92.8% ultra-large screen-to-body ratio and weighs 180 grams.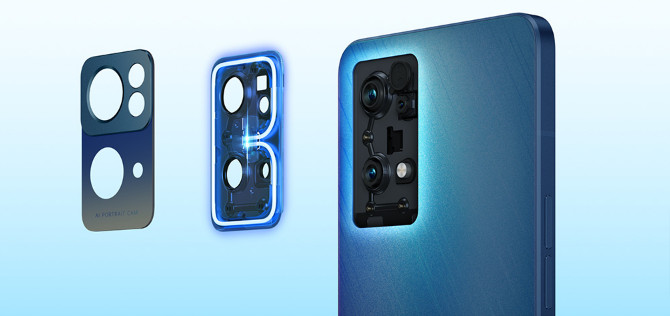 The Reno7 Pro also uses first-of-its-kind 3D "breathing" lights around the camera module. Here, a 1mm diameter fibre is bent to frame the camera area and emit soft, pulsating lights whenever the phone receives a call, message, or during charging.
OPPO Reno7 Pro 5G and Reno7 5G will come in Startails Blue and Starlight Black colours.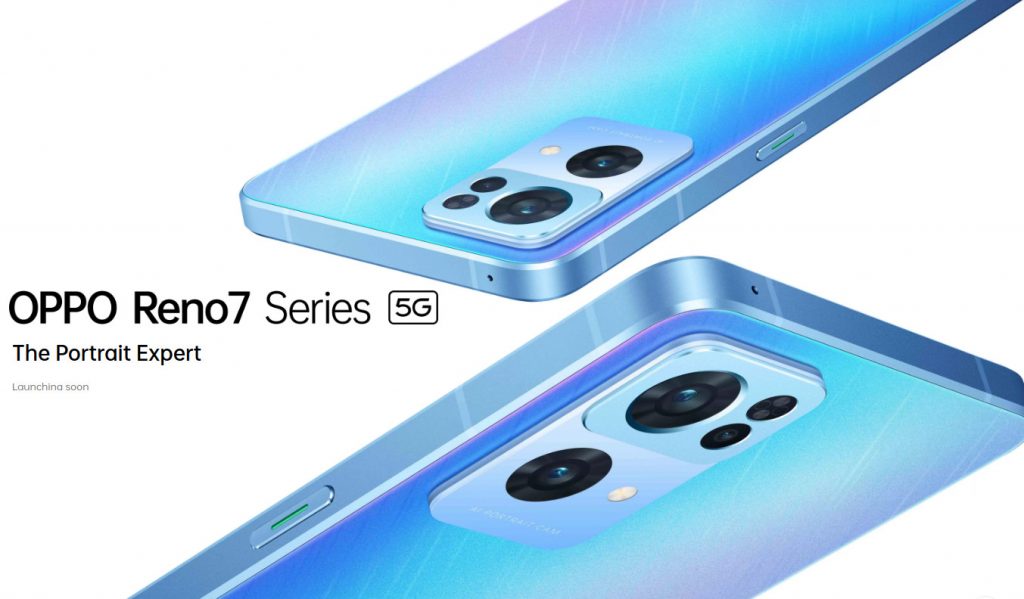 Earlier: OPPO introduced the OPPO 7 series in China in November last year, now the company has started teasing the smartphones in India ahead of launch. The company is calling the Reno7 Pro 5G portrait expert, since it will feature  Sony's new 32MP IMX709 selfie sensor. It will also feature a 50MP IMX766 rear camera sensor.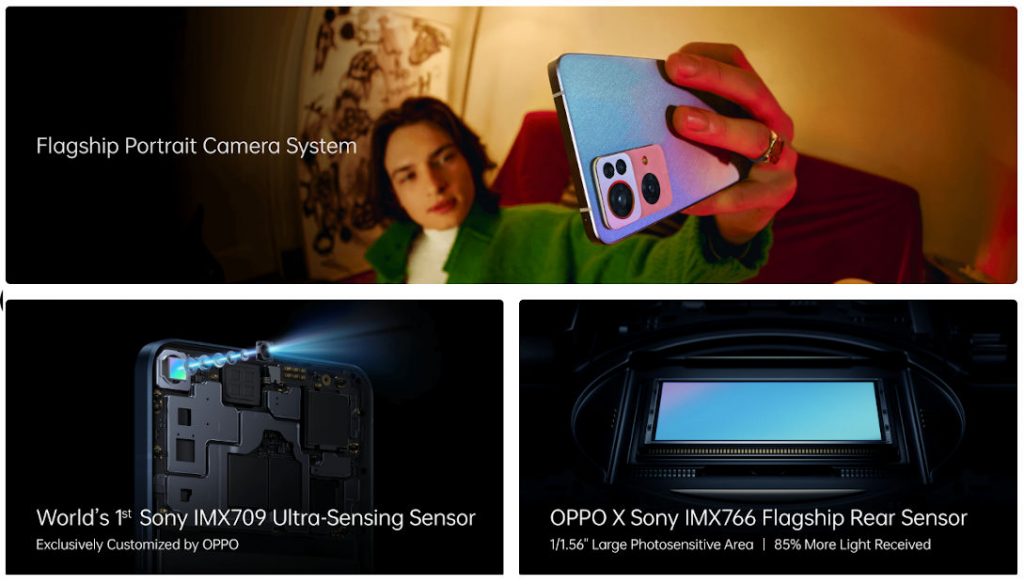 The IMX709—exclusive to OPPO—is a customised RGBW (red, blue, green, white) front image sensor that can capture crisper and more evenly-exposed photos and videos; it is 60% more sensitive to light and reduces noise by 30% when compared to traditional RGB sensors.
For selfies, the Reno7's front camera automatically switches from 85° to a 90° angle when it detects more than two people in the viewfinder to capture multi-person snapshots. Additionally, in portrait photos, camera algorithms separate the subject in the foreground, detect light sources in the background to produce a soft lens flare and finally, blur the background for a more natural-looking Bokeh flare effect.
The Reno7 Pro 5G has a IMX766 large rear sensor that captures more light when shooting photos and videos. It also supports 26 adjustable bokeh levels, said OPPO. It also has Bokeh Flare Portrait video that accurately identifies the human subject in any complex background that we had seen in the Reno 6 series.
Both, the IMX709 and IMX766, support DOL-HDR technology which increases the dynamic range to shoot well-exposed images and detailed low-light videos; the cameras capture multiple long-exposure and short-exposure frames almost simultaneously and fuse them into a single vibrant snapshot.
Since it is running a lucky draw from 20th Jan. to 4th Feb, we can expect the launch in the first week of February.