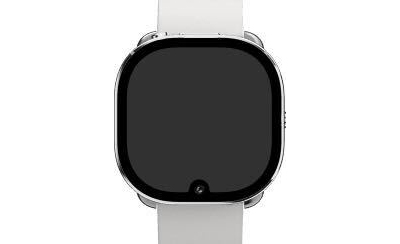 Just as Facebook announced their rebranding to 'Meta', new leaks have surfaced that showcase an upcoming product of the company – a smartwatch. Images of the device reveal a rounded square design and a front-facing camera, and it will likely compete in the market against the Apple Watch.
Facebook was previously reported to be working on a smartwatch that will feature multiple cameras and a heart rate sensor. This new image was found inside the Facebook View app, which is designed to be used with the new Ray-Ban Stories smart glasses. According to code in the app, the smartwatch may be codenamed 'Milan'.
It shows a simple render of the smartwatch with a display on the front that is curved slightly at the edge and a front facing camera cutout in the bottom. Along with this, there is a control button on the right edge, and it has detachable wrist straps.
The front-facing camera suggests that the smartwatch will be capable of video calls. If that is the case, the Meta smartwatch will stand out from other rival offerings in the market. As for a release date, sources from the industry expect the smartwatch to be launched sometime early in 2022. However, that may change, and it could be launched much later too.