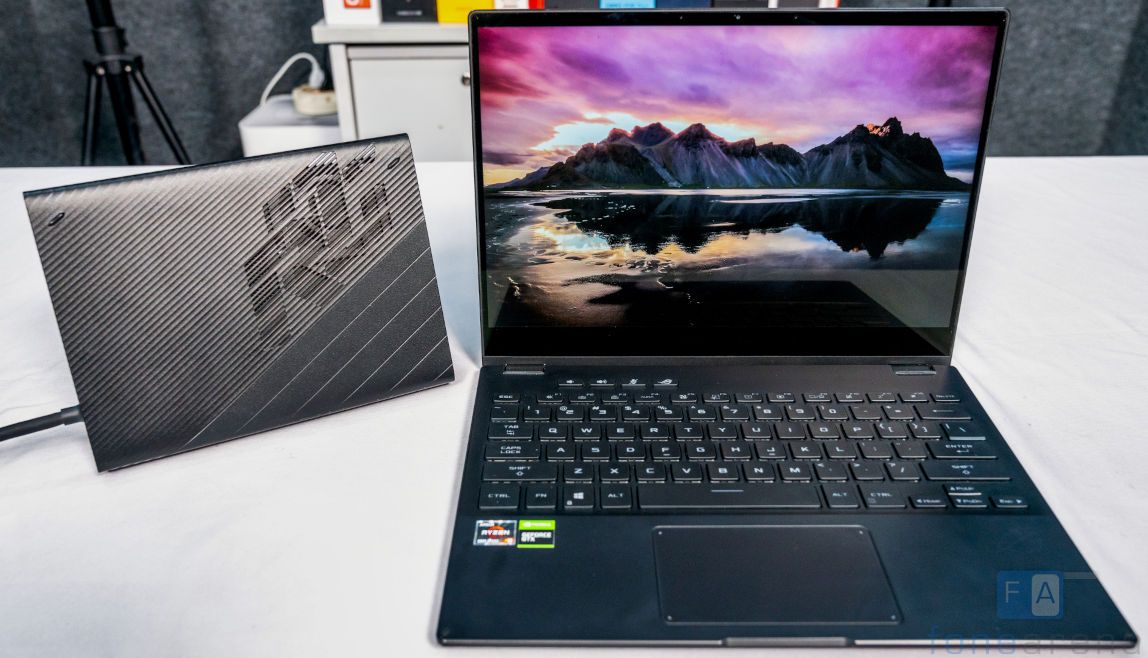 When it comes to laptops, there is a constant struggle between power and portability. For the longest time, manufacturers could not create a laptop that is both powerful or portable, largely due to the limitations of thermals. One solution is to have an external GPU enclosure that connects to a laptop via a Thunderbolt port. In theory, the solution is great, however there were limitations with the port's bandwidth that didn't allow for the full utilization of an external desktop GPU.
Enter the ROG Flow X13 laptop and the ROG XG Mobile. The Flow X13 is an ultra-thin powerful laptop that offers great performance on its own, and if you need more GPU horsepower, the XG Mobile offers up to a NVIDIA GeForce RTX 3080 laptop GPU. These two devices have a few tricks up its sleeve to provide a great, portable gaming experience. Read on in my review of the ROG Flow X13 to find about the latest innovation in gaming laptops from ASUS.
Design and Build Quality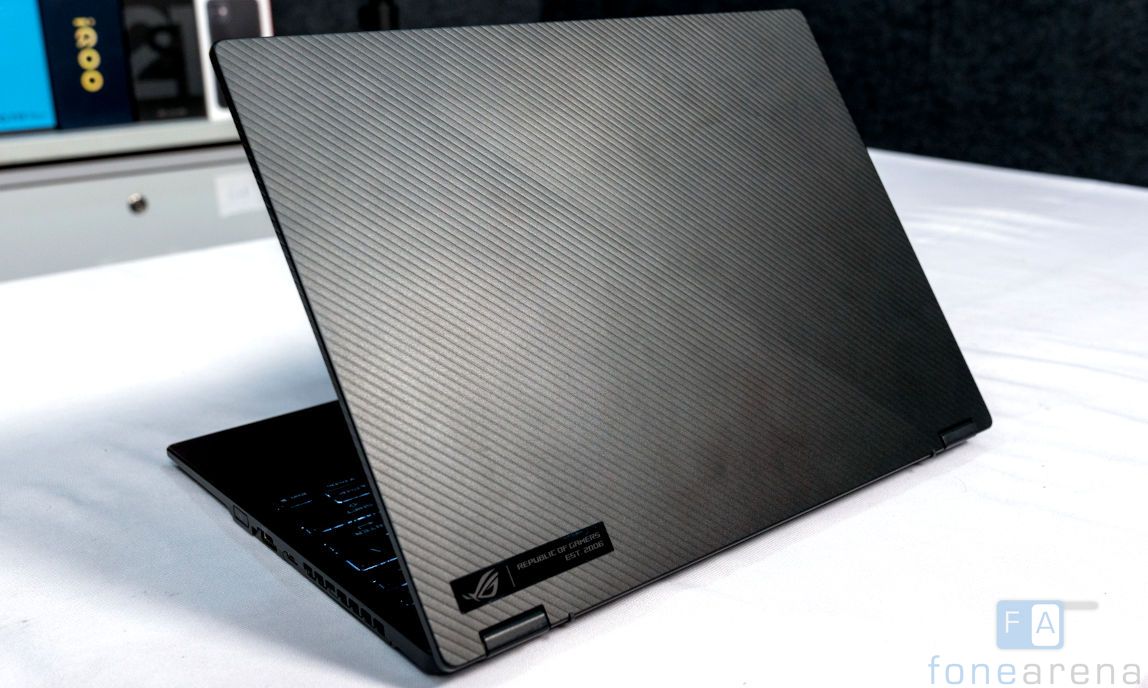 Take one look at the Flow X13 and you notice how impressively sleek the device is. It is low profile, and the edges are squared off, and across the lid, there are textured lines that are cut in, giving the laptop a unique look. According to the lines, the grooves add structural strength and also help with the grip when carrying the laptop. Speaking of structural strength, the whole chassis of the Flow X13 is made out of magnesium alloy and there is pretty much no flex anywhere. The laptop feels dense, yet it is overall lightweight at 1.3 Kgs. The dense feeling is most likely due to the multiple heat pipes needed to cool the machine, which we will come to later.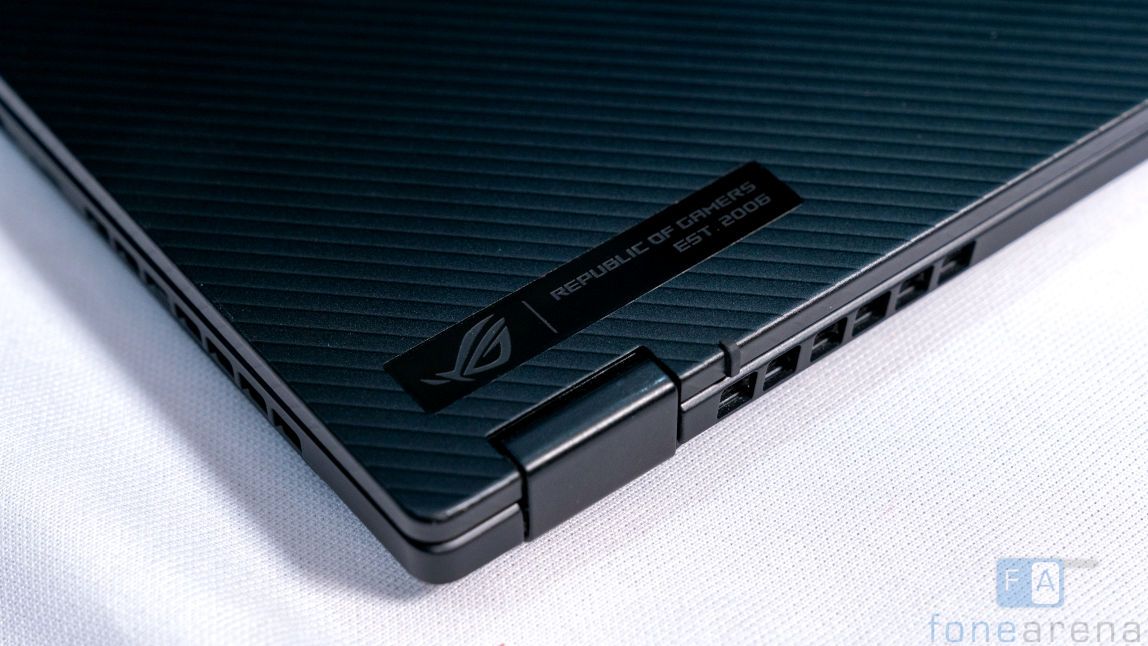 Another feature of the Flow X13's design is the 360° Ergolift hinge, which can go all the way, allowing the laptop to be used in multiple modes such as tablet or tent mode. The tension of the hinge is good, which is ideal when tapping on a touchscreen display. The bezels around three sides of the display are minimal too, adding to the modern look. Since it is a convertible laptop, the power button has been moved to the right edge, featuring an integrated fingerprint sensor for Windows Hello support.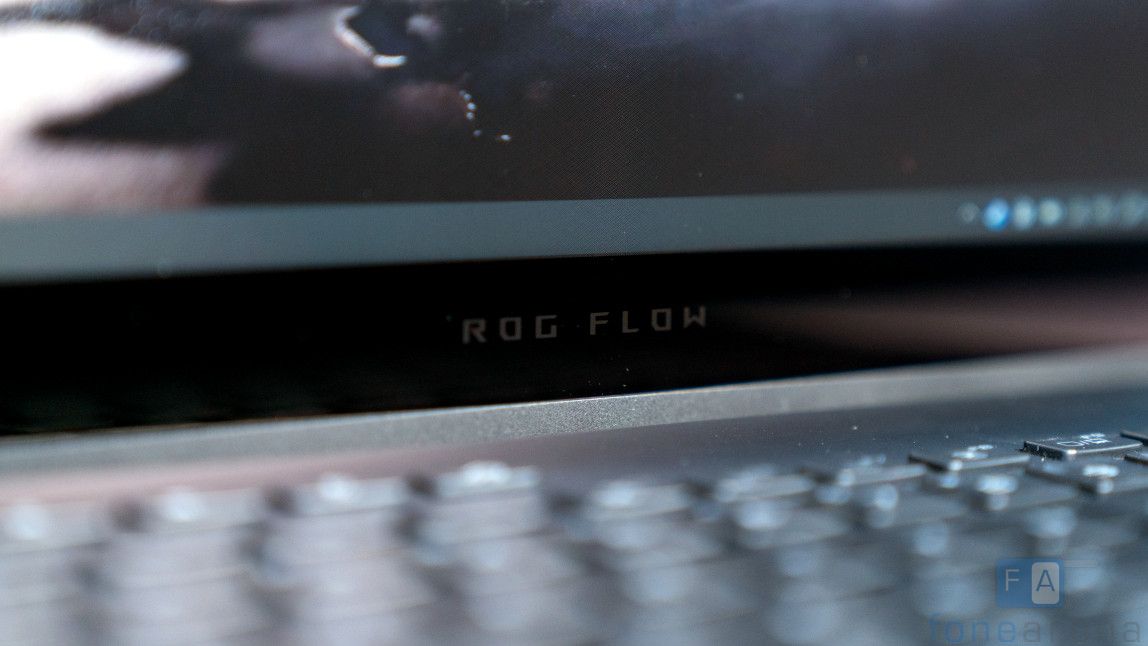 Regarding branding, there is a ROG badge on the lid and "ROG Flow" text on the bottom bezel. There is also a ROG logo that is integrated in the line pattern on the wrist rest that is subtle, and it honestly looks very cool. Overall I love the design of the Flow X13.
Display and Sound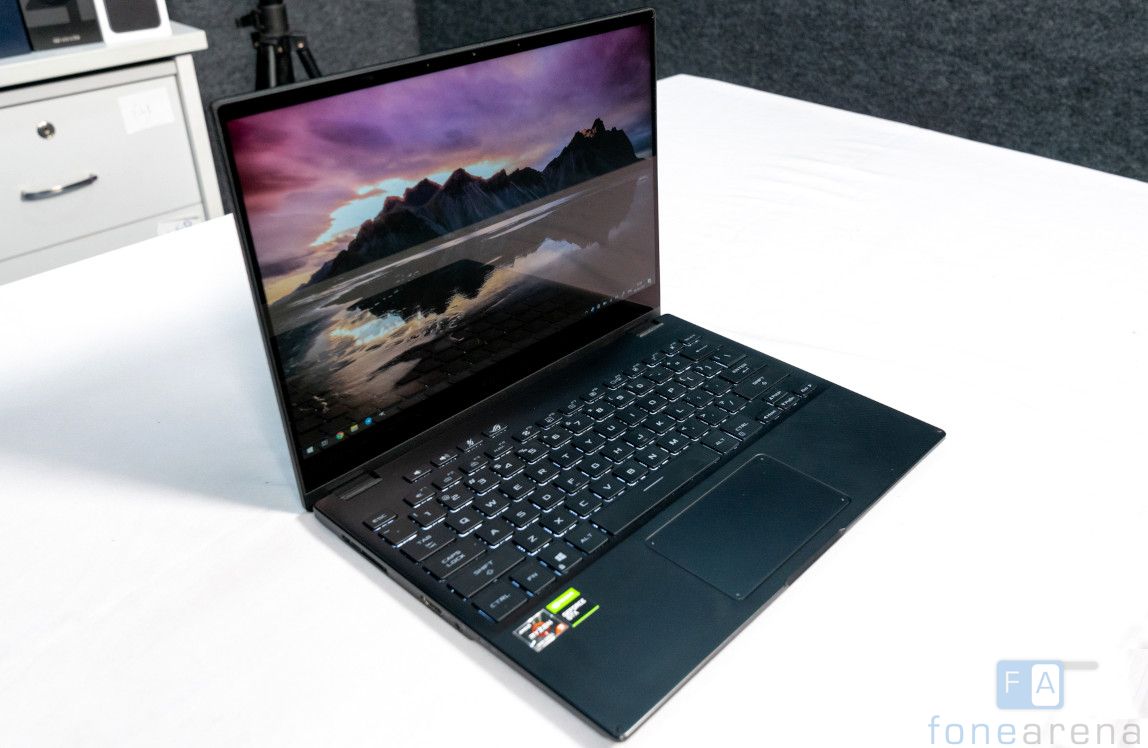 The Flow X13 comes with a 13.4-inch display with two panel options – a 4K 60Hz panel with 116% sRGB colour gamut or a FHD 120Hz panel with 100% sRGB colour gamut. Our model was configured with the 4K option and honestly, it is gorgeous. The brightness is good, the contrast is fantastic at 1000:1, and the colours are nice and vibrant. They have a 16:10 aspect ratio that is excellent for productivity tasks, and the good colour accuracy (85% DCI-P3) with PANTONE validation is great for creative applications too.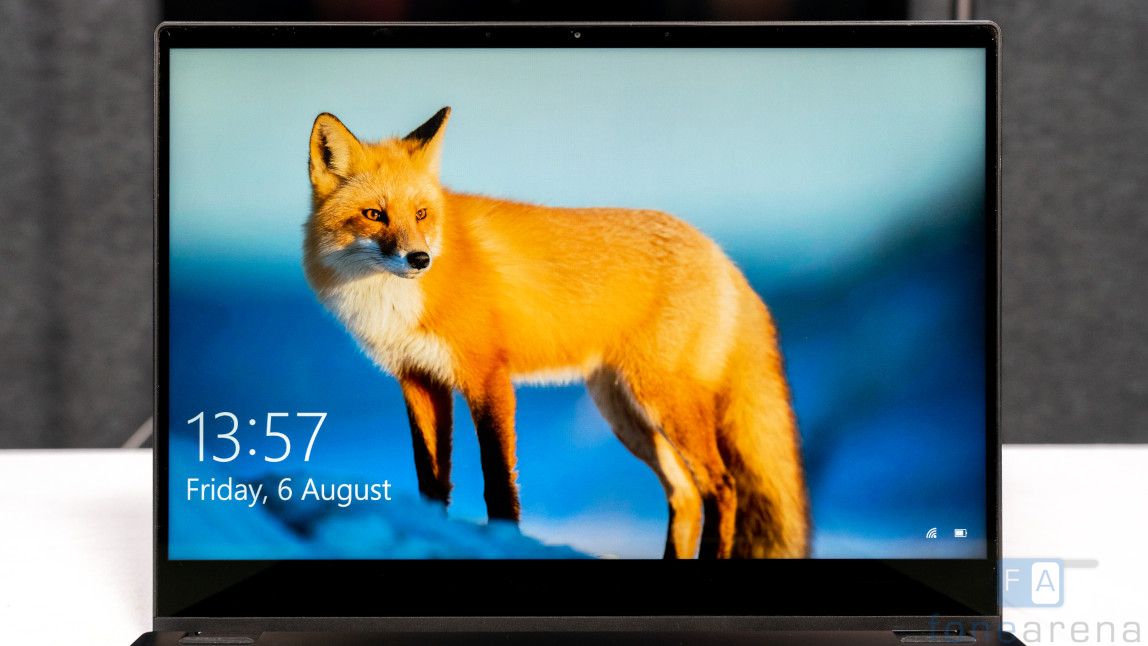 At 13.4 inches, 4K resolution is definitely overkill, and it does hit the battery life quite hard. So I would definitely recommend getting the FHD 120Hz option, unless you really need the better colour accuracy of the 4K panel. The touch display is protected by Corning Gorilla glass, so you can use a stylus without worrying about scratching the display.
For sound, the Flow X13 has 2 bottom firing speakers that offer decent enough audio quality for a laptop of this size. The quality is good, the speakers get reasonably loud. When connecting headphones, the audio quality is great with support for Dolby Atmos, and the laptop supports their Two-Way AI Noise Cancelation technology for improved microphone quality.
Performance and thermals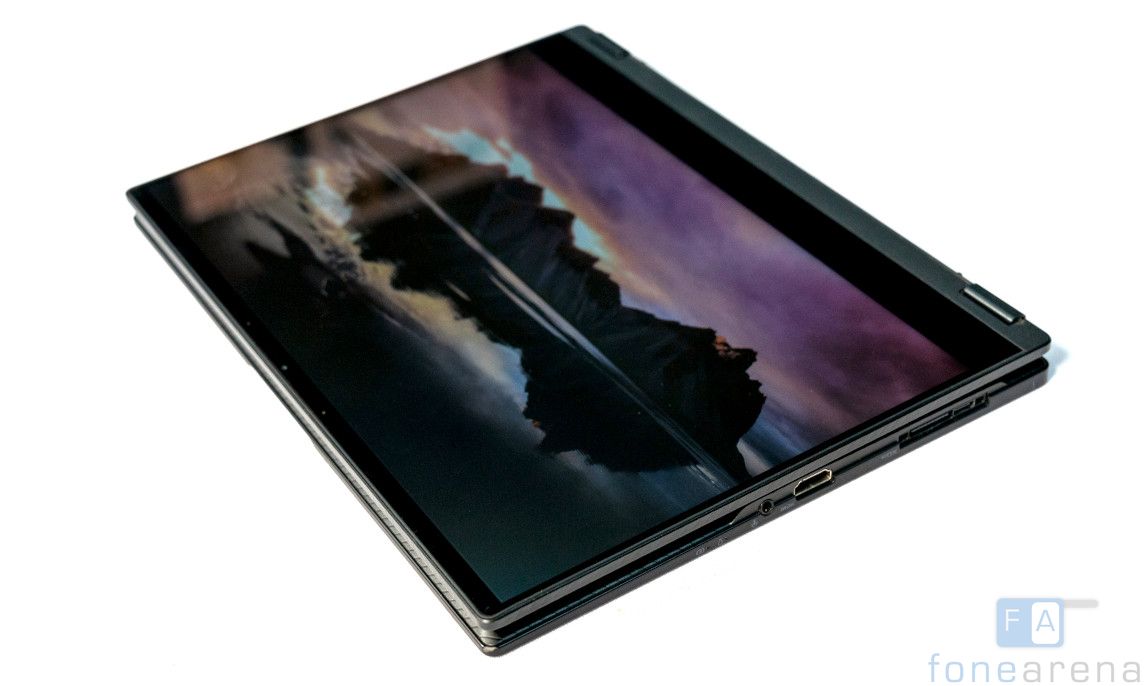 The Flow X13 is an ultra-thin laptop, and typically that means it will be limited in performance. However, that is not the case here. Crammed into the thin metal chassis is an AMD Ryzen 9 5900HS processor, a NVIDIA GeForce GTX 1650Ti GPU, 16GB of LPDDR4X 4266MHz Dual channel memory and a 1TB M.2 PCIe SSD. The R9 5900HS is an 8 core/16 thread beast of a processor that can boost up to an impressive 4.6GHz.  With pretty much any regular workload, the processor handled smoothly, and for heavier tasks, the R9 When under synthetic load, the processor does manage to stay above its 3.0GHz base clock, which means ASUS has done a great job with the thermal performance of the machine.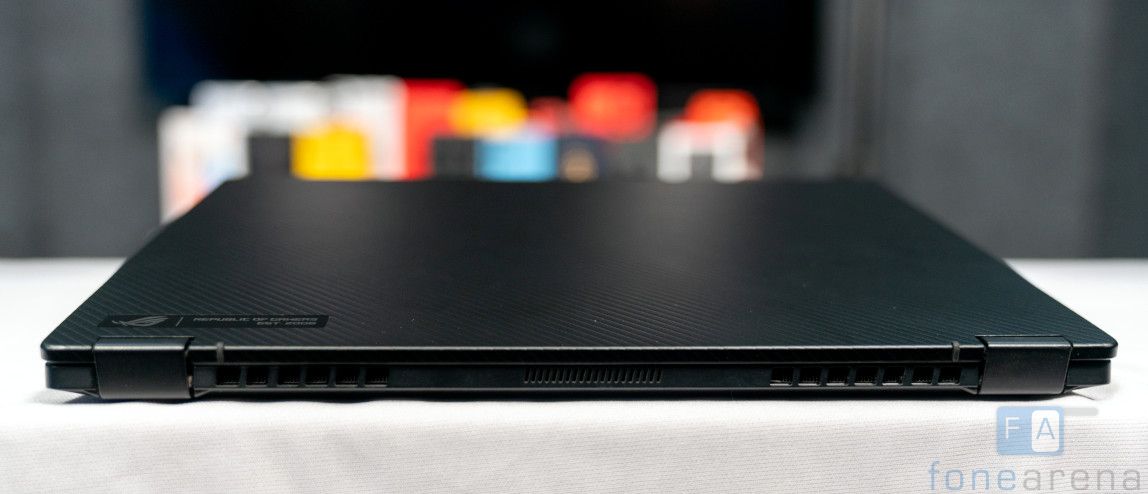 This shouldn't come as a surprise as ASUS has made use of Liquid metal compound from Thermal Grizzly, along with upgraded Arc Flow fans and loads of heatpipes that all contribute heavily to the lower temperatures of the CPU and the GPU when under load. For lighter loads, the laptop can even turn off the fans and go completely silent.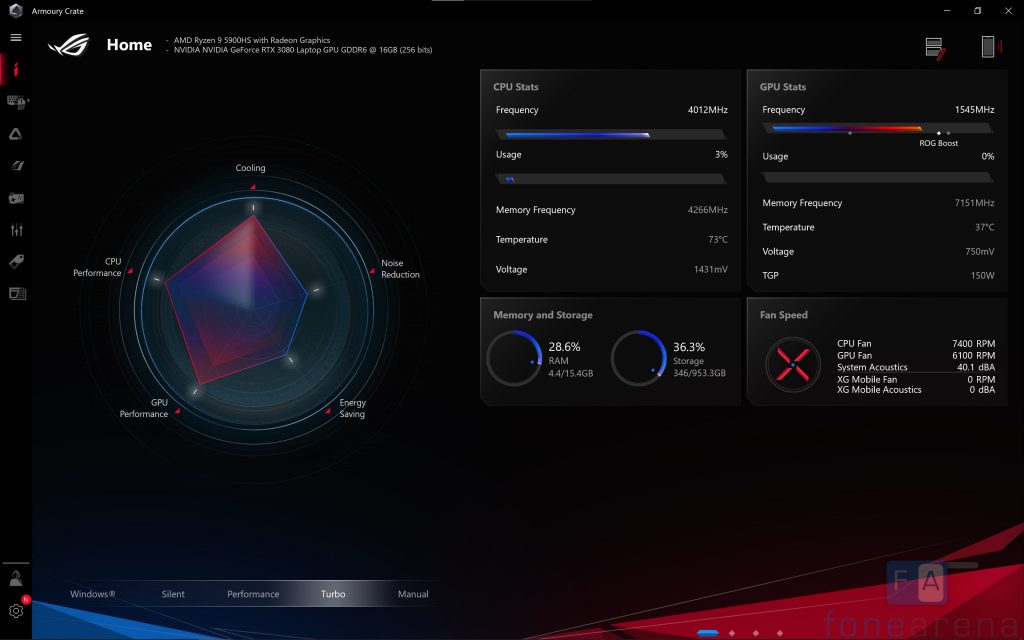 Upon opening Armoury crate, there are 4 operating modes available, namely:
Windows: Follows default Windows settings.
Silent: Offers the best performance possible for ultra-quiet gaming and is very good for light workloads and entertainment.
Performance: Offers a perfect balance between performance and temperature, maintaining around 40-48dB noise range.
Turbo: Offers the best possible performance without any restrictions, maintaining around 45-51dB noise range.
Manual: Allows manual fan speed control of the CPU and GPU fans for unrestricted tuning.
While the built-in Radeon graphics of the Ryzen 9 CPU are good, having a dedicated GTX 1650Ti GPU is much better for performance on-the-go. It improves the performance by a meaningful amount, and ASUS even offers the better RTX 3050Ti if you want higher portable performance.
What if you need much greater performance? That is where the ROG XG Mobile comes in. With the option of choosing between an NVIDIA RTX 3070 GPU or an NVIDIA RTX 3080 GPU, you can get serious near-desktop level of performance when connecting the XG Mobile. To solve the bandwidth issue of connecting external GPUs, ASUS developed a custom port with a full PCIe Gen 3×8 link that is dedicated for the GPU display output, along with a USB Type-C 3.2 Gen 2 port to transfer power and data to the laptop. Having separate links for the I/O and GPU prevent bandwidth issues, and I think the solution is elegant.
The XG Mobile has a custom-designed thermal solution, allowing the RTX 3080 GPU to boost up to 1810MHz at 150W with ROG Boost. Under-load, the fans would kick in and get quite loud, but thankfully, wearing headphones would drown out the noise when gaming. It has an integrated 280W adapter that can provide more than enough power for both the CPU and GPU when gaming, and it can charge the laptop too while connected.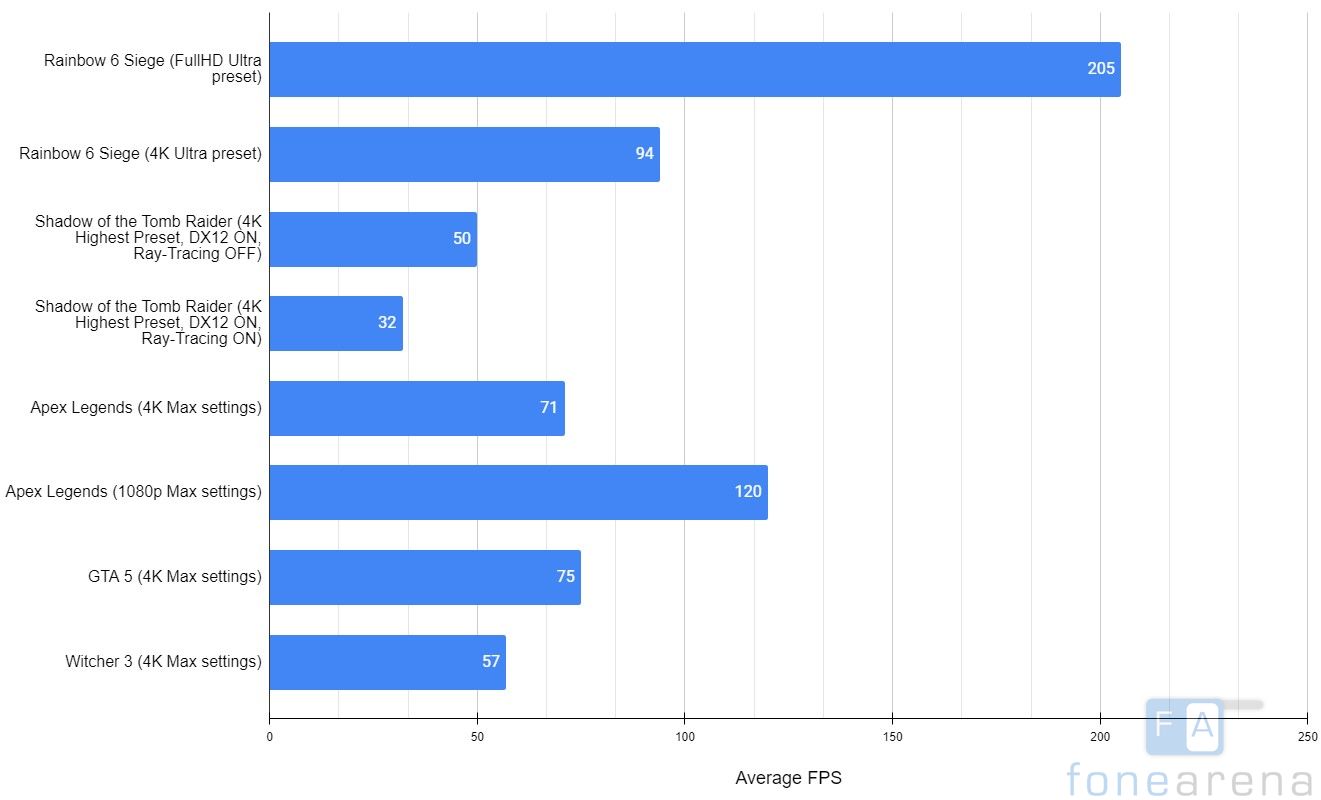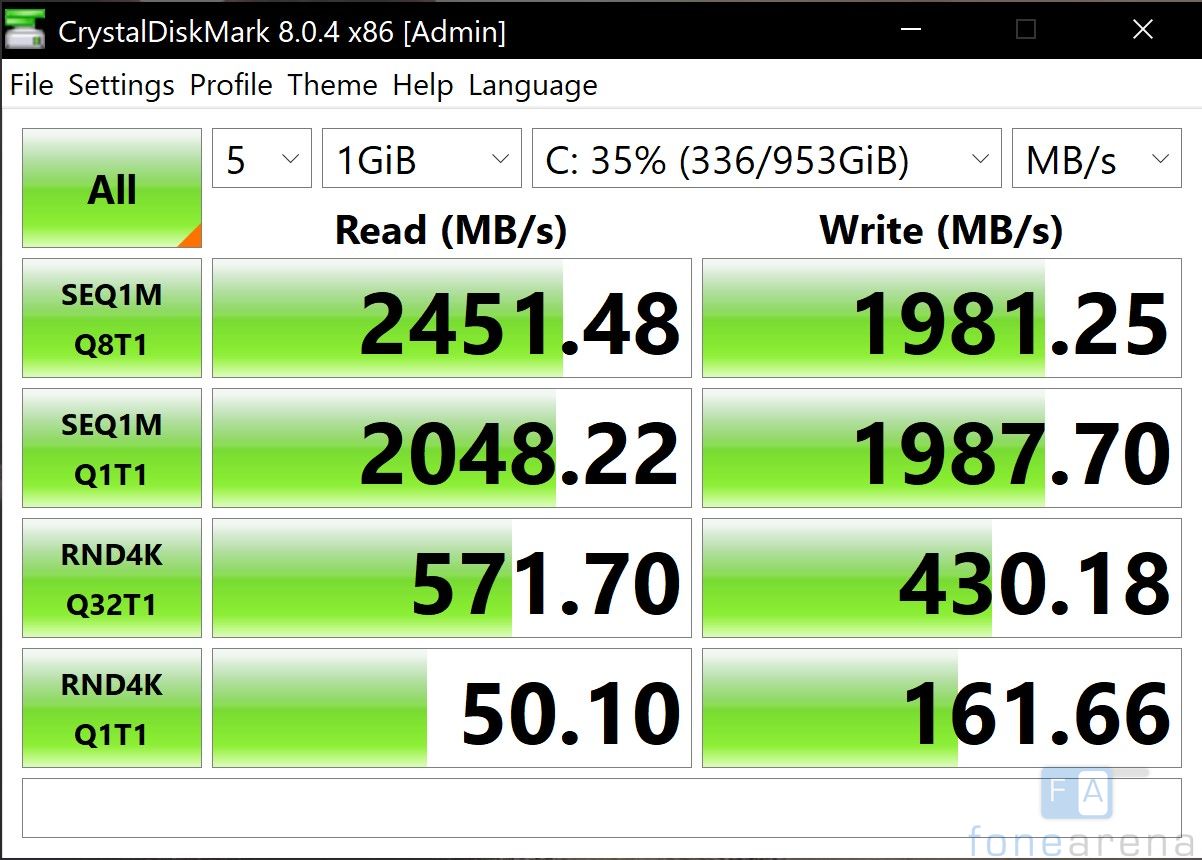 Keyboard and trackpad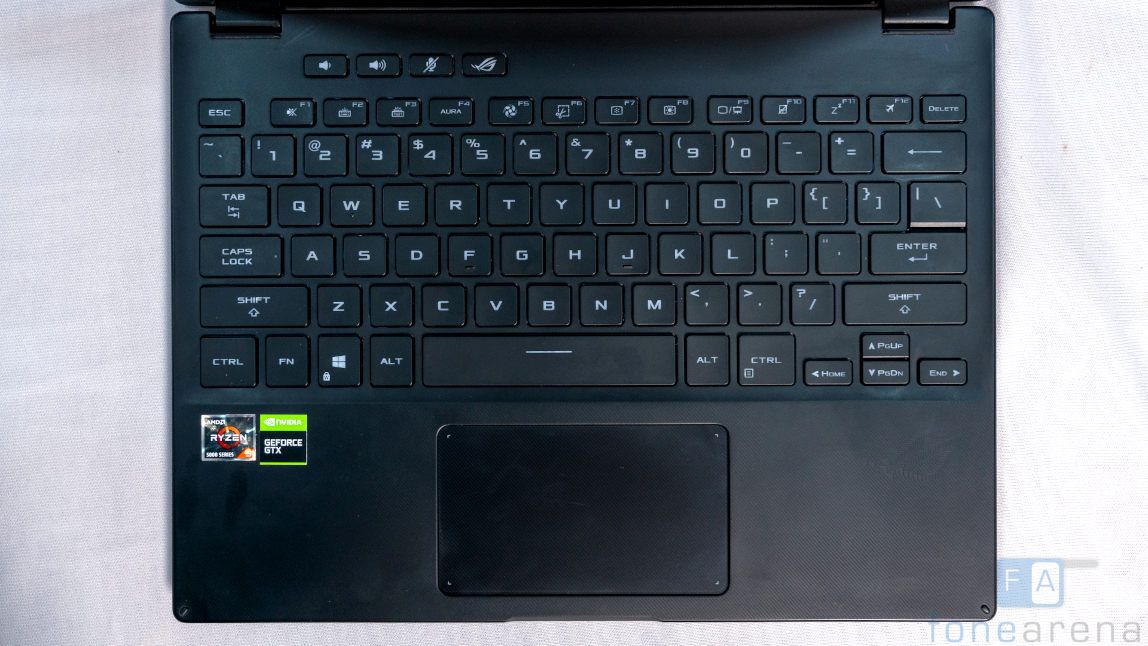 The keyboard of the Flow X13 is awesome. Each individual key is perfectly sized with white backlighting, and they have plenty good spacing between them. There are no problems with the layout, but there isn't a prtsc button which may be annoying for some users. As is with every ROG laptop, there are dedicated hot keys for volume controls, microphone toggle and Armoury Crate, which is always nice to have. The keys are quiet, have 1.7mm travel distance which is quite deep for a thin-and-light laptop, and the keys feel firm to press with great stabilization overall. All of this translates to a great typing experience and an equally great gaming experience. It's up there with the best keyboards that ASUS makes for laptops.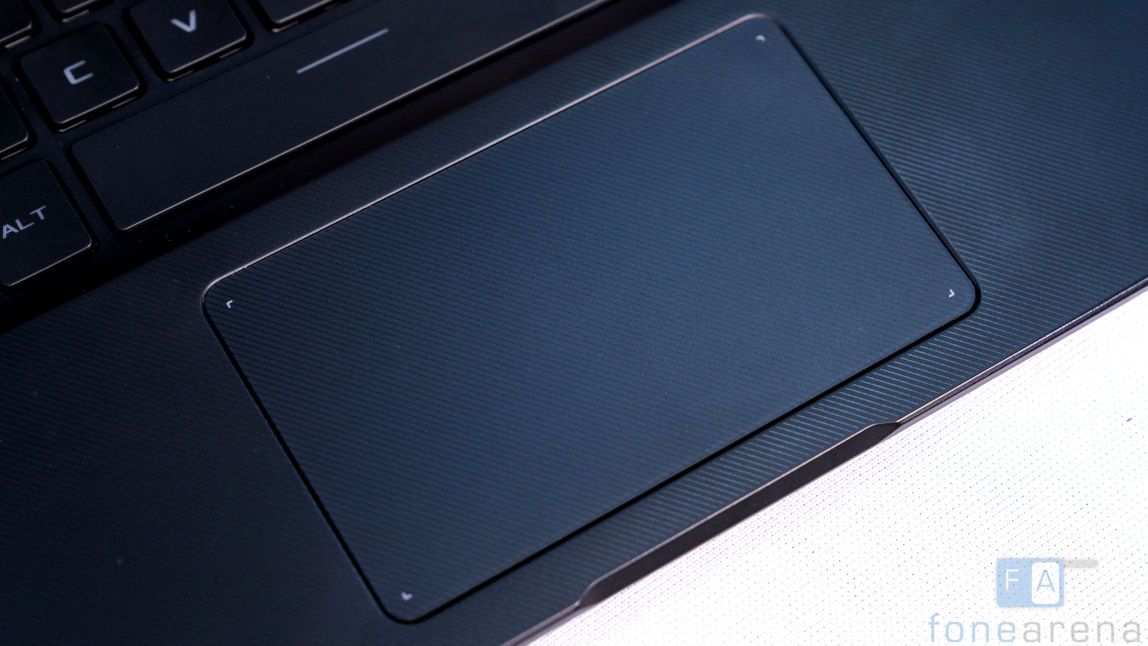 Coming to the trackpad, the surface is nice, tracking is accurate, and it runs Windows Precision Drivers. However, the size itself is quite small, especially when compared to other thin-and-light laptops in its price segment. It is a touch laptop, so it isn't too problematic for navigation. Hopefully, with the next version, ASUS makes the trackpad larger, as it does look like there is room for it.
Ports and Connectivity
On the laptop alone, you get two USB 3.2 Gen 2 Type-C ports with support for DP 1.4 and USB PD, one USB Type-A 3.2 Gen 2 port, an audio combo jack, a HDMI 2.0b port, and of course the ROG XG Mobile interface. For a thin-and-light laptop, these many ports are plenty enough.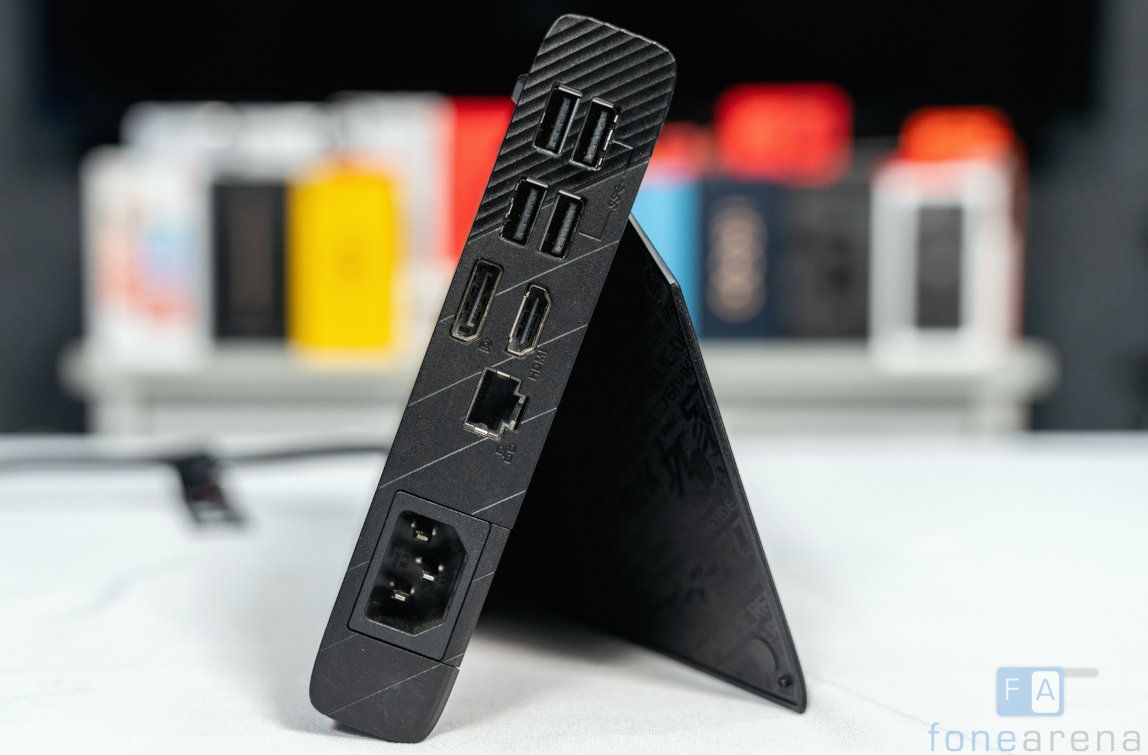 If you need more ports, you can always connect the XG Mobile eGPU and get access to a lot more I/O, including an HDMI 2.0, a DP 1.4, an RJ-45 Jack, a DC input jack, four USB 3.2 Gen 1 ports and an SD card reader. These should be more than enough ports for most purposes.
Regarding connectivity, the laptop supports both Wi-Fi 6 (802.11ax) and
Bluetooth v5.2, and during my testing, they functioned properly without a hitch.
Battery
Inside this thin-and-light chassis, ASUS has fitted a 62WHr cell, which should provide a good amount of battery life. During my testing, I was able to get about 5 hours of battery life with regular usage, which is quite good considering that it has a high resolution 4K panel and a powerful Ryzen 9 processor. In PCMark's  Battery test, it achieved a score of 4 hours and 50 minutes, which is respectable. If better battery life is important to you, I would strongly recommend making compromises and getting the FHD panel option and the Ryzen 7 processor. Regarding the charger, ASUS includes a 100W Type-C charger in the box that is quite small in size, so portability is not affected at all.
Conclusion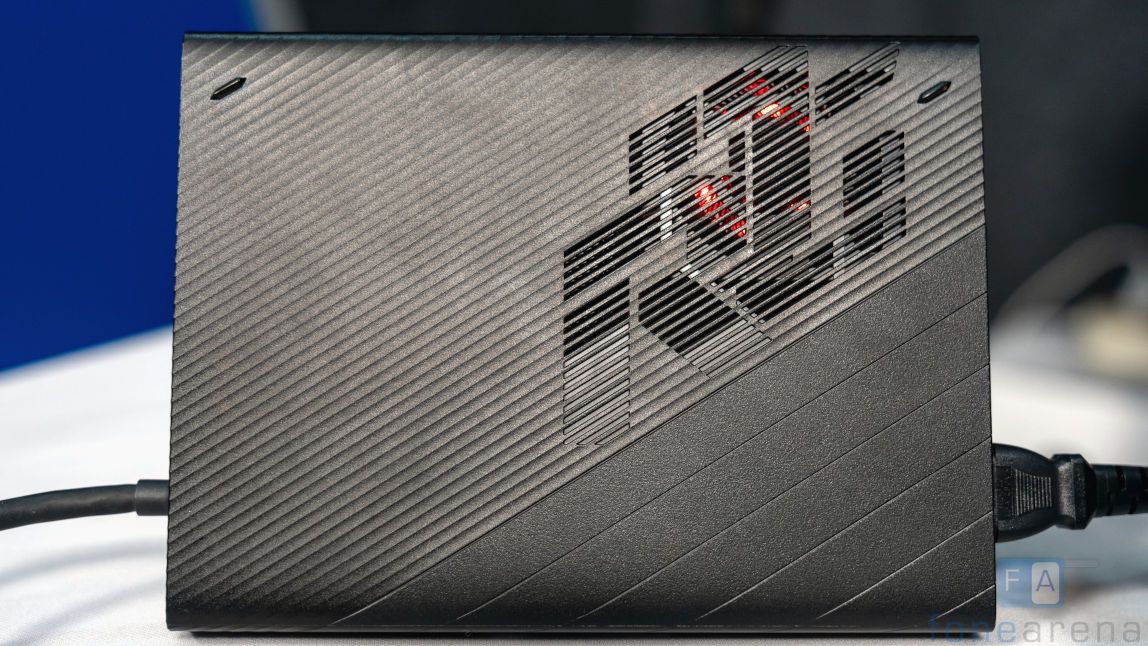 Reading through this review, it must be clear that I love this laptop. Top-notch design, stunning display, high-quality build, impressive performance and a great keyboard. It offers high-end specs while maintaining a thin-and-light convertible form factor, which is not common in the laptop industry.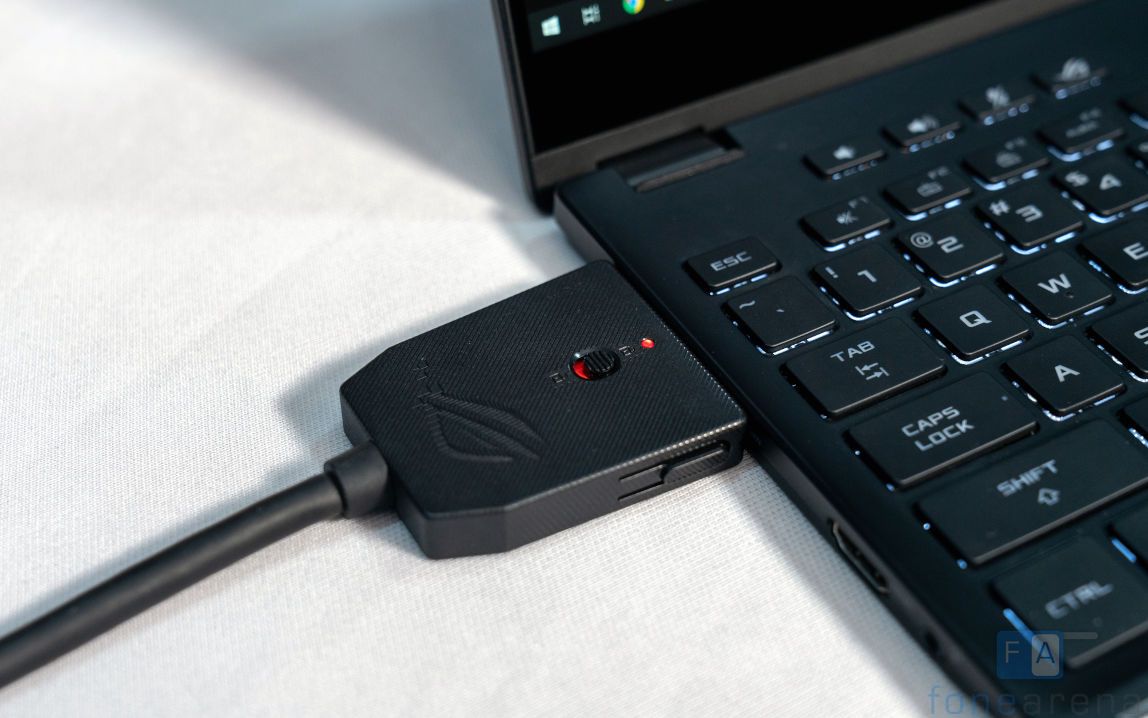 ASUS has developed an elegant solution for the eGPU to ensure maximum graphical throughput, and it has been executed well. The solution also allows for future upgradability, which is great. The only issues that I could pick up on were the small trackpad and not so great speakers.
As for which configuration to buy, you could buy pretty much any CPU/GPU combination that fits your budget and have a great experience. The only specification you really need to make a decision on is whether you need a 4K 60Hz panel or a 1080p 120Hz panel. Personally, I like high-refresh rate displays, and so I would choose the 1080p option.
Availability
The ASUS ROG Flow X13 is available for purchase on Amazon, ASUS's online and offline stores across India starting at Rs. 1,31,300. The Ryzen 9 model that we have reviewed is available on Amazon.in for Rs. 1,37,499. The XG Mobile eGPU with a  RTX 3070 is priced at Rs. 69,990 and the XG Mobile eGPU with a RTX 3080 is priced at Rs. 139,990. ASUS also offers the ROG Flow X13 (Supernova Edition) bundled with the  XG Mobile (RTX 3080) for Rs. 2,69,990.
Pros
Strong Magnesium alloy chassis
High-end specifications with equally great performance
Great thermal management
Awesome keyboard
Gorgeous high-resolution, colour accurate display
Cons
Small trackpad
Less-than-perfect speakers