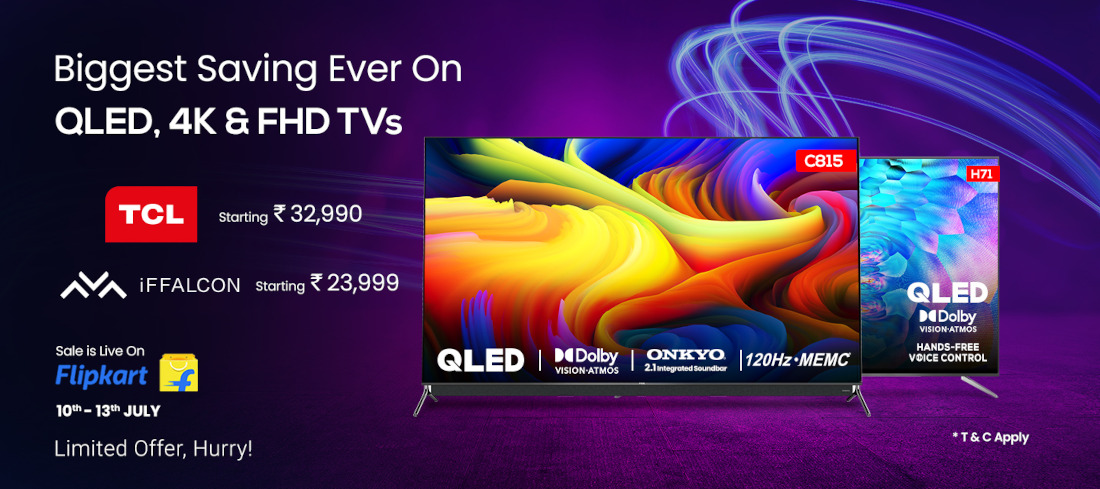 During Flipkart's upcoming electronics sale, TCL and iFFALCON are launching multiple new offers across their 4K QLED, UHD, FHD, and LED range of TVs. They feature technologies such as Quantum Dot, Dolby Vision, Dolby Atmos, Hands-free Voice Control and more.
The offers will be available for the following models –
4K QLED C815:

55-inch – Rs. 77,999
65-inch – Rs. 1,18,999
75-inch –  Rs. 1,66,999

4K QLED C715:

50-inch – Rs. 52,999
55-inch – Rs. 58,999
65-inch – Rs. 92,999

4K UHD P715:

43-inch – Rs. 32,990
50-inch – Rs. 42,990
55-inch – Rs. 45,990
65-inch – Rs. 69,990

4K QLED H71:

55-inch – Rs. 47,999
65-inch – Rs. 79,999

4K UHD K71:

43-inch – Rs. 26,999
55-inch – Rs. 36,999

4K Android K61:

43-inch – Rs. 24,999
50-inch – Rs. 27,999
55-inch – Rs. 33,999

2K FHD F2A:

32-inch – Rs. 13,499
40-inch – Rs. 18,999
43-inch – Rs. 23,999

LED E32:
The sale will go live from 10th July till 13th July 2021 on Flipkart.
Commenting on the offers, Mike Chen, General Manager, TCL India said:
We are super thrilled to bring these exciting offers to our customers as part of the Flipkart Electronics Sale. All these TVs come with advanced technologies that redefine the viewing experience and also add unique elements to the users in terms of smart home technologies. Our products are specially designed with the latest and innovative technologies and the affordability factor makes them even more attractive to the customers, making their shopping experience more rewarding and satisfying. We will continue to roll out more such offers in the coming months.